There's a Reason Why Emily Ratajkowski's Latest Outfit Looks Familiar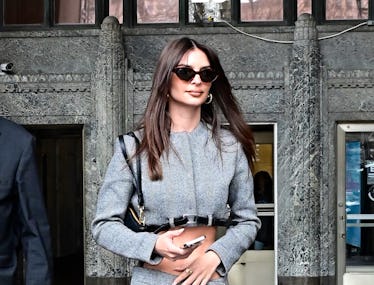 Raymond Hall/GC Images/Getty Images
Emily Ratajkowski wore quite a unique outfit when she was spotted out in New York City on Wednesday. But despite its distinctive nature, you may have gotten a sense of deja vu when you saw it. That's because she wasn't the first model to wear the look. Bella Hadid previously wore the look with similar styling about a year ago.
The ensemble in question is a two-piece set from Coperni's autumn/winter 2023 collection. It features a cropped gray blazer with a belt detail on the bottom, and a matching mini skirt that wraps around the waist. When the look first debuted on the runway, it was presented with black, thigh-high socks and a pair of leather, pointed-toe pumps. When Ratajkowski took advantage of the unseasonably warm NYC temps and wore the look, she stayed fairly true to the original styling, though she traded out the black heels for a pair of white and red New Balance sneakers. The model then finished off the outfit with a black leather shoulder bag and a pair of sunglasses.
When Hadid wore the look—the evening after it debuted on the runway, we might add—she actually styled it fairly similarly. Back in March, the model also opted to ditch the heels in favor of bright red Adidas Sambas, bringing some color to the otherwise monotone look.
It's possible Ratajkowski was inspired by Hadid's shoe choice when styling the set, or maybe, she just wanted to be comfortable for a day of running around the city. She could have pulled a Working Girl and swapped out the sneakers for heels when she got to her destination, though Ratajkowski has never been scared to wear outrageous shoes on the streets of New York, and as a model, she knows, it's all about the street style look.