Emma Stone's Latest Little Black Dress Defies Gravity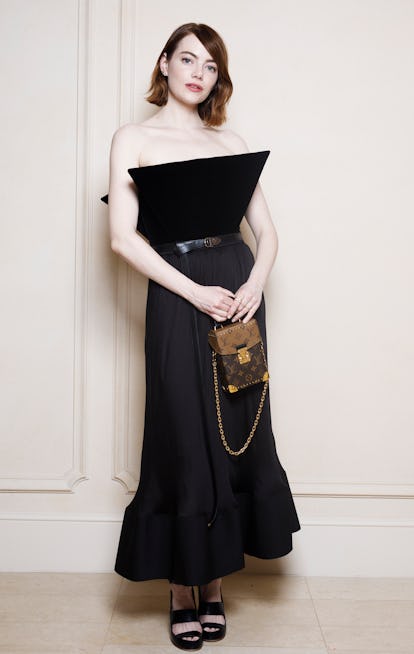 Francois Berthier/Getty Images Entertainment/Getty Images
Emma Stone is no stranger to the Little Black Dress. From gothic looks in Cruella to La La Land's strapless cocktail number, the silhouette has been a focal point of the actress' wardrobe, both on and off the screen. But on Thursday, the 34-year-old took the style staple to new, and gravity-defying, territory.
Attending a Louis Vuitton dinner in Paris, Stone wore a black column-like maxi dress. Nicolas Ghesquière, the creative director of Louis Vuitton, is known for his forward-thinking creations, and this piece proves just that.
It is from the French brand's fall/winter 2023 collection and features a belted waist and a subtle ruffle at the bottom. But the true focal point of the dress is the bodice. The upper portion is composed of two trapezoidal shaped pieces that, when flipped, form an hourglass-like shape. Stone accessorized the look with simple platforms and a monogram bag.
This isn't the first time Stone has donned one of Ghesquière's many takes on the LBD. And it makes sense, her style is a mix between classic glamour and modern edge and the French designer's creations fit well within that realm.
For the premiere of Zombieland: Double Tap in 2018, Stone wore a Louis Vuitton ensemble that was not only a take on the LBD, but also combined her love for tailoring. The dress featured a blazer-style bodice complete with a sheer under layer. And while not entirely black, her mini dress for the Academy Museum Gala in 2022 was another version of the LBD.
Stone is set to star in Yorgos Lanthimos' upcoming Frankenstein-like film Poor Things, her first major role since 2021's Cruella. She plays Bella Baxter, a young woman brought back to life by a famous doctor. The film is based on Alasdair Gray 1992 novel of the same name and will premiere in September.
"My character Bella is a bit of a Frankenstein, but she's also a bit of an experiment in the sense that everything is happening very rapidly on her," Stone said to W. "So her hair grows about two inches every couple of days. It had to get longer and longer quickly because that's what happened in the book."