Florence Pugh Reinvents The Suit And Tie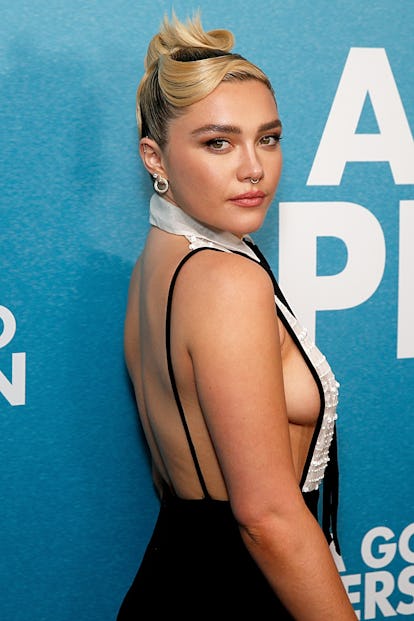 Dominik Bindl/WireImage/Getty Images
The necktie is most definitely one of the larger trends to come out of the fall/winter 2023 season, with brands like Bode, Luar, SS Daley, and Valentino sending models down the runway in Windsor knots. It's no surprise then, that just weeks after fashion month has wrapped, we're already seeing the trend matriculate on red carpets, specifically from one one of the brands that pushed the style in the first place.
On Monday night, Florence Pugh stepped out for the premiere of her new film, A Good Person, in New York City. For the event, the actress wore Valentino, per usual, in the form of a dress from the brand's pre-fall 2023 collection featuring a black column skirt and a white, embroidered smock-like top with a completely open back. A collar and a black tie that fell down Pugh's bodice added an unexpected element to the look, pairing professionalism with a hint of side boob.
Pugh was joined at the event by her parents, Deborah Mackin and Clinton Pugh, her grandmother, Pat Mackin, as well as her ex-boyfriend, Zach Braff, who also happens to be the director and writer of the film. Braff and Pugh have seemingly remained on good terms despite their breakup last year, and have been very complimentary of each other throughout the press circuit for the movie.
"I'm just in awe of her talent and I said, 'I wanna write this for Florence. What I'm writing is really gonna be challenging and she's incredible,'" Braff told Entertainment Tonight. Pugh, meanwhile, was aware that Braff wrote the part with her in mind, which provided her with confidence when taking on the role. "He wrote it for me. I was his muse," she told Jimmy Fallon on The Tonight Show. "There's so much ease with reading a script when someone knows how you talk, and how far they can push you, and what you're capable of doing."
In the movie, Pugh plays Allison, a woman whose life get derailed when she gets into a fatal car crash. In the aftermath of the accident, Allison struggles with unresolved grief and an opioid addiction, but an unexpected relationship with her would-be father-in-law provides her the chance to get her life back and move forward. A Good Person, which also stars Morgan Freeman and Molly Shannon, among others, is in theaters on March 24th.