Grammy Awards 2018: A Minute-By-Minute Report of Everything You Didn't See On TV
From a pregnant Chrissy Teigen to technical malfunctions, here is the exclusive gossip from inside the 2018 Grammy Awards.
---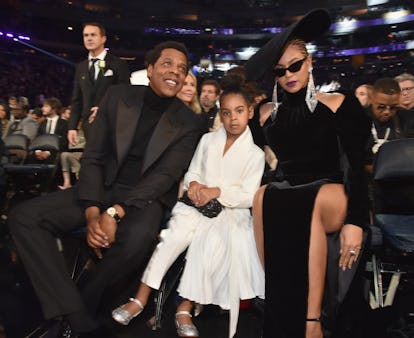 Kevin Mazur
There's plenty to talk about from Sunday night's airing of the 2018 Grammy Awards: Kesha's emotional performance; Bruno Mars's big wins; Blue Ivy's masterful shade; the list goes on. But what about those moments that you didn't see on television? For the 60th anniversary of music's biggest night, the ceremony returned to New York City, and took over Madison Square Garden for one of the iconic venue's most star-studded events of all time. So what really went down inside the arena? Read on for a minute-by-minute breakdown of all the gossip and celebrity sighting from inside the 2018 Grammy Awards.
6:23 p.m.: Here we go. Remarkably, the process of getting inside the theater is relatively quick and easy—much easier than getting into a number of the weekend's pre-Grammys parties throughout the city, it is worth noting.
6:34 p.m. : The line to the bar(s) are so long that you'd think they were giving out free Beyoncé tickets, not selling $13.75 plastic cups of Stella Artois. And yet, they each go at least 30 people deep. You can't bring any food or drink to your seats, so get ready to chug.
6:56 p.m.: Although most A-listers are still outside on the red carpet at this point, ticket holders are eager to have a celebrity run-in. "She looked like someone… like a pop star?" notes one female attendee. (It's just a random girl in a sequined romper.)
7:07 p.m.: With just under 30 minutes to showtime, the vendors close shop, and any chance of getting alcohol before the nearly four-hour show is shut down. People are not thrilled.
7:16 p.m.: Inside the arena, the main stage is firing off test shots of fire—a sign that Kendrick Lamar's performance is moments away.
7:18 p.m.:The show is about to begin. The surefire sign? An aggressive "Seriously, we mean it. Take your seats. Now." blares over the intercom.
7:28 p.m.: And they are serious. Even Bruno Mars is being chastised to sit down.
7:34 p.m.: Dave Chappelle is watching Lamar in admiration from the side stage as he readies his bit in between songs.
7:37 p.m.: As James Corden gives his intro monologue, Lady Gaga runs to a stage in the middle of the floor to take her place behind a piano adorned with giant angel wings.
7:41 p.m. : Sorry, Joanne. The crowd visibly perks up when Gaga switches from her new single to the more recognizable "A Million Reasons."
7:43 p.m.: The entire crowd sings along to John Legend's impromptu rendition of "New York, New York"— the first of many references to the location throughout the night.
7:57 p.m.: SZA gets the biggest cheers as Best New Artist nominees are announced. Yet, Alessia Cara takes home the prize.
8:01 p.m.: Realizing that Taylor Swift isn't coming out to perform with Little Big Town as much of the Internet wishfully speculated, a good number of the audience takes this opportunity to take a bathroom break.
8:14 p.m.: As Ed Sheeran is announced as the winner of Best Pop Solo Performance, half the audience cheers, "He's not here!"
8:22 p.m.: Even without Justin Bieber, "Despacito" gets the most enthused reaction of the crowd thus far. Someone is even dancing in the aisles.
8:43 p.m.: During commercial breaks, the celebrities hobnob around the front row and it seems the most popular star that others are coming to pay their respects to is… Chrissy Teigen?
9:13 p.m. You would think the crowd would go wild for Rihanna, arguably the night's biggest female performer, and yet… not much. It's definitely no "Despacito."
9:15 p.m.: Take that back. Once she starts hip-thrusting there is plenty of cheering and phones being raised to capture the moment.
9:34 p.m.: A body guard helps escort Cardi B back to her seat, which proves difficult as many well wishers try to stop her along the way.
9:41 p.m.: There seems to be an unspoken agreement amongst the entire area that Kesha just gave the best performance of the night. Every single person is on their feet cheering (and many are crying).
9:42 p.m.: After Kesha's electrifying performance, Camila Cabello remains on stage appearing a bit lost. Don't worry, turns out she's just up next to introduce U2 (but yeah, not clear on that).
9:47 p.m.: It took until the second chorus for people to realize U2 isn't actually performing at MSG and is being live-streamed from elsewhere in the city, and that this isn't just an especially long intro.
9:49 p.m.: Another commercial break and now it's time for Teigen to pay her respects. She makes a beeline to Lorde who greets her with a big hug.
9:55 p.m.: Now Lorde is ecstatically trying to get the attention of someone a few rows back. Despite her bright red Valentino dress and frantic wave, no luck.
9:59 p.m.: The Fire and Fury bit is killing it. The cheers when Hillary Clinton appears on screen are so loud that you can't hear what she's even saying. Thank God for YouTube.
10:12 p.m.: "Is this the dude from Pitch Perfect?" ponders an audience member as Ben Platt takes the stage. He's not wrong?
10:42 p.m.: The crowd is starting to get restless (Teigen and husband John Legend actually left about 30 minutes ago) but the announcement that Barack Obama is in the house invokes an immediate jolt of energy. Of course, it's just a bit. A cruel, cruel bit.
10:56 p.m.: The biggest cheer of the night—yes, even bigger than Cardi B's "Finesse" verse—comes as Logic gives his impassioned speech at then end of "1-800-273-8255," the last performance of the night.
11:10 p.m.: Bruno Mars beats out Lamar and Jay-Z, giving the night one semi-surprise. But wait there's one more: All the escalators in MSG have shut down, making for a treacherous, multi-floor journey out. And with that, goodnight!
Related: Lorde Wore One of Jenny Holzer's Inflammatory Essays on the Back of Her Grammys Dress In Protest
Grammys 2018: See Lady Gaga, Cardi B, and More of the Biggest Stars in Music on the Red Carpet
Lady Gaga attends the 60th Annual GRAMMY Awards at Madison Square Garden on January 28, 2018 in New York City. (Photo by Kevin Mazur/Getty Images for NARAS)

Kevin Mazur
Cardi B attends the 60th Annual GRAMMY Awards at Madison Square Garden on January 28, 2018 in New York City. (Photo by Kevin Mazur/Getty Images for NARAS)

Kevin Mazur
Lana Del Rey attends the 60th Annual GRAMMY Awards at Madison Square Garden on January 28, 2018 in New York City. (Photo by John Shearer/Getty Images)

John Shearer
Camila Cabello attends the 60th Annual GRAMMY Awards at Madison Square Garden on January 28, 2018 in New York City. (Photo by Steve Granitz/WireImage)

Steve Granitz
SZA attends the 60th Annual GRAMMY Awards at Madison Square Garden on January 28, 2018 in New York City. (Photo by Lester Cohen/Getty Images for NARAS)

Lester Cohen
Jaden Smith attends the 60th Annual GRAMMY Awards at Madison Square Garden on January 28, 2018 in New York City. (Photo by John Shearer/Getty Images)

John Shearer
Kesha attends the 60th Annual GRAMMY Awards at Madison Square Garden on January 28, 2018 in New York City. (Photo by John Shearer/Getty Images)

John Shearer
Janelle Monae attends the 60th Annual GRAMMY Awards at Madison Square Garden on January 28, 2018 in New York City. (Photo by Jamie McCarthy/Getty Images)

Jamie McCarthy
Elton John attends the 60th Annual GRAMMY Awards at Madison Square Garden on January 28, 2018 in New York City. (Photo by Kevin Mazur/Getty Images for NARAS)

Kevin Mazur/Getty Images
Kelly Clarkson carries a white rose at the 60th Annual GRAMMY Awards at Madison Square Garden on January 28, 2018 in New York City. (Photo by Kevin Mazur/Getty Images for NARAS)

Kevin Mazur
Tyler, the Creator attends the 60th Annual GRAMMY Awards at Madison Square Garden on January 28, 2018 in New York City. (Photo by Jamie McCarthy/Getty Images)

Jamie McCarthy
Rita Ora attends the 60th Annual GRAMMY Awards at Madison Square Garden on January 28, 2018 in New York City. (Photo by Kevin Mazur/Getty Images for NARAS)

Kevin Mazur
Pink with her daughter Willow Sage Hart attend the 60th Annual GRAMMY Awards at Madison Square Garden on January 28, 2018 in New York City. (Photo by Lester Cohen/Getty Images for NARAS)

Lester Cohen
Cyndi Lauper attends the 60th Annual GRAMMY Awards at Madison Square Garden on January 28, 2018 in New York City. (Photo by Christopher Polk/Getty Images for NARAS)

Christopher Polk
Nick Jonas attends the 60th Annual GRAMMY Awards at Madison Square Garden on January 28, 2018 in New York City. (Photo by Jamie McCarthy/Getty Images)

Jamie McCarthy
Hailee Steinfeld attends the 60th Annual GRAMMY Awards at Madison Square Garden on January 28, 2018 in New York City. (Photo by Kevin Mazur/Getty Images for NARAS)

Kevin Mazur
DJ Khaled and his son Assad attends the 60th Annual GRAMMY Awards at Madison Square Garden on January 28, 2018 in New York City. (Photo by Lester Cohen/Getty Images for NARAS)

Lester Cohen
Miley Cyrus carries a white rose at the 60th Grammy Awards on January 28, 2018, in New York. (ANGELA WEISS/AFP/Getty Images)

ANGELA WEISS