Grindr Invades Fire Island for Pride's Most Over the Top Party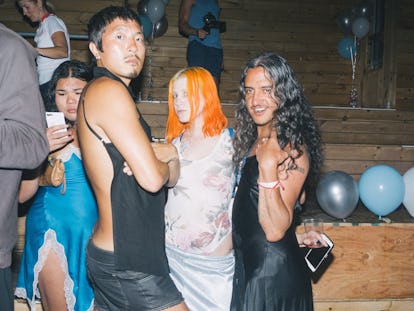 Photo by Thomas Mccarty for W Magazine.
On Pride weekend in New York, there's tough competition for extravagance—sickening looks, ridiculous parties, over the top statements of unbridled joy and unstoppable debauchery. Grindr, the gay hookup app that now has ambitions beyond its initial reputation, sought to play the part of unofficial grand marshall, if only for Fire Island Pines, that gay Valhalla in the South shore of Long Island. From Saturday through Sunday morning, Grindr threw two indulgent, no holds barred parties that it declared "Slumbr Camp," first a day-time brunch co-hosted with Visionaire—featuring an installation by filmmaker Luke Gilford and speedos customized on the spot by artist Raul de Nieves—and a more "formal" affair at night where both RuPaul's Drag Race finalist Peppermint and Grammy award winner Macy Gray performed. From the top of the Pines Club on Saturday afternoon, you could make out a crowd that included everyone from model RJ King, the Fat Jewish, the Misshapes' Greg Krelenstein, DJ Honey Dijon and every New Yorker who had ever downloaded that mischievous app with the yellow skull logo.