COUPLES WHO DRESS TOGETHER...
The Biebers Clearly Share a Closet, Right?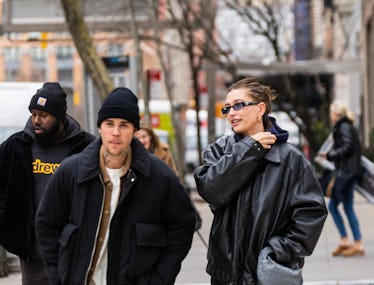 Gotham/GC Images/Getty Images
Hailey and Justin Bieber apparently stay in a 2,000-square-foot three bedroom rental when they're visiting New York, but apparently their apartment only has room for one closet. The couple, who once had their own unique sense of style, have recently been morphing into clones of each other, and at this point, it seems they might share a wardrobe.
The Biebers are currently enjoying some time in the city and, over the past two days, they've headed out on various shopping excursions downtown together. On Tuesday, they were spotted in TriBeCa, playing a game of chicken and seeing who could wear the baggiest pants without dropping trou on the sidewalk. Hailey opted for jeans that seemed to defy gravity as they sat perched on the lowest point of her hips, the style so baggy they pooled around her pointed toe shoes. She balanced out the proportions with a cropped brown fur coat, which she layered on top of a sweater in a slightly lighter hue. A black shoulder bag and gold earrings then completed the look.
But if you're cringing at the thought of Hailey's hems getting dragged through the NYC streets, you're not going to want to see what Justin was putting his pants through. The singer wore a pair of white Closed jeans, which likely took on an ombré effect throughout his day of walking. On top, he too went tonal, layering a rusted orange cardigan over a pale orange tee. Kurt Cobain-esque oval sunglasses and an ivory beanie completed the ensemble.
Both look cool and comfortable in their respective looks, but couldn't you also see them totally swapping outfits? Justin has never been afraid to wear a cropped top, and he would likely rock Hailey's coat. Hailey, meanwhile, is a fan of drowning in fabric on occasion, and would no doubt pull off her husband's creamsicle look.
And who knows, maybe he pulled the sweater from her closet. A day later the two were out again, and Hailey's pants were so baggy, you can't convince us they didn't belong to Justin at some point. The singer, meanwhile, was wearing black pants that were almost fitted (at least compared to his previous pair). He wore them with a white tee, a brown button down shirt, and a black jacket on top. As for Hailey, she no longer attempted to balance out her baggy bottoms and wore them with an equally oversized leather jacket on top of a hoodie. Besides the Bottega Veneta bag she carried, we're pretty sure we've seen Justin in Hailey's exact look before.
They say couples who dress together stay together, right? Because if that's the case, Hailey and Justin are in it for the long haul, and they will likely have many years of baggy clothes-clad marital bliss.