Hailey Bieber's Diamond Bra Blurs The Line Between Jewelry and Lingerie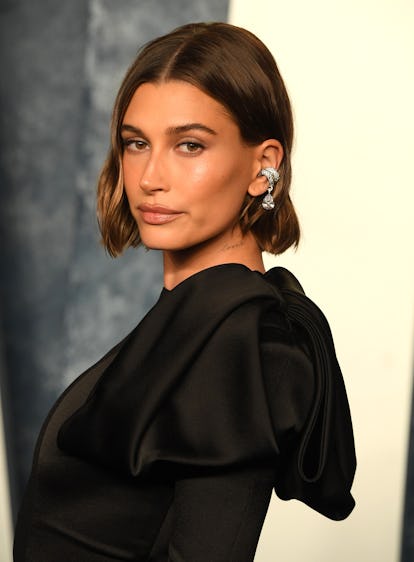 Steve Granitz/FilmMagic/Getty Images
Hailey Bieber has proven that she will do just about anything to sell her new Rhode products, even bare it all (almost) on Instagram. Over the weekend, the model shared some photos to promote her latest launch, and while she wasn't wearing much in the post, her look still managed to be worth more than some used cars.
The product in question is the new passionfruit variety of Rhode's popular peptide lip treatment, which Bieber promoted with a series of photos wearing nothing but a 14K gold and diamond bra that really resembles more of a necklace than anything else. The piece retails for $10,750, though it's pretty minimal in design. In order to cover herself up, the model aptly held two pieces of passionfruit in front of her chest.
The "bra" is courtesy of Jacquie Aichie, a fine jewelry brand known for their pricey body jewelry. Bella Hadid, Rihanna, Emily Ratajkowsi, and more stars have all worn body jewelry by the brand, so it's likely you've seen the pieces around.
Bieber made use of the piece (its hefty price tag likely warranted that), and wore it again, the second time in a less scandalous manner, layered under a green, orange, and yellow floral bikini top from Heavy Manners.
Beiber's stripped down looks come after she spent some time in Canada last week, promoting the launch of Rhode up north. For the occasion, Bieber went with a completely opposite approach to dressing, opting to wear a Ferragamo dress that covered her up completely apart from her back. The two very different looks prove the dichotomy of the model and her style.