Shining, Gleaming, and Flaxen: At Hermès, Hair Is the Word for Fall 2023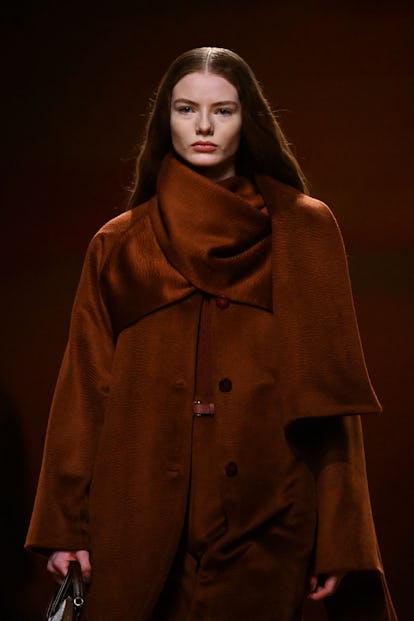 Hermes fall 2023. Photo by EMMANUEL DUNAND/AFP via Getty Images
Hermès is perpetually a not a hair out of place kind of house. Supreme luxury and exceptionalism define the label's proprietary brand of savoir faire. The company's constant quest for perfection continues to pay off—last month, it announced a 23 percent surge in fourth-quarter sales and a one-time year-end bonus of €4,000 to be paid to each of its 19,700 employees for all their success.
Even so, each model's head of hair in the brand's fall 2023 show looked extra lustrous and glossy, styled with natural nonchalance. (There's a chance some had even been freshly dyed to perfectly match their monochromatic looks.) It wasn't just a collective really good hair day. Creative director Nadège Vanhee-Cybulski was thinking about hair, how it can be twisted and braided, as she designed the collection, which upheld Hermès's standard of sublime craft and stealth chic—and then some. There was a softness and supple drape to the silhouettes done in warm winter hues across a spicy spectrum of reds, browns, yellows, and black—all natural hair colors.
"Hair is about identity," Vanhee-Cybulski said after the show. "It's a strong feminine attribute, but you can be male or female and your hair can express your beautiful side." She noted that throughout history, hair has symbolized power, seduction, and magic. That idea was woven into the clothes through literal references—braided knit sweaters; shimmering shearlings—and evocative expressions, such as jackets gathered in the back like a loose ponytail.
The coats alone were to die for: blanket coats; billowing alpaca trenches; quilted jackets with matching, giant bags; hooded styles crafted in smooth calfskin, and long duffel coats in double-face cashmere. They enveloped the body in rich layers without overwhelming it. The silhouettes were lean and light, anchored in the idea of pliability. A good portion of the lineup was devoted to plissé lamé dresses, inspired by Vionnet and Poiret couture of the 1920s.
Suede knee-high boots and bags, including structured horsehair styles, buckets, and Birkins, finished every look with monochromatic rigor. Vanhee-Cybulski wanted "solidity, for being centered," she said. "This collection is more introverted than the last one." But this introvert had serious powers of allure.