Jenna Ortega's Couture Moment Meets a Fan's Pen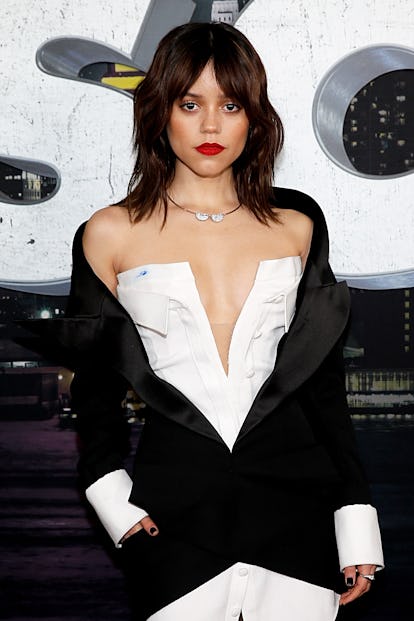 Dominik Bindl/FilmMagic/Getty Images
Yes, Jenna Ortega stepped out for the premiere of Scream VI on Monday night in a couture look. And while she looked great, once again balancing on the line of high fashion and youthful edge that she has mastered in her dressing as of late, most were distracted...by the unmissable blue stain on her right side.
You see it, don't you? On the crisp white bustier top fashioned out of a button down, there lies a smudged blue mark. It looks like, maybe, somebody tried to clean up the blemish, to no avail, leaving Ortega with no choice but to step out on the red carpet acting as if the whole this was there on purpose.
But it's very clearly not, and you don't have to be aware of Olivier Rousteing's couture collection for Jean Paul Gautier—from which the look was plucked—to know that. The dress is crisp and clean, featuring a deconstructed blazer atop the shirt-dress. The only color in the ensemble was surely meant to be the red on Ortega's lips.
So, how did the stain come to pass? According to The Evening Standard, after Ortega arrived to the event, she kindly approached some of her fans eagerly waiting for a selfie and a signature. It was there that "a fan's sharpie appeared to interact with Ortega's dress." Of course, by that point, it was too late to fix the problem, and Ortega had no choice but to hit the red carpet with her unwelcomed addition to her dress.
She did so confidentially, posing with her costars, seemingly unbothered by her less-than-perfect ensemble, remaining the consummate proffesional she is, and using her hand to hide the stain in a few photos. Surely, the fan responsible for the incident feels awful about ruining Ortega's JPG moment (and the dress), but they most definitely left their mark on the actress—literally.