Jennifer Aniston Proves Muted Glamour Never Goes Out of Style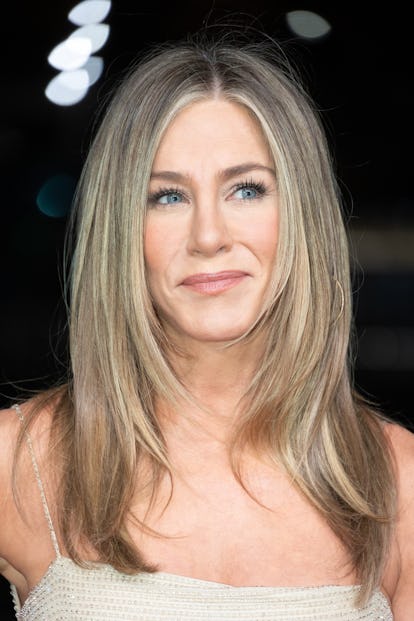 Marc Piasecki/WireImage/Getty Images
We may receive a portion of sales if you purchase a product through a link in this article.
Jennifer Aniston is currently out and about, busy promoting her new Netflix comedy, Murder Mystery 2, which is great news for any minimalistic dressers out there looking for some spring and summer dress inspiration. The actress, who is known for her love of a good LBD almost as much as she is known for her hair, has been showing off her propensity toward simple, chic dresses throughout the promo cycle, proving that muted glamour remains a go-to style.
The parade of looks began last week in Paris for the film's overseas premiere. Aniston wore a Celine dress for the occasion, a sleeveless, champagne-colored floor length number adorned with crystals. No necklace, very simple makeup, and her hair falling around her face in a natural style made the look quintessentially Jen, though she did add some drama in the form of a white fur bolero.
Soon, though, it was time to return to the US, and Aniston's first stop once stateside was New York City for an appearance on The Tonight Show Starring Jimmy Fallon. You shouldn't be too surprised to hear that Aniston nabbed an LBD for the guest spot, a ruched, slightly sheer black jersey dress with a gold adornment on the right shoulder from Bottega Veneta's resort 2023 collection. Again, Aniston kept the styling simple, pairing the dress with strappy black heels and a long black blazer.
The classic simplicity continued on Wednesday morning when the actress stepped out once again in NYC for more press engagements. At first glance, her look seemed like it was identical to her Tonight Show ensemble, but rendered in tan. In actuality though, he most recent dress featured a simple crew neckline with some ruching at the waist, though her light taupe coat could have been a twin to her black one from the evening prior. This time, the actress paired the dress with simple nude sling backs, and a pair of orange-tinted sunglasses from Oliver Peoples collaboration with Brunello Cucinelli.
The funny thing about Aniston's style is that there's a timeless element to it. All of these look are inarguably modern, but they could also have easily been taken from her Friends wardrobe. Rachel Green, after all, was a great dresser, and she would have likely snatched up the opportunity to wear that Celine dress or Bottega LBD. It just goes to show that good pieces never go out of style.