Jennifer Connelly Brings Her Son Stellan as Her Oscars Date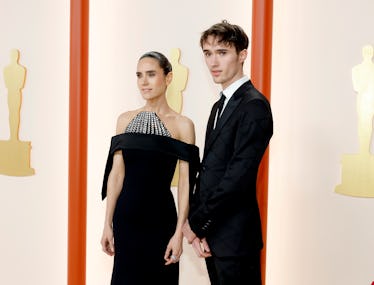 Mike Coppola/Getty Images Entertainment/Getty Images
Jennifer Connelly is at the Oscars tonight as one of the stars of Best Picture nominee Top Gun: Maverick, but maybe her date might be interested in the classical musical world-set parable Tár. Connelly, clad in a custom Louis Vuitton gown, arrived alongside Stellan Connelly Bettany, the 19-year-old son she shares with husband Paul Bettany.
It's the younger Bettany's first major public appearance alongside his famous mother in quite some time. The last time she brought him as a plus one was to a Louis Vuitton show back in 2016. Stellan has managed to find ways to fill his own time, though. His Instagram bio identifies him as a classical composer and songwriter currently studying at the prestigious New England Conservatory. Bettany posts both his classical compositions alongside his poppier songs on Instagram.
We're sure Connelly was just glad to get some quality time in with her son. She's made a running gag on Instagram out of Stellan not answering her FaceTime calls. "The downside of raising self-sufficient kids," she captioned one.
Whatever the case, just don't ask Connelly about "Nepo Babies." She's already been asked, and doesn't know what they are.
"I haven't been following the nepo baby debate," Connelly told an interviewer during the Sundance film festival is. "I don't know what the debate is." Besides, we're not sure that famous parents are much of a help in the world of classical music—but at least it does mean you get to skip your Conservatory classes for a night at the Oscars.