Jennifer Lawrence Can't Stop Wearing These Classic Sneakers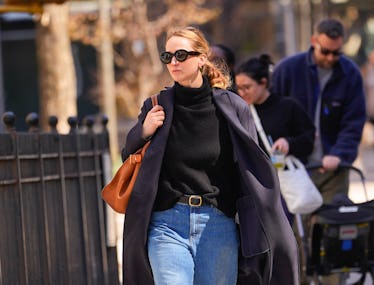 Gotham/GC Images/Getty Images
We may receive a portion of sales if you purchase a product through a link in this article.
Getting dressed for the day can seem like an impossible task at the moment. In these early spring days, it's chilly in the morning, hot in the afternoon, and there's a possibility of rain at night; and when looking at your closet for what to wear, it can seem like no sweater, shirt, or jacket is up for the job. Luckily, Jennifer Lawrence is here with her cool-girl, low-key, New York City style to help provide some transitional dressing inspiration.
The actress has been out and about in the city a lot lately—beginning on Saturday, when she was spotted in Chelsea wearing a belted, collarless cream coat on top of a simple look consisting of a white button-down over a white tank and a pair of wide-leg jeans. A black cross-body tote, gray Adidas Sambas, and a pair of sunglasses completed the ensemble.
A day later, and she was out again, this time on a walk with her husband, Cooke Maroney, and their son, Cy. Clearly, oversized jeans are Lawrence's go-to at the moment, because she was wearing them again for her outing on Sunday. In fact, her second pair hung even looser on her body than the first, though she kept them in place with a belt. This time, the actress wore the pants with a black turtleneck sweater, navy blue wool coat, and camel-colored tote. Another pair of Sambas—this time, green—adorned her feet.
It appears Lawrence's transitional wardrobe is anchored by a good coat, strong layers, and Sambas—key pieces to getting through the first few weeks of spring. Her choice of denim is also a sign that the big pants trend from 2022 isn't going anywhere. Celebrities clearly are going to continue to swim in their slacks in 2023, so you shouldn't make that appointment with your tailor just yet. Instead, try investing in a good belt.
Shop J.Law's favorite sneakers:
We may receive a portion of sales if you purchase a product through a link in this article.