Katie Holmes Wore Two Pairs of Big Pants in One Day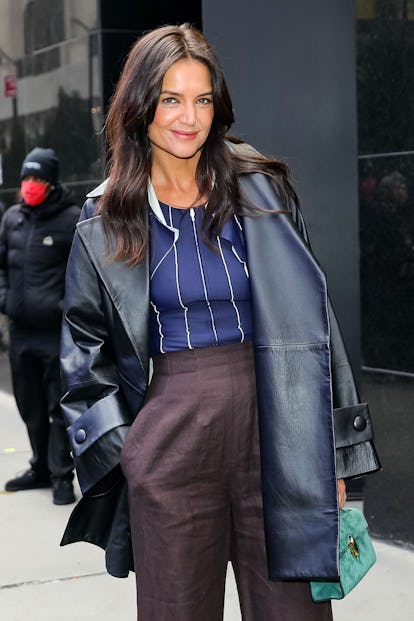 Jose Perez/Bauer-Griffin/GC Images/Getty Images
We may receive a portion of sales if you purchase a product through a link in this article.
Just like whale tails, it seems like the big pants trend will be following us into 2023, so make sure you keep a good tailor on speed dial and a good iron in your closet. And if you have any qualms about the continuation of this trend, we suggest you take it up with Katie Holmes, who just championed big pants in a big way when she wore two different pairs in one day.
Holmes is currently busy running around New York City promoting her new off-Broadway play, The Wanderers. That means, on Wednesday, the actress stopped by Good Morning America to chat with the morning show hosts about the gig. For the appearance, Holmes wore a pair of champagne wide-leg trousers from Kallmeyer with an oversized black leather Tove jacket on top. She finished off the look with some unexpected accessories in the form of an emerald suede Savette bag and a pair of silver wedge heels from Marni. In order to keep warm in the mid-January chill, Holmes opted to wear sheer black stockings underneath her pants, which added another layer to the look as the stockings peeked out as she walked down the street.
By the time Holmes exited the GMA studio, she was in a (mostly) new look. Actually, the actress smartly relied on the strong bones of her previous ensemble and made just a few changes in order to portray a completely different aesthetic. While the shimmering gold trousers evoked glamour, Holmes second pair, a brown satin brown pair—also from Kallmeyer—allowed for a cozier, yet still high brow look. The actress kept on her same jacket and accessories (though she did add a pair of sterling silver Agmes earrings) but swapped out the white button down and black top she was wearing before for a blue zip-up with white stripes. She also ditched the stockings underneath her pants, likely because the temp warmed up as the day went on.
The two big pants-centered looks come after the actress wore decidedly smaller (yet still efficiently baggy) jeans at Jingle Ball last month, an outfit that caused quite a stir among the fashion sect. Clearly, though, Holmes is unbothered by the narrative. She told Harper's Bazaar back in June that she doesn't consider herself "a fashion person," saying "I just like to look nice."
Shop Katie's early morning looks: