Jennifer Lopez Proves Brunello Cucinelli Isn't Just For Succession Characters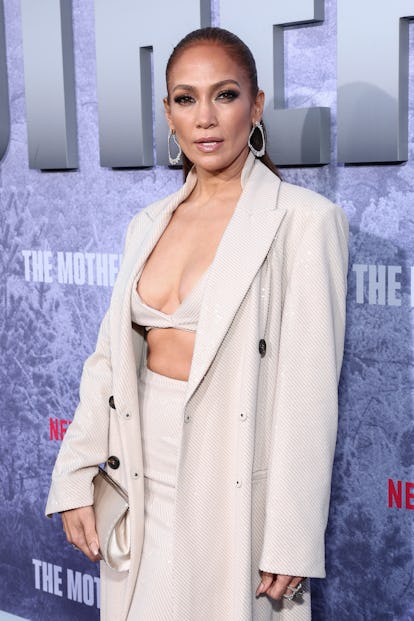 Variety/Variety/Getty Images
It seems that Jennifer Lopez is just as tired of hearing about quiet luxury as everyone else. The actress is singlehandedly trying to dismantle the narrative around the Internet's current favorite trend by fulling embracing one of the quintessential "stealth wealth" brands. Because while Lopez is many, many things, she is not quietly luxurious.
On Wednesday night, Lopez attended the premiere for her new thriller, The Mother, in a custom look from Brunello Cucinelli. A column maxi skirt and bralette top made up a set while a long-line, double-breasted coat topped the look. All were rendered in a sort of light gray, taupe color, with subtle stripes of sequins adding a bit of texture and sparkle across the pieces. Yes, sequins, an effect that has never seen the light of day on the set of Succession (not even on Willa), yet here it is on a Brunello look.
For the most part, the Italian luxury brand, is placed among peers like Loro Piana and Kiton—heavily expensive, heavily inconspicuous labels that cater to the most low key of the rich. Brunello, however, has always had a bit more flair to their collections, especially more recently under the direction of the founder's daughter, Carolina Cucinelli, who has taken on the role of co-creative director alongside her father. And yes, there are sequins throughout their collections, this wasn't just a special request put in by Lopez.
This isn't even the first time the actress has worn a look from Brunello. In fact, it seems she has dressed in the brand on at least three other occasions throughout this press tour alone, Most recently, Lopez stepped out in New York in a full look from the brand's fall/winter 2023 collection featuring a tiered yarn fringe skirt. The plastic Valentino pleasers were, unsurprisingly, a Lopez addition.
Prior to that, Lopez showed off more Brunello looks on Instagram, including another knit ensemble, which she styled almost exactly as seen on the original model, apart from her own addition of some sky-high Aquazzura platforms.
It's clear Brunello and Lopez have a good relationship. It seems that either the Internet was wrong about their strict interpretation of quiet luxury codes and labels. Because none of these Lopez looks are in any way quiet. With their sequins, fringe, and embrace by the actress, they have a very in-your-face glamorous feeling that looks natural on Lopez, not as if she's putting on some sort of coded cashmere front. Of course, many have believed the conversation around quiet luxury has been overblown since the beginning, brought on by the Succession obsession and the public's curiosity around the extremely wealthy. Now, though, with Lopez's intense embrace of one of the coded luxury holy trinity brands, we need to rethink how we discuss the trend—either remove Brunello from that conversation and stop trying to box them into a corner in which they clearly don't fit, or move on from the trend all together.