Forget Coded Luxury, We Need to Talk About Willa's Wardrobe on Succession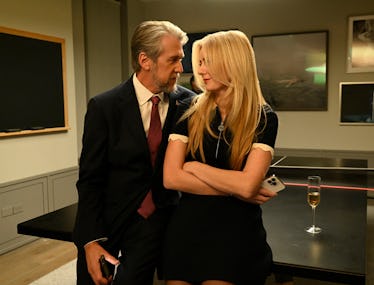 Photograph by David Russell/HBO
We may receive a portion of sales if you purchase a product through a link in this article.
Over the past five years, Succession has provided some comforting constants to its viewers. Every Sunday at 9 PM ET brings a new episode, and along with it, digging, swear-filled insults from Roman, bungled uncertainty from Greg, and in recent seasons, Willa's non-stop parade of Sandro dresses. When it comes to conversations around the costuming on Succession (of which there have been many), the focus remains solely on the "coded luxury" or "stealth wealth" looks of characters like Kendall Roy with his $600 Loro Piana hats and equally expensive and discreet sweater/jeans combos. But flitting about these well-suited slime puppies is Willa, dressed in direct contrast to those around her, not only when it comes to the colors and patterns she employs, but also the caliber of brands she gravitates towards.
A betting man would place the odds on the recently anointed Mrs. Connor Roy wearing a piece from the Paris-based Sandro. This season alone, Willa has already showed up in three looks from the brand, proving a continued loyalty that began years ago. Sandro, which was founded in 1984 by Évelyne Chetrite, is a mid-range ready-to-wear label that offers contemporary, French-inspired fashion. A 2010 private equity acquisition helped to expand the brand globally, and these days, Sandro, as well as its sister brand Maje, is a department store staple, taking up major real estate in the likes of Bloomingdales and Nordstrom. Sandro is in no way a bargain (dresses sit in the $300-$500 range), and the aesthetic varies from Parisian chic to flirty Floridian depending on the piece. Willa's heavy embrace of the label, therefore, is just another way to solidify her outsider-looking-in standing within the Roy family and the larger Succession universe.
As a reminder, Willa wasn't born into the role of a (heavily flawed) politician's wife. We were first introduced to Justine Lupe's character in the second-ever episode of the series when she accompanied Connor to the hospital following Logan's stroke. Halfway through season one, we learn Willa's an escort, introduced to Connor through Roman. Throughout the seasons, their relationship evolves from blatantly transactional to a slightly more subtle quid pro quo to where it is now, a bonafide, yet seemingly still unbalanced marriage. From the beginning, Willa's wardrobe has accentuated her outsider nature, and no matter how much time she spends among the Roys, she has never dimmed her ruffled viscose light in an attempt to fit in. One would think once she gained access to the Roy checking account, she would maybe move up a price point and perhaps indulge in Proenza Schouler or MaxMara a la Naomi Pierce, but she has stayed true to her Sandro pieces, remaining more in the realm of Bridget Randomfuck and her "ludicrously capacious bag" than Shiv Roy.
That's not to say Willa's style hasn't changed over the four seasons. The most obvious evolution comes in the form of the failed playwright's hair, which lightened throughout the series, going from a deep red in season one, to a true blonde by season four. The new hue takes the place of representing her embrace to the wealthy lifestyle, if only because it signifies she's comfortable dropping hundreds of dollars every few weeks on touch ups.
Her wardrobe has also changed slightly, if not in regards to the brand then the specific pieces she gravitates toward. While in the past, she embraced more florals, ruffles, colors, season four has seen her in a strictly black and white wardrobe (though still one almost exclusively comprised of Sandro and other brands you might find on the contemporary floor of a department store). This could be the sign of a maturation within the character, or simply her choice of mourning attire following Logan's death.
Despite the more subdued color palette, Willa's looks still provide a lightness amid the inherently heavy style choices of those that surround her. Shiv, always grappling with some inner-conflict, remains mostly bundled up in suits and turtlenecks while Kendall's wardrobe, no matter how simple or casual, reeks with desperation. But in Willa, there's a sense of joy in her clothing, a feeling that she actually likes what she puts on. She heads to Bloomies, Connor's credit card in hand, and walks out with three Big Brown Bags filled with mini dresses and ankle boots. And her dedication to the brand and style despite her new net worth proves that she's truly dressing for herself. If she was trying to fit in, she would have changed things up by now, but she likes these pieces, so screw what Roman or Shiv have to say. While Lupe's character has never been blessed with an excess of lines, her choice in clothing says more than enough about her feelings regarding her standing in the family. Here's hoping they have Sandro boutiques in Oman...
Shop Willa's favorite looks:
We may receive a portion of sales if you purchase a product through a link in this article.