How a Mother and Son Duo Created Sandro Homme, a One-Stop Shop for Effortlessly Cool Menswear
Guys who want to play it cool and nonchalant have Sandro Homme founder Ilan Chetrite—and his mom—to thank.
---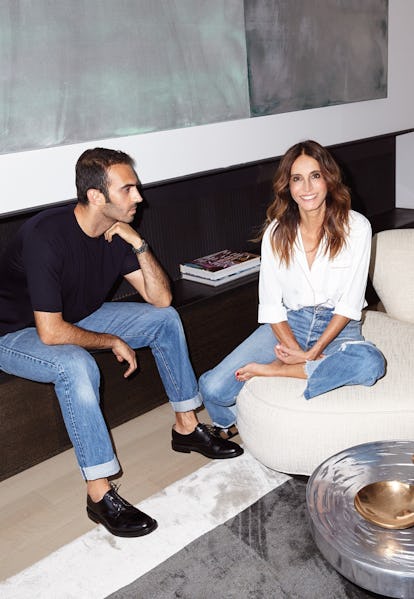 Photograph by Hugues Laurent; Styled by Rogelio F. Burgos; Hair by Christos Vourlis; Makeup by Corinne Fouet at Airport Agency
Everyone should have a mom like Evelyne Chetrite, who is what the kids might call a boss. In 1984, she cofounded the French contemporary brand Sandro, helping to establish a market for easy, accessible chic in a country that was historically inclined to the extremes of high and low. In 2010, a private equity firm acquired a controlling interest in Sandro, making Chetrite, who is still creative director, a very rich woman. (The brand changed hands once again last year, and its new parent company is considering an IPO.) In 2007, when Chetrite's son Ilan was just 24 and fresh out of university, he came to her with a very big ask. "I like what you're doing, but it doesn't interest me to follow you," he told her. Ilan had spent three months at ­Sandro, mostly as an observer, and wanted to create—and also run—Sandro for men. "I didn't understand the market or the techniques for making men's clothes, so of course I said, 'Absolutely! That's great!' " Chetrite recalls. There was an opportunity out there to sell good-looking, unfussy men's basics. And while Chetrite wasn't entirely convinced hers was the company to make them, she was nevertheless eager to help her firstborn try.
The launch of Sandro Homme—a 10-piece capsule collection available in a handful of Sandro shops in France—did not go smoothly. "We fought a lot," says Ilan, who is soft-spoken and discreet even as his mother is a pistol. "We fought about the brand identity, the personnel, the structure of the studio, the first boutiques, the stock, the quality—really everything." Ultimately, Chetrite was as ­protective of her son as she was of her business: "I thought, It can't be that he starts with a failure." Together, they weathered the ­growing pains, and Ilan found his way. Nearly a decade later, Sandro Homme is thriving, with 540 points of sale around the world.
Sandro Homme is a good example of what the world commonly reveres as French style: slimming and refined, masculine but not at all macho, timeless but with a bit of edge. And Ilan is the perfect poster boy. He hates anything too busy, and has worn the same prized Prada coat for at least 10 years. "I like uniforms," he says. "I prefer that to looking like a man who works in fashion." As things have settled into a healthy groove with the brand, his life has become as low-key as his look. He lives on the edge of the Bois de Boulogne just outside Paris with his two daughters and their mother, and he sees Chetrite in the office at weekly strategy meetings and at Shabbat dinners en famille. "I'm really proud of what we've brought to the market," Chetrite says. "I think it's an exceptional brand." But in that way that only a mother can truly muster, her pride is tinged with the tiniest bit of regret: "He doesn't come ask for help anymore." He doesn't need it.