Julia Fox Mixes Classic Glam With an Artsy Transparent Bodice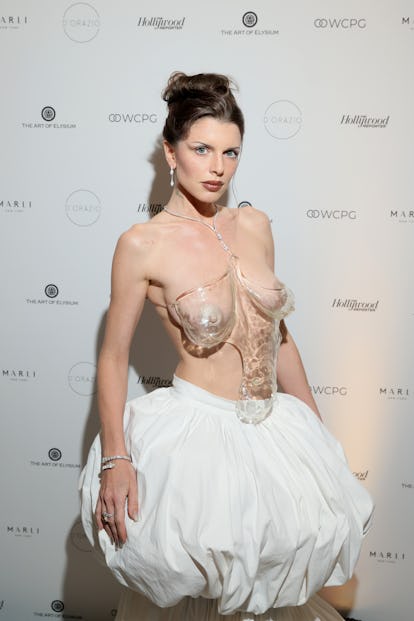 Victor Boyko/Getty Images Entertainment/Getty Images
Julia Fox is notorious for her eclectic ensembles and crafty DIY creations (remember the time she created an entire dress and earrings from leaves she foraged around New York City?). So when the actress attends a premiere, walks on a red carpet, or merely goes out for an afternoon stroll, the world pays attention.
Fox tends to love a good sheer look, but her latest ensemble is certainly one of her most boundary-pushing to date. Attending the Art of Elysium "Paradis" 25th anniversary in Cannes, she wore a clear sculpted corset and a billowing white skirt made of bed sheets.
While molded bodices have gained popularity in the past few years (think Zendaya in a pink Tom Ford breastplate) Fox's transparent piece took to the fad to the next level. The bodice molded to her midsection (giving an appearance of melting ice) and was held on the actress' body by what appeared to be two strands of wire at the neck and back.
The two-tiered skirt featured a bustle at the top that flowed into dramatic pleats. The Uncut Gems star decided to go a more classic route for glam and accessories, pairing the look with sparkling stones from Marli and a sleek Hollywood-esque updo and makeup.
This isn't the first time that Fox has opted for a transparent look before. For a New York Fashion Week event in September, she wore a studded mini dress and accessories made out of saran wrap and just last week, she sported a tube top, bag, and boots made out of condoms. While it is unclear whether Fox will be attending any other events at Cannes this year, we will be eagerly expecting another statement-making moment (and perhaps some more sheer).