Julia Fox Brought Her Son To Diesel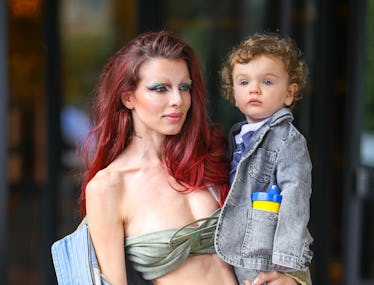 Rachpoot/Bauer-Griffin/GC Images/Getty Images
You'll always remember your first fashion show. Well, actually, that's not technically true. Julia Fox's two-year-old son, Valentino, likely won't remember his first fashion show, which occurred on Wednesday when the tot was taken to the Diesel fall/winter 2023 presentation on the arm of his mother. Though honestly, that might be for the best.
Fox returned to her hometown of Milan for fashion week, and brought her son along with her for the trip. Their first stop was Glenn Martens' show, and the duo dressed the part for the event, wearing coordinating denim looks. The actress wore a pair of low-slung jeans that gathered at her ankles and connected to her matching denim pumps. On top, she wore a twisted, bandeau-style top featuring the Diesel logo and a taupe and blue denim jacket that hung off her shoulder. Her red hair, which she dyed herself for the last day of New York Fashion Week, added some color to her look, as did her bright blue makeup.
Clearly, Valentino got the denim memo because he too went all in on the fabric, attending the presentation in jeans and a matching denim jacket, his pants tucked into a pair of black cowboy boots. On top, he wore a trompe l'oeil t-shirt meant to resemble a navy, pin-stripe vest. For an accessory, Valentino placed a blue and yellow sippy cup in his jacket pocket...he is a kid after all.
Once inside the venue, Fox may have regretted her decision to bring along her two-year-old, upon seeing the pile of over 200,000 condoms which sat in the middle of the showspace. Or maybe, she came to that realization when the presentation actually started and moans could be heard as the models walked the runway. Likely, though, she paid no mind, as this is Julia Fox we are talking about. She probably knew Valentino is too young to register any of those subtleties, and nothing was overt enough to cause any lasting impact on the tot. Besides, there are probably worse things littering the streets of Downtown Manhattan anyway.