Julia Fox Wore a Week's Worth of Fashion Headlines in One Day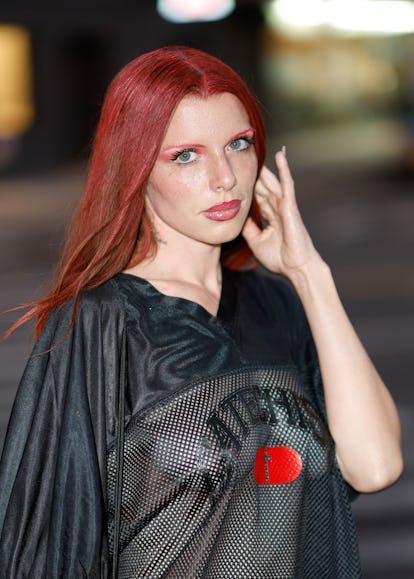 Rachpoot/Bauer-Griffin/GC Images/Getty Images
Keeping up with Julia Fox's fashion week looks is starting to become an impossible task. Finding a way to describe the pieces the actress wears to shows should be used as a writing exercise in journalism classes. Never does she just wear a top or a skirt. It's always a top that stops mid-breast and features built in gloves and a hood or a leather maxi skirt with no fabric on the actual butt, and an attached horse tail. And just when we thought Fox had reached the limit of her fashion experimentation, she proved us all wrong when she stepped out on Wednesday in three ensembles we're still trying to wrap our heads around.
The day started with the Wiederhoeft presentation for which Fox wore a look from Jackson Wiederhoeft's resort 2023 collection—a strapless, hot pink sequin-covered dress featuring the head of a poodle on the front, with marabou feathers representing the pup's fur. As if the look wasn't eccentric enough, Fox paired the dress with white sky-high pleasers, rendering her completely unmissable.
Next up was the Willy Chavarria show at the Cooper Hewitt, Smithsonian Design Museum. For that presentation, Fox wore what actually may have been her tamest look of the week. The actress took pieces from Chavarria's spring 2023 collection—a black mesh jersey, which she wore with nothing underneath, and a pair of black and white basketball shorts. She paired the look with black patent leather boots, and took the opportunity of the show to debut a new fiery red hair color and eyebrows to match.
Fox actually admitted on Instagram that the Chavarria look was her favorite of the week. She also revealed that she did her hair and makeup herself for the event (referencing one of her old memes in the process). It's unclear, if that means she got some box dye and took to her bathroom sink for the hair transformation. Fox does love of DIY, and knowing her, there will be a TikTok video showing off the process very soon.
In hindsight, the Chavarria ensemble was a bit of a palette cleanser for what was to come later in the evening, a look for which we were most definitely not prepared. Actually, it's not the look that was so shocking—the patent leather jacket with structured shoulders, gray mini skirt, and black lace up Pleaser boots were par for the course for Fox—but her purse, if you could call it that. The actress brought new meaning to the word "body bag" when she stepped out carrying a purse in the shape of a literal person. We're talking a life-sized doll wearing it's own Pleasers, gloves, and patent leather look, but with a shoulder strap on it. The "person" even had long blonde hair, which dragged on the streets on NYC as Fox struggled to carry the bag around.
The piece, along with Fox's jacket and gloves, is by Toronto-based designer Mikhael Kale. A part of his spring/summer 2023 Soft Sculpture collection, the vinyl body bag stands at six feet tall and weighs three and a half pounds. Kale actually said Fox was a muse of his while making the collection, and it was a "dream come true" to see her wearing his pieces.
It's unclear if Fox needed an extra front row seat for her purse, or if she simply laid it on the floor when she got to her destination. Or, better yet, ditched the thing after getting her paparazzi pics. We've seen the actress' apartment and there's barely room for her and her son in there. The bag lady would make three which is, in my opinion, a bit of a crowd.