Kaia Gerber Just Approved One of the Season's Hottest Trends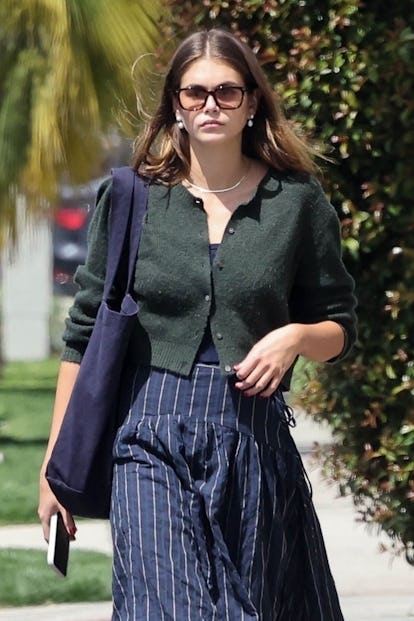 SL, Terma / BACKGRID
We may receive a portion of sales if you purchase a product through a link in this article.
Embellished jeans may be the must-have bottoms for spring amongst celebrities, but if you're looking for a top to pair with those pants, perhaps something slightly more sophisticated to offset to glitz going on down below, may we suggest another celebrity-approved piece sure to take over wardrobes soon enough. We're talking vests, and no, not sweater vests, which had their moment in the sun last year, but suit-style vests worn as shirts. Really, this look is nothing new, and has been bubbling up over the past few years, but it just got a major cool girl seal of approval from none other than Kaia Gerber.
Gerber's off-duty model style is heavily underrated. She has mastered the laidback, Californian look, often pairing long skirts with cardigan sweaters or trenches with the currently ubiquitous (yet at the same time almost completely sold out) Sambas. In a recent Instagram story, Gerber showed off a look with a slightly more bookish tilt, taking a selfie in a pinstripe vest topped with a patterned silk scarf haphazardly placed around her neck. The vest, though formal in many contexts, looked casual and cool paired with jeans and with Gerber's black bra poking out.
Now, Gerber is hardly the first celebrity to wear a vest like this. Kendall Jenner was rocking the look back in 2021, and Stella McCartney has been championing the style for a few seasons now. In fact, Elle Fanning recently wore a vest-topped Stella look to a dinner held by The Hollywood Reporter last month.
The style also fits into the Succession-inspired coded luxury uptick that has been going on lately, as it gives a kind of hot Wall Street worker off duty look, especially paired with matching pants a la Fanning. Or, the vest can be made to look more demure when worn with a silk skirt, like in the vein of Sadie Sink, who opted for a very chic, off-white Brunello Cucinelli ensemble while doing press in NYC late last year.
While at first glance, the suit vest can seem like a fairly restrictive look, it can really be quite versatile depending on how you style it. Take some time and figure out how to make it work for you, because it seems likely the style isn't going anywhere.
Shop suit vests:
We may receive a portion of sales if you purchase a product through a link in this article.