"Karl Lagerfeld: A Line of Beauty" Offers a Detailed View of the Designer's Legacy
Inside the Costume Institute's exhibition dedicated to Lagerfeld's extraordinary 65-year career.
---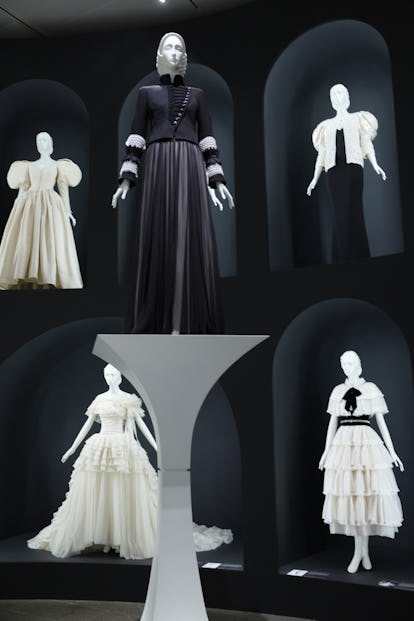 Michael Loccisano/Getty Images Entertainment/Getty Images
Eight hours before the 2023 Met Gala, fans were already camped outside the New York City museum, hoping to get a front-row view of their favorite stars at fashion's biggest night. (Some had taken off their shoes and sat on the sidewalk to get comfortable; others had bags of food with them for sustenance during the long day ahead.) Across the street, journalists; representatives from Chanel, Fendi, and the Karl Lagerfeld brand; friends of Condé Nast and Anna Wintour, and more insiders filed into the museum for a preview of "Karl Lagerfeld: A Line of Beauty," the Costume Institute exhibition at the center of all this Met Gala commotion. The show aims to capture Lagerfeld's impact upon fashion—both the insular industry and the way folks dress on Main Street—his connection to pop culture writ large, and how he transformed the art of clothing design itself. Featuring nearly 200 items including sketches and garments from Lagerfeld's 65-year career at the helm of the aforementioned houses as well as his time at Balmain, Chloé, and Patou, the exhibition is a thorough survey of Lagerfeld's many spectacular looks.
The clothes are certainly the focal point of the muted exhibition, which springs to life via a video projected onto the opening wall that shows Lagerfeld's fingerless glove-clad hands sketching dresses. Each of the show's winding, convex rooms are themed according to "Lines" of his work, for instance "Masculine Line/Feminine Line" and "Romantic Line/Military Line," demonstrating the duality and layered nature of Lagerfeld's creative vision. The first room features some Chanel greats on one side (glittering skirt suits, a gown with a cascading fish scale-like train) and a handful of Fendi furs and textured dresses on the other—a true fashion face-off. Above those dresses, video footage of interviews with seamstresses who worked closest with Lagerfeld in the Chanel atelier; below them, the typical museum placard features an added bonus: the corresponding sketch to go along with the design (if there's no sketch, then an image of the object which served as inspiration for the look—a plate, a birdcage, or an armoire). The sound of Lagerfeld's incessantly scribbling pen plays on speakers overhead.
One could get whiplash walking around the exhibition, trying to catch a glimpse at the hundreds of ensembles on display—from some of the more famous Chanel bride looks to the very first black coat Lagerfeld made for House of Patou back in 1958 which won him the Woolmark Prize. The exhibition is a real opportunity to show off not only Lagerfeld's prowess, but the exacting skills of his staff and collaborators for whom his singular sketches—as the Costume Institute curator Andrew Bolton noted during his opening remarks—were almost a secret language: "They understood every line," Bolton said. The textiles, beadwork, and tailoring—like pink silk manipulated into a bulbous floral cape; or a white silk organza bolero embroidered with blue, gold, and green sequins; and a black-and-white dress decorated with circular sequins from Chanel's 2016 haute couture collection—are a delight to examine up-close.
The final few rooms of the Lagerfeld exhibition including the "Satirical Line" are a tribute to the man himself—one who, famously, was never nostalgic, hated retrospectives, and according to his many friends and muses was wickedly funny. A number of Karl signatures (his fan, those fingerless gloves, black sunglasses) hang on the wall, just outside a curious little room that contains only a row of iPhones. On their screens, a loop of Lagerfeld giggling mischievously to himself, covering his mouth in glee, plays over and over in between quotes from the designer. Lagerfeld was known for having hundreds of iPods which he loaded with various genres of music and played while he was working.
"I often imagine him leaning over us from above, perhaps even mocking us for honoring his life's work in a museum—something we all know he would scoff at," Carla Bruni, the model, former First Lady of France and longtime friend of Lagerfeld's, told the crowd of media assembled at the preview. But, as Bolton noted in his own remarks: "Karl never declined any of our requests to include his work in our exhibitions."
"Karl Lagerfeld: A Line of Beauty" runs May 5-July 16.