Kate Middleton Does Her Version of Barbiecore with a Shirtdress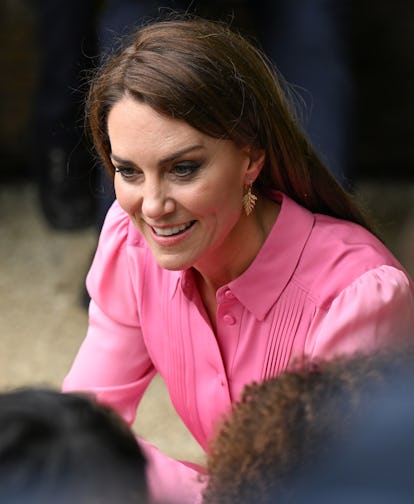 Jeff Spicer/Getty Images Entertainment/Getty Images
When Kate Middleton finds a silhouette that she likes, she sticks with it. The Princess of Wales—who is known for her rewearing her favorite styles—seems to have become particularly inclined to the shirtdress. Opting for the versatile piece during both casual and formal occasions recently, Middleton has worn a rainbow of shirtdresses in recent appearances, the latest being a bubblegum pink number. Apparently even a princess can be swayed by Barbiecore.
Attending the Chelsea Flower Show at the Royal Hospital in London, Middleton donned the bright silk ensemble by ME+EM and tan Castañer Carina lace up espadrilles. In true fashion, she had worn the shirtdress almost exactly two years ago during a visit with 5-year-old cancer patient Mila Sneddon at the Palace of Holyroodhouse.
The Barbie-esque shade of pink was perfect for the Spring event and the ensemble (which featured buttons down the front as well as several pleats throughout) was strikingly similar to an emerald look the princess wore just a few days ago to a mental health event in London.
It has been a busy weekend for Middleton—before the daytime event on Monday, she took to Instagram in a beekeeping suit for World Bee Day. "Bees are a vital part of our ecosystem," the princess captioned the photo. "Today is a great opportunity to raise awareness of the essential role bees and other pollinators play in keeping people and the planet healthy."