Keira Knightley Shows Off Four Looks in Two Days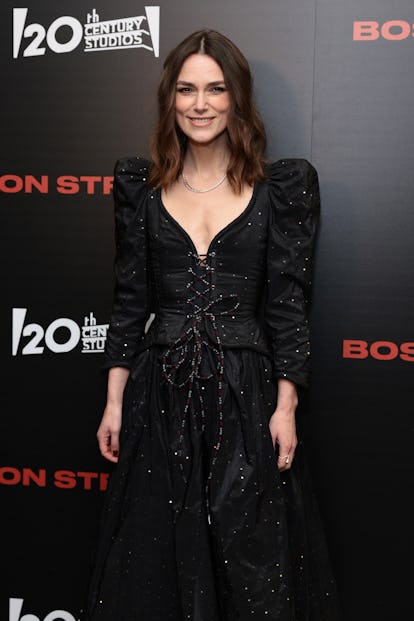 Dimitrios Kambouris/Getty Images Entertainment/Getty Images
It's been years since Keira Knightley has been in New York for a full promo blitz, and now that she's back at it she's going all in. The actress began the promo cycle at her new film's premiere on Tuesday night, and since, she has delivered four looks, as well as a lesson on dressing for yourself.
The parade of outfits began when the actress stepped out for the premiere of Boston Strangler at the Museum of Modern Art. The movie, which will be released on March 17th on Hulu, is based on the true story of the serial killer who terrorized Boston in the '60s. It follows Knightley as Loretta McLaughlin and Carrie Coon as Jean Cole, two reporters who broke the story for the Boston Record American and investigated the crimes amid the sexism of the period.
For the premiere, Knightley wore a look from Andreas Kronthaler's spring/summer 2023 collection for Vivienne Westwood, a black taffeta dress featuring a corseted top, puffed sleeves and a mid-length skirt. Sequin embellishment added a bit of glam to the gothic look, as did the open-toe Chanel heels and Sophie Bille Brahe jewels she paired it with.
But the premiere was just the beginning, and on Monday, Knightley woke up ready to take on New York City in style. The actress began her morning with a stop at The Drew Barrymore Show, looking like a modern day Mr. Darcy in a black three piece suit from the Celine fall 2023 collection, featuring straight leg pants, a vest, and jacket. A white pussy bow blouse and black leather boots completed the simple, yet effective ensemble.
When it was time to change outfits and head over to ABC, Knightley kept to the suiting theme, though she took it in a very different direction. This time, she put on an off-white skirt set, featuring a straight midi skirt and a matching jacket from Gucci spring 2023. A thin black belt added some shape, while a blue button down underneath provided the pop off color. Studded, gladiator-style heels then did the job of supplying a bit of edge to the look.
Finally (for the moment anyway), Knightley popped up in the afternoon in a rather casual Valentino pre-fall 2023 look featuring a gray sweater layered atop an evening-ready skirt.
For awhile now, Knightley has mostly thwarted trends, opting instead to dress in ways that represent her own personal style and make her feel comfortable. While many actresses would use the excuse of a press tour to show off all the latest styles before anyone else, Knightley is clearly uninterested in partaking in the trend cycle. Instead of a voluminous skirt (a silhouette all over the recent runways), she opted for a straight one, and a tie added to her three-piece suit look would have been very relevant, but instead she went with the decorated blouse. Of course, all the looks are "in style," as they come from recent collections, but there's something timeless and chic about them all, proving you don't always have to chase trends in order to look good.