Kendall Jenner Wore the Perfect Little Black Party Dress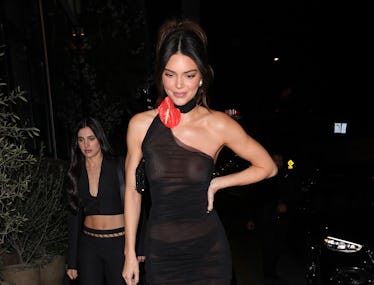 Rachpoot/Bauer-Griffin/GC Images
Kendall Jenner wore the ultimate party dress out last Friday night and proved that she's still "all good with the nipple" after all these years. The model attended Lori Harvey's 26th birthday party at Lavo Ristorante in West Hollywood wearing a completely sheer look without a care in the world.
The dress in question is from Ludovic de Saint Sernin's spring 2023 ready-to-wear collection. De Saint Sernin is known for his emphasis on sensuality and silhouette, and those were both on full display with this look—an asymmetrical midi dress with a high neck decorated with a plastic red flower. Jenner wore black underwear underneath, but ditched a bra on top to maximize the De Saint Sernin effect. While on the runway, the model wore black lace-up boots with the dress, Jenner opted for a much daintier look with some strappy black vintage Manolo Blahniks. A Judith Lieber clutch, designed by her sister, Kourtney Kardashian, to look like a plate of sushi, finished off the outfit.
Later, Jenner took to Instagram to show off the ensemble further, though some skilled lighting kept her from breaking some of the social media site's nudity guidelines. The model shared a handful of images laying on a bed in the dress and captioned the post with a black cat emoji.
While for some, baring so much skin in public might be scary, but Jenner is used to it by now. During her Vogue Life in Looks video from last September, the model spoke about what it was like to wear a completely sheer top during her first high fashion runway show for Marc Jacobs in 2014. "I was pretty chill even though my boobies were out," she said. "I remember getting a call from my agent saying that Marc and Katie [Grand] wanted to put me in this kind of sheer top, and I was like, 'I'm game. I don't mind. I'm all good with the nipple.' It didn't make me any more nervous. I genuinely was just like, 'Dope, whatever they want, it's their vision. So let's do it.' I was completely comfortable."