Kim Kardashian Has a Message For Jocks: She Loves Nerds Now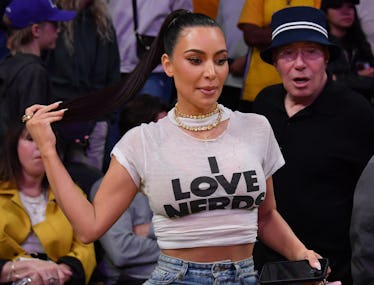 Allen Berezovsky/Getty Images Sport/Getty Images
Apparently Kim Kardashian loves nerds, but unfortunately for her, she's looking in all the wrong places. On Monday night, the reality star attended Game 4 of the NBA playoff matchup between the Los Angeles Lakers and Golden State Warriors, and while she found herself in an arena surrounded by jocks, she took the opportunity to declare her love for the dorkier variety.
Kardashian attended the game alongside Staud founder Sarah Staudinger wearing a white t-shirt with the phrase "I LOVE NERDS" emblazoned across the front. The top featured a likely purposeful tear on the neck, and was pulled back to accentuate the Skims CEO's waist. She then paired the shirt with distressed Balenciaga jeans, a light pink mini Kelly bag, and a high ponytail.
This is the second playoff game Kardashian has attended recently, heading over to Crypto.com arena on Saturday night for game three as well. If Kardashian truly, does love nerds, however, she would stop frequenting sporting events and hit up, say, the private equity firm she's apparently building out at the moment. Though, I'm having a hard time believing the sentiment to begin with. Kardashian has never showed a leaning towards the, lets say, traditionally intellectually inclined. That's not to say her exes aren't smart (we're not handing out IQ tests here), but none of them would be traditionally classified as nerds. Maybe, this is Kardashian trying to make a change—the old ways didn't work, so let's try something new. She did recently admit that she's interested in becoming a lawyer full time, and if there's anywhere to meet a good nerd, it's in the courtroom. As of now, though, Kardashian seems to be happier yelling her desire into the void, where it will get drowned out among the screams of excited Lakers fans.