Kim Kardashian Brings the Sheer Trend to Suiting Territory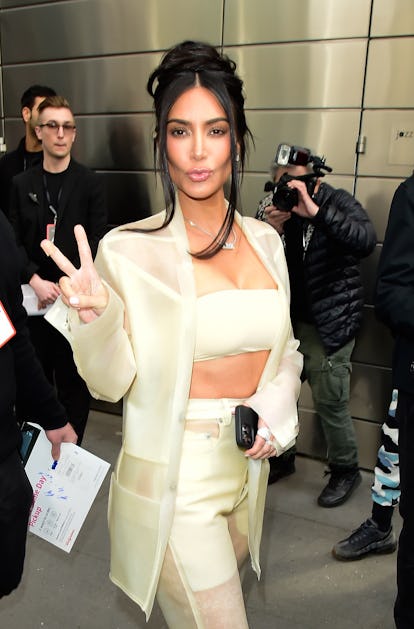 Raymond Hall/GC Images/Getty Images
We may receive a portion of sales if you purchase a product through a link in this article.
Kim Kardashian's sheer suit is completely transparent, but she wouldn't mind if her life was not. The reality star, known for posting just about every breath she takes on social media, just revealed she sometimes thinks about handing in the mic pack for good and becoming a lawyer full time. Kardashian spoke at the 2023 Time100 Summit in New York City on Tuesday about the change in life path she has been considering recently.
"I would be just as happy being an attorney full time," Kardashian said to moderator Poppy Harlow. "The journey just really opened up my eyes so much," Kardashian said. "It gets overwhelming because there's so much to be done." She revealed that she recently brought her sister, Khloé, to prison with her for the first time just last week. "That was really eye-opening for her."
Kardashian has been working in the world of criminal justice reform since October 2017 when she helped fight for the clemency of Alice Marie Johnson, who was released in August 2020. From there, Kardashian began advocating for the wrongfully convicted. In May 2019, she announced her decision to become a lawyer, like her late father Robert Kardashian, and while she passed the "baby bar" in December 2021, she must pass another bar exam before she can officially practice law.
Despite that, Kardashian is clearly still very passionate about reform, calling it her "life's most meaningful work." She even joked that she's told her mom, "Kim K. is retiring, and I'm just going to be an attorney."
Right now, though, she seems to enjoy walking the line between her two passions of American personality and lawyer, and her ensemble for the event represented that. Kardashian wore a suit for the summit, but not a traditional one in the slightest (you won't see Shiv trading in her beloved checked blazer for Kardashian's anytime soon). Instead, she wore a Rick Owens spring/summer 2023 leather blazer and jeans in a sheer, egg shell fabric with a matching bandeau underneath. Kardashian accessorized the look with pumps and a Ruby Stella diamond necklace featuring her name. The look, as a whole, is the epitome of Kardashian's two worlds merged together, proving maybe she doesn't have to choose between one or the other—the sheer dress or the tailored suit—and she can really have it all.
Shop Kim's lawyerly look:
We may receive a portion of sales if you purchase a product through a link in this article.