Kristen Stewart Puts Her Spin on Chanel's Classic Tweed Suit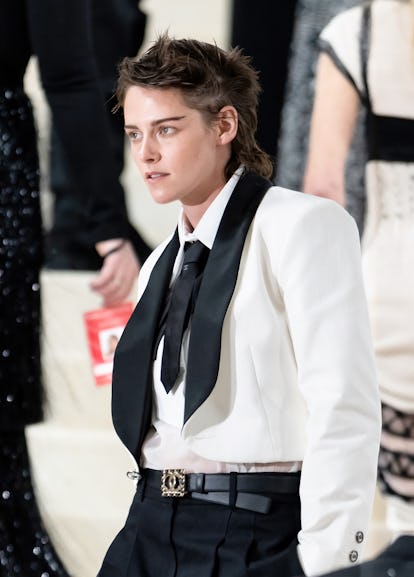 Gilbert Carrasquillo/GC Images/Getty Images
If you thought the Chanel celebration in America was over for awhile, and the brand would need a break after putting on quite the display at the Karl Lagerfeld-theme Met Gala last week, cruise season came around. At a breakneck pace, the brand crossed the country from NYC to Los Angeles for their resort 2024 show. There were almost as many stars in attendance as at the Gala just a week prior, with a lot of reappearances from the house's regulars. Included in that group was Kristen Stewart, who followed up her suited display for the first Monday in May with another twist on a quintessential Chanel set.
The actress arrived to the Paramount Studios lot on Tuesday night in a black and white tweed suit featuring low-slung, slightly oversized pants that gathered at her feet, and a matching jacket, which she wore open, with just a plain white t-shirt underneath. Around her neck, Stewart wore a silver chain necklace with a large plate displaying the house's interlocking C's logo. Per usually, the actress wore virtually no makeup and let her short, almost mullet-styled hair fall in a casual, care-free way.
Stewart has a pattern of adding her cool girl touch to classic Chanel codes so they feel like a natural choice for the actress. Of course, there was her tuxedo-style suit for the Met Gala this year, but let's not forget the Chanel mini shorts she brought to the Oscars red carpet when she was nominated for best actress in 2022. In fact, that look had such an impact on Virginie Viard, it inspired Chanel's spring 2023 collection. "Of the people around me, she is the closest to Gabrielle Chanel—at least, to my idea of her," the creative director wrote about Stewart in the show notes. "She understands Chanel, its clothes."
But Stewart wasn't the only influential celebrity in attendance at the resort show. The actress was joined by a host of other famous faces, including Margot Robbie, Riley Keough, Elle Fanning, and Chloë Sevigny, who showed off their own personal style with the help of Chanel.
Variety/Variety/Getty Images
Variety/Variety/Getty Images
Variety/Variety/Getty Images
Following the presentation, the show's guests were invited to a performance by Los Angeles native Snoop Dog. The rapper, who revealed this to be his first time performing at a fashion show, was later joined onstage by Anderson .Paak. Guests then finished off the night with an afterparty at Chateau Marmont, which Stewart was seen attending with her fiancée, Dylan Meyer, in tow.