Following Rapper Rich the Kid Around Men's Fashion Week
With a new mixtape and collaboration with Vintage Frames, the 24-year-old is ready to enter the fashion world and one day hopes to set up his own line. Jaden Smith would of course model in it.
---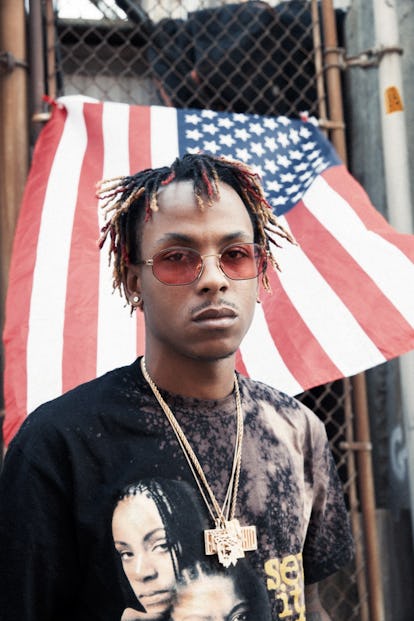 The 24-year-old Atlanta rapper Rich the Kid walked around the opening day of New York Fashion Week: Men's on Monday with his phone in front of his face. But for good reason: he was FaceTiming with friend and collaborator Jaden Smith, describing to him what he saw at each emerging designer presentation.
"A lot of the things I've seen are real different," Rich — whose real name is Dimitri Roger — said later. "Some of it I would wear, but some of it I wouldn't because people would say, 'He's crazy.' I'd get a lot of comments on Instagram." With over half a million followers, he's got to pick his outfits wisely.
Rich the Kid was born in Queens, New York, but moved to Atlanta as a child. Before he was "Rich" though, he was working at a Wendy's and went by "Black Boy the Kid." The diamond chains, Louis Vuitton bracelets, and Goyard accessories would come after his rapid rise, which began in 2013 after the release of his first mixtape, "Been About Them Benjamins." By 2015, he'd earned the right to call his second mixtape, "Feels Good to Be Rich."
In July, he dropped "Rich Forever 2," which features Jaden Smith, Wiz Khalifa, Lil Yachty, and Young Thug. Plus songs like, "Goyard," "I'm Cool," and "I Need That."
His personal brand is loud and clear. Luxury is his language, and his enthusiasm for labels is mixed with a zero fucks attitude, which makes him the perfect fashion muse.
On day two of fashion week, Rich accidentally missed the entire Gypsy Sport show. This happened despite the fact that models walked for an hour, making it one of the longest shows ever during New York Fashion Week, certainly during its nascent Men's week. Rich was bummed. But on the bright side, this allowed him to be on time for his next show, N.Hoolywood, which was all the way in midtown. He was joined in the front row by his friend A$AP Illz, who is one of the founding members of the A$AP Mob. Another friend, Playboi Carti, arrived later, but the show was long over.
"I liked it a lot," Rich said earnestly of N.Hoolywood. He himself was wearing a "rare" Off-White x V.LONE shirt, Margiela sneakers, and a Goyard messenger bag — the Birkin bag of hip-hop. He was also holding a large Dunkin' Doughnuts cup. When asked if he wears Supreme he responded: "No, I actually know how to skateboard. I mean, I wear it sometimes, but people know."
Rich cites A$AP Rocky as his one-and-only style inspiration and hopes to one day have a fashion show of his own. (Jaden Smith, of course, would model in it.) And while a line of his own is probably far off, in the meantime he has a limited-edition collaboration with Vintage Frames, which includes only 50 pairs of pink-tinted sunglasses by Hilton that were first made in the '90s. ("They're fire!")
There were few people at fashion week who rivaled Rich the Kid's commitment to luxury brands. For him and his crew, the more logos and overt affiliation with wealth and success, the better. And yet this excessive approach to fashion somehow felt the most genuine in a sea of striving street style stars and models. They were trying so hard, it was as if they weren't trying at all.
"Where'd you get that sweater?" a street style photographer asked A$AP Illz as he exited the show venue. "It's Raf, bro," he replied. Like, duh.
At the end of the day, Rich, Illz, and Carti all headed back downtown in two XL Ubers to meet Virgil Abloh at the Moncler store, where he was presenting his latest of many collaborations. But Rich was the one who called the car, and directed everyone off-course to pick up pizza first.