Dining out the Real Housewives way
On reality shows, scenes are often "set" at locations that aren't places where the characters actually go in daily life. (Think: Countess Lu Ann de Lesseps partying at the Gansevoort.) But take it from this...
---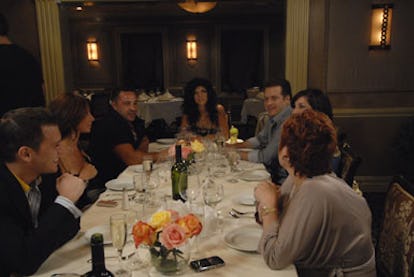 Having grown up not too far away in the town of Short Hills, NJ, I paid special attention to the restaurants these ladies frequented. And I must say that all of them, from the Oakland Diner to Varka (a reasonably priced Greek spot in the town of Ramsey) really are hangouts for average North Jersey-ites. Even the Tavern On The Green-ish Highlawn Pavillion—where Danielle offered to, uh, service her date in the bathroom—is a popular Jersey spot for romantic dates on account of its Manhattan skyline view.
Last night's finale, though, was the most authentic episode in this respect: the explosive final dinner party took place at Lu Nello in Cedar Grove, which has been a hot spot for precisely the likes of Theresa, Caroline, Dina, Jacqueline, and Danielle since it opened in 1990. Just last week, my southern belle of a dental hygienist innocently asked me if everyone in the state of New Jersey was like the people featured on Bravo's hit show; I told her they weren't, though if her only exposure to my home state was the dining room of Lu Nello, she would take me for a liar.
I cannot encourage enough those within driving distance to sample dinner there one evening; my family has made a habit of going occasionally over the years for the entertaining eye candy alone (the food's not bad either). The crowd is colorful, the hair is high, and the cleavage is ample; the patrons, by and large, dress to be noticed. A tip: go on a Thursday night—it's "gumar" night. You'll find that the mistresses of New Jersey turn it out even better than the housewives do.
Lu Nello, 182 Stevens Avenue, Cedar Grove, NJ. lunello.com
Read what Dina, Danielle and Caroline told us about their beauty upkeep HERE.
Photo (top): courtesy NBC Universal.