Paco Rabanne, Purveyor of Space Age Fashion, Dies at 88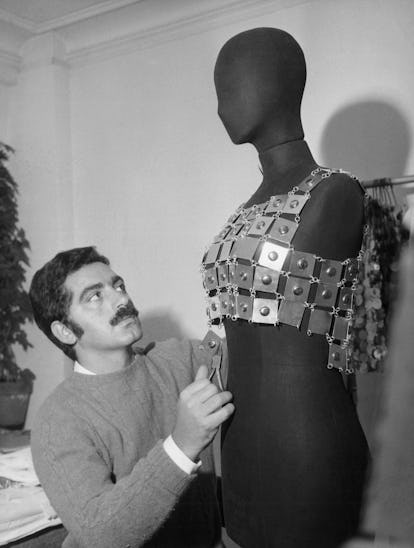 Keystone-France/Gamma-Keystone via Getty Images
Paco Rabanne has passed at the age of 88 in Portsall, France. The news was confirmed by Puig, the Spanish company that controls the Paco Rabanne fashion and fragrance house. "That radical, rebellious spirit set him apart: There is only one Rabanne," said José Manuel Albesa, president of Puig's fashion and beauty division. "With his passing, we are reminded once again of his enormous influence on contemporary fashion, a spirit that lives on in the house that bears his name."
Rabanne will be remembered for his contributions to the space age movement, his affinity for unconventional materials, as well as his highly successful fragrance line. "Paco Rabanne made transgression magnetic," Albesa said. "Who else could induce fashionable Parisian women to clamor for dresses made of plastic and metal? Who but Paco Rabanne could imagine a fragrance called Calandre—the word means 'automobile grill,' you know— and turn it into an icon of modern femininity?"
Rabanne was born Francisco Rabaneda in the town of Pasaia in northern Spain on February 18, 1934. His mother, a chief seamstress at Cristóbal Balenciaga's first couture house, moved the family to Paris in 1937 after his father died in the Spanish Civil War. Rabanne would go on to attend l'École Nationale des Beaux-Arts in the '50s, earning money in the meantime by making sketches for designers like Christian Dior and Hubert de Givenchy. He later created jewelry for multiple brands before officially starting his own house in 1966. Rabanne's debut collection was titled, "Twelve Unwearable Dresses in Contemporary Materials," and featured dresses created from metal and plastic. The collection did not sit well with the fashion press, but it did the job of introducing the industry to Rabanne.
The designer is considered one of the founders of the space age movement in fashion, along with André Courrèges and Pierre Cardin. Rabanne would go on to create looks using a multitude of unconventional material like paper and buttons. He would dress the biggest stars of the age like Audrey Hepburn and Mia Farrow and in 1968, he designed one of the looks for Jane Fonda in Barbarella.
In 1968, Rabanne signed with Puig and the company helped him launch his first fragrance just a year later. Titled Calandre, the product quickly became a best seller. Even today, Paco Rabanne fragrances remain some of the most popular on the market, with their latest scent, Fame, launching in 2022 and fronted by Elle Fanning.
Rabanne retired in 1999 following his final couture show and has remained fairly private ever since. In his later years, the designer took to making wild predictions, like that the Russian space station, Mir, would crash into Paris. The designer had an affinity for astrology and the occult and once described himself as "a bit of a medium, a clairvoyant," according to WWD. During an interview in 1975 he said, "I have always believed in magic, ever since I was eight. I am an Aquarius, that is why I am on the earth, in order to foresee the Third World War."
In 2010, Rabanne was bestowed with Officer of the Legion d'Honneur in France, for his work in fashion and designer. At the time, the Puig family had been attempting to revive the defunct label for years. In 2005, they placed designer Patrick Robinson at the helm. Then, in 2011, it was Manish Arora. The next year brought Lydia Maurer, but nothing seemed to work until 2013, when Julien Dossena, known for his work at Nicolas Ghesquière's Balenciaga, was appointed creative director for the brand, a title he still holds to this day. Recently Rabanne's metal designs have had a resurgence and have been worn by everyone from Dua Lipa to Sophie Turner. Rabanne's Nano bag remains a fashion staple, and his fragrances continue to be some of the most popular in the world.