Meet Cynthia Merhej, the Designer Putting Beirut on the Fashion Map
The founder of Renaissance Renaissance hasn't had an easy journey, but in her eyes, fashion is a form of renewal.
---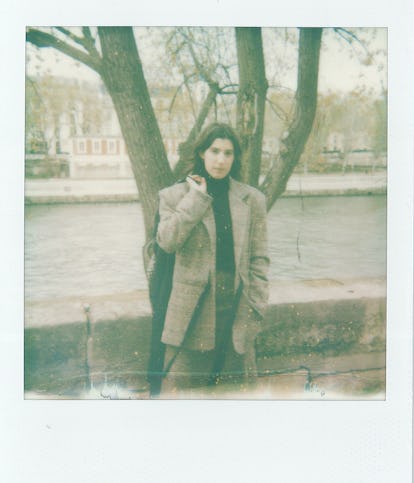 Courtesy of Merhej
Cynthia Merhej's brand Renaissance Renaissance is all about rebirth. When Merhej started the label from her home city of Lebanon in 2016, the moment was a bit of a renaissance for the designer herself. Merhej grew up in her mother's atelier, but as she reached her teenage years, a sense of disillusionment set in—she struggled to equate her homegrown view of the industry with the greater fashion world, which thrived outside of Lebanon's borders. "I had a weird schism growing up, seeing fashion in these two very different ways," she tells W over Zoom. After heading to London for school, set on following a different creative path, she found herself returning to Beirut, picking up where her mother—and her great-grandmother before that—left off.
Now, Merhej uses her brand to bridge the fractured view of fashion that plagued her youth. Renaissance Renaissance has a distinctly dichotomous feel, mixing old-world, romantic silhouettes with more modern sensibilities. Skirts of tulle with a French Revolution tilt feature dangerously high slits only a woman of the 21st century would dare to take on. Tailored jackets taper in like a corset and bloom at the shoulders with an '80s flair. Looking through Merhej's collections, there's a sense of traveling back in time, of following a woman through life's journeys. A trained illustrator, Merhej sees the world through storytelling and characters, and Renaissance Renaissance tells the story of a woman, her evolution, and her own rebirths.
"I recently realized this character I created is the woman I want to be," Merhej says of her imaginary muse. "It's the side of myself I repressed for a very longtime." Growing up in Lebanon during the final years of the country's civil war, Merhej didn't always feel she had the ability to act with complete freedom. "As a child, you're experiencing trauma, but it's a secondhand trauma," Merhej recalls. At the time of Merhej's childhood, an objective history of Lebanon and the war was not easily accessible, and her family did not want to speak about the subject. When Merhej left her home for school in 2009, she was able to study her country's history without restrictions. "Most of my projects were about Lebanon, trying to understand it more," she says. "Nobody was telling me, 'Oh, that's shameful,' or, 'You can't look at that, it'll bring up pain from the past.'"
Merhej spent her youth in her mother Laura's salon, which she ran with her aunt. "I was always being chased out of the atelier," she recalls. "They'd say, 'Clients are coming, go find something to do and get out of the way!'" Meanwhile, Merhej was absorbing information, falling in love with the business and creativity of fashion. "My mother never directly taught me anything," she says. "But being around that environment in those formative years, I picked up a lot."
"I definitely rejected mainstream fashion, though, when I was around 13," she adds. "I remember thinking it was homogeneous. It was a time when there was one very specific body type and type of woman, which didn't excite me very much." Until that point, Merhej assumed she would follow in her mother's footsteps, so the disenchantment left her feeling lost. Her interests in photography and drawing led her to art school at London's Central Saint Martins and the Royal College of Arts—both institutions known for their fashion design programs, but Merhej instead studied illustration. "I see the world through stories and characters," she explains. "My time in London, however, got me interested in fashion again: I had the distance from it and the opportunity to rediscover it in my own way." After graduating from RCA, Merhej returned to Beirut and spent a few years saving money, learning the skills necessary to run her own business. And in 2016, Renaissance Renaissance was born.
Photographed by Phil Engelhardt
Photographed by Phil Engelhardt
Merhej's goals for her label are twofold: she wants to design beautiful clothing, of course, but there's plenty of that in the fashion industry. What Merhej does feel is lacking, however, is humanity. "What am I doing that's going to make the fashion industry a better place?" she asks herself. "How can I bring light to this dark industry?" One of Merhej's methods involves extreme sustainability practices, which she learned from watching her mother work back in the '90s. "There was always a theme of being resourceful," Merhej says of her mom's work. "She would never waste a scrap of fabric. To this day, she'll take a meter of fabric and be like, 'Oh, we can make that into a skirt.'" Renaissance Renaissance's fall 2023 collection was largely created from old textiles belonging to Merhej's mother, aside from a few fur additions courtesy of a secondhand coat Merhej bought on Depop.
The designer also wants to take up space, literally. "My work is so much about having freedom of movement," Merhej says. As she's preparing for her next collection, Merhej has been studying the work of Marianne Wex, a German artist known for her 1977 work "Let's Take Back Our Space: 'Female' and 'Male' Body Language as a Result of Patriarchal Structures." The piece evaluates the differences in body language between men and women. "When I found that, I was like, 'Fuck yeah, this actually makes me think so much about my work.'" With spring 2024, Merhej will continue this exploration of volume, which she feels is a signature of the Renaissance Renaissance brand.
Photographed by Phil Engelhardt
Photographed by Phil Engelhardt
And then there's keeping her connection to home. Merhej no longer lives in her native country, having moved to Paris in 2020, but it was important to her that a part of the production remain in Lebanon. Last year, Merhej opened the atelier leg of Renaissance Renaissance, led by her mother out of Beirut. Merhej chose the location for the atelier's headquarters in order to keep "the energy" in the city—especially after a 2020 nuclear explosion left over 200 dead, 7,000 badly injured, and 300,000 homeless. "It's important we don't lose this sense of creativity in Beirut," she says.
Her spring 2023 collection featured the first one-of-a-kind pieces to come from the program, and since then, demand has grown. As of now, they're not for sale, but the interest has led Merhej to reconsider. At this moment, however, the designer is pleased that, despite all the hardships, not only is Renaissance Renaissance still in existence, it is thriving. "We've dealt with a financial collapse, a nuclear-level explosion, moving countries, marriage, Covid," she says with a laugh. "I'm like, 'How am I still standing?'"