Richard Quinn Marries BDSM and Bridal at London Fashion Week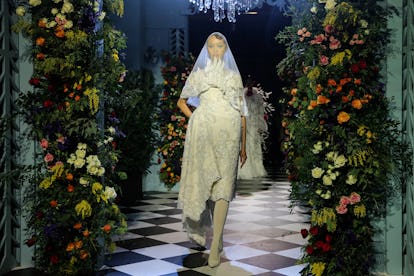 Photo by ISABEL INFANTES/AFP via Getty Images
There are a few things you're bound to see at a Richard Quinn show: florals of all kinds, latex gimp suits, and heavy embellishment glimmering down the runway. For fall 2023, the designer delivered all of that and more; models in BDSM-inspired costumes with cat ears and body harnesses strode across the checkered floor of the Seymour Leisure Centre in West London into a garden of flowers, where a live orchestra played. But this season, the designer also doubled down on bridal, with nearly half of the collection devoted to all kinds of looks for all kinds of brides.
Quinn was thinking about The Secret Garden this season—both the Frances Hodgson Burnett novel and the 1993 film. The designer is madly in love with florals—this we know—but up close, it was quite evident Quinn is heading in a new direction. For starters, the vast majority of the collection was set to the tone of smaller, ditzy print florals rather than the explosion of blooms typically seen in his work. There were baby-size blue blossoms covering a jumpsuit with a criss-cross neckline and matching gloves—and elsewhere, bite-sized buds in scarlet all over a softly ruffled strapless gown. Gently sculpted capes and skirt sets glimmered with sequined florets on vines. Quinn's ballooning proportions of flowers usually feel quite humorous, but the result here was much more prim and proper.
The prints weren't the only thing affected by Quinn's new sense of scale. The designer typically presents silhouettes that are so grand, they become the main event of anyone's outfit. Here, Quinn turned the dial down on size with dresses and coats that were still undoubtedly maximalist, but less editorial in their shapes: a black gown with minimal ruffles and a white rosette here, or a feathered frock with polka dots and a cutout bustier there. With Lisa Rinna (who is fast becoming a new favorite front row star at London Fashion Week) in a ginormous coat dress from the designer, the shift in measurements was even more visible. Quinn has a history of coming off as a little bit weird and wonderful (take the hulking football-like cocoon structures from spring 2023 as a prime example) and that bit of humor was what was missing from this collection.
Still, Quinn has been vocal about his bridalwear business booming, and it was clear he used the fall 2023 collection to put those talents on full display. Last season, when the designer staged his mostly black, maximalist tribute to the Queen, the embellished white gown that closed the show was one of the strongest looks.
Bridalwear can often get lost in the high fashion space, but Quinn proved there's definitely room for bridal fashion with a point of view. Think: structured silk negligees dripping with pearls and crystals; mini dresses with massive rosettes blooming at the shoulders; a cape-and-sash concoction with a single black rose at the neckline, and an ivory, strapless babydoll-and-pant set embellished by gems. If those looks didn't sell you on the idea that a white wedding dress can be anything but boring, the duchess satin maxi gown with sprigs of upturned feathers, or the cascading cutout harlequin dress covered in scintillating sparkles and finished with a dramatic structured neckline would. A designer must be a true talent to be able to do editorial and bridal all at once, without sacrificing creative ambition. With Quinn leading the pack, perhaps we'll be seeing a lot more of that.