Rihanna Channels Old Hollywood Glamour at the Cannes Film Festival
Complete with a neck full of Chopard diamonds.
---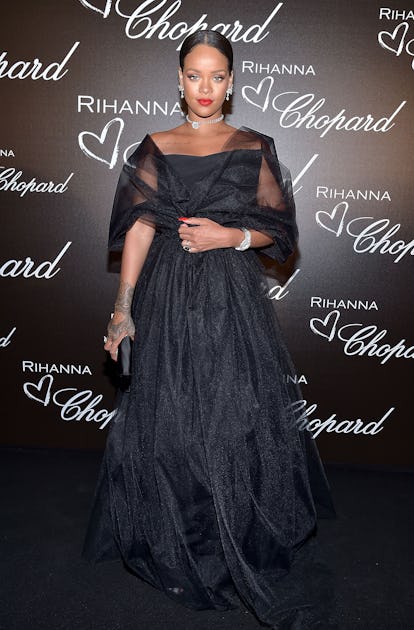 Pascal Le Segretain
Rihanna's fashion accolades are usually born from her over-the-top willingness to take risks (see any Met Gala dress she's ever worn for proof), but her look at Thursday night's Chopard dinner in Cannes is deserving of praise for an entirely different reason—it's the definition of old glamour.
To celebrate her Rihanna x Chopard collaboration, the musician and fashion designer donned a custom strapless black silk crêpe tailored gown and black tulle overcoat by British designer Ralph & Russo. She accessorized the 1950s throwback creation with strappy black stilettos, a jewel-encrusted black purse, and a neck, arm, and earful of diamonds (including a choker that weighed in at a whopping 69.55 carats, earrings, alone). With that much bling, her beauty look was appropriately understated, at least by Rihanna standards, with a bronze eye, matte red lip, and a low chignon at the base of her neck. Though it may seem odd to compare the "Bitch Better Have My Money" singer to Breakfast at Tiffany's–era Audrey Hepburn, if the shoe (or rather, the perfectly tailored black dress) fits, so be it.
According to The Daily Mail, actress Julianne Moore and models Winnie Harlowe and Petra Nemcova showed up to celebrate the singer's latest collaboration. RiRi announced her partnership with Chopard in an Instagram post in April, which showed her wearing a few of the line's cornerstone pieces. "I'm so happy to announce that I've had the honor of designing with the legendary Caroline Scheufele, of the @chopard family, my first high end jewelry collection!!" she wrote.
After the party, Rihanna once again took to Instagram to share her love for Chopard Artistic Director Caroline Scheufele.
Rihanna's trip to Cannes comes after months of filming Ocean's 8, the all-female reboot of Ocean's 11, which she stars in alongside Sandra Bullock, Mindy Kaling, Sarah Paulson, and Helena Bonham Carter. If she needs to find some jewels to thieve, though, all she really has to do is look in the mirror.
Bella Hadid, Jessica Chastain, and Elle Fanning Lead the Charge at the 2017 Cannes Film Festival
Bella Hadid in Alexandre Vauthier and Bulgari at the premiere of Ismael's Ghosts opening the Cannes Film Festival in Cannes, France, May 2017.

George Pimentel/Getty Images
Jessica Chastain in Alexander McQueen at the premiere of Ismael's Ghosts opening the Cannes Film Festival in Cannes, France, May 2017.

George Pimentel/Getty Images
Marion Cotillard at the premiere of Ismael's Ghosts opening the Cannes Film Festival in Cannes, France, May 2017.

Anthony Harvey/Getty Images
Robin Wright in Saint Laurent by Anthony Vaccarello at the premiere of Ismael's Ghosts opening the Cannes Film Festival in Cannes, France, May 2017.

Anthony Harvey/Getty Images
Julianne Moore in Givenchy couture at the premiere of Ismael's Ghosts opening the Cannes Film Festival in Cannes, France, May 2017.

George Pimentel/Getty Images
Lily-Rose Depp in Chanel at the premiere of Ismael's Ghosts opening the Cannes Film Festival in Cannes, France, May 2017.

George Pimentel/Getty Images
Uma Thurman in Atelier Versace and Bulgari at the premiere of Ismael's Ghosts opening the Cannes Film Festival in Cannes, France, May 2017.

Ki Price/Getty Images
Marion Cotillard in Y/Project at the photocall for Ismael's Ghost at the Cannes Film Festival in Cannes, France, May 2017.

Anthony Harvey/Getty Images
Elle Fanning in custom Vivienne Westwood at the premiere of Ismael's Ghosts opening the Cannes Film Festival in Cannes, France, May 2017.

George Pimentel/Getty Images
Aymeline Valade in Pallas at the premiere of Ismael's Ghosts opening the Cannes Film Festival in Cannes, France, May 2017.

ALBERTO PIZZOLI/Getty Images
Susan Sarandon in Alberta Ferretti at the premiere of Ismael's Ghosts opening the Cannes Film Festival in Cannes, France, May 2017.

Gisela Schober/Getty Images
Naomie Harris in Gucci at the premiere of Ismael's Ghosts opening the Cannes Film Festival in Cannes, France, May 2017.

George Pimentel/Getty Images
Jessica Chastain in Roksanda at the jury photocall at the Cannes Film Festival in Cannes, France, May 2017.

Anthony Harvey/Getty Images
Fan Bingbing in Elie Saab couture at the premiere of Ismael's Ghosts opening the Cannes Film Festival in Cannes, France, May 2017.

Pascal Le Segretain/Getty Images
Director Maren Ade at the premiere of Ismael's Ghosts opening the Cannes Film Festival in Cannes, France, May 2017.

Pascal Le Segretain/Getty Images
Charlotte Gainsbourg, center, in Saint Laurent at the premiere of Ismael's Ghosts opening the Cannes Film Festival in Cannes, France, May 2017.

Andreas Rentz/Getty Images
Hailey Baldwin in custom Twinset at the premiere of Ismael's Ghosts opening the Cannes Film Festival in Cannes, France, May 2017.

Venturelli/Getty Images
Daria Strokous in Dior at the premiere of Ismael's Ghosts opening the Cannes Film Festival in Cannes, France, May 2017.

Gisela Schober/Getty Images
Emily Ratajkowski in custom Twinset and Bulgari at the premiere of Ismael's Ghosts opening the Cannes Film Festival in Cannes, France, May 2017.

Ki Price/Getty Images
Sara Sampaio in Zuhair Murad couture at the premiere of Ismael's Ghosts opening the Cannes Film Festival in Cannes, France, May 2017.

Ki Price/Getty Images
Eva Herzigova in custom Roberto Cavalli at the premiere of Ismael's Ghosts opening the Cannes Film Festival in Cannes, France, May 2017.

Epsilon/Getty Images
Uma Thurman in Giuseppe Zanotti ready-to-wear and Tod's at the premiere of Loveless at the Cannes Film Festival in Cannes, France, May 2017.

Venturelli/Getty Images
Julianne Moore in Chanel couture at the premiere of Wonderstruck at the Cannes Film Festival in Cannes, France, May 2017.

Antonio de Moraes Barros Filho/Getty Images
Amber Valletta in Mulberry at the premiere of Wonderstruck at the Cannes Film Festival in Cannes, France, May 2017.

Pascal Le Segretain/Getty Images
Elle Fanning in Temperley London at the Cannes Film Festival in Cannes, France, May 2017.

Jacopo Raule/Getty Images
Adriana Lima in Naeem Khan bridal at the premiere of Loveless at the Cannes Film Festival in Cannes, France, May 2017.

George Pimentel/Getty Images
Emily Ratajkowski in Brock Collection at the Cannes Film Festival in Cannes, France, May 2017.

Jacopo Raule/Getty Images
Michelle Williams in Louis Vuitton at the premiere of Wonderstruck at the Cannes Film Festival in Cannes, France, May 2017.

Epsilon/Getty Images
Thylane Blondeau in Michael Kors Collection at the Cannes Film Festival in Cannes, France, May 2017.

Marc Piasecki/Getty Images
Sara Sampaio at the Cannes Film Festival in Cannes, France, May 2017.

Marc Piasecki/Getty Images
Go behind the scenes at Rihanna's W cover shoot here: