Setchu Designer Satoshi Kuwata Finds Beauty in Compromise
The LVMH Prize finalist combines traditional Japanese techniques with Saville Row tailoring.
---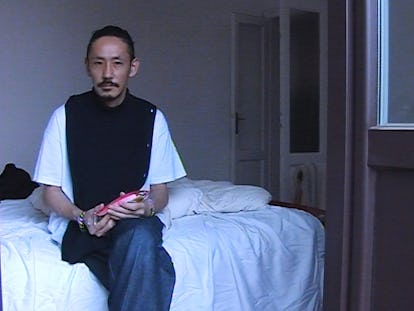 Photograph by Massimiliano Bomba
Although he was born and raised in Japan, Satoshi Kuwata considers himself a thoroughly international citizen. When he was just 21, the fashion designer packed one suitcase and left his home country for the first time, en route to London. "My family thought I would return in a week," he tells W over the phone. "They thought it was a holiday, but I never went back." Since then, the Kyoto native has lived in New York City, Milan, and Paris, treating each city as a source of artistic inspiration. These experiences have shaped the now 39-year-old, and helped to define the East-meets-West aesthetic and ethos of his clothing brand, Setchu. Still exceptionally small—as of now it's still basically a one man operation—Setchu was just nominated as a finalist for the 2023 LVMH prize, one of the highest honors that can be bestowed upon a young brand, proving an interest in Kuwata's globalized take on clothing.
"I wanted to insert my DNA into my collections, but not in a false way," Kuwata explains. "I don't design kimono, I design Western clothes, but there's going to be a Japanese feeling in there because I'm Japanese. Otherwise, what's the point?" In Kuwata's creations, pleated pants fold in ways that evoke the origami art form; a cargo jacket features a tie across the front that mimics a man's kimono. His upbringing's influence is clear, yet the pieces move into a modern realm, seamlessly existing across geographical and cultural borders. If you called it a compromise, you'd be spot on.
In fact, the name Setchu comes from the Japanese phrase, "wayo setchu," with "wayo" meaning West and "setchu" meaning compromise. The saying points to the historical mixing of Japanese and Western cultures, which began in the 19th century, when America first started importing to Japan. To drive the point home even further, on the Setchu website, there's an image of Seibien, a structure located in Hirakawa whose traditional, Japanese-style tea house is topped with a European-style second floor and roof. "They really compromised the space," Kuwata says of the wayo setchu architecture style. "This beautiful balance made Japanese culture more unique, as it did to my life as a Japanese guy living in different places and trying to understand the cultures."
At six years old, back when he would steal his sisters' fashion magazines, Kuwata knew he wanted to work in design. "I loved using my hands to create something," he recalls. While his aunt was a designer, she discouraged Kuwata from following in her footsteps. "She kept warning me about the industry and how hard it is to be successful." Kuwara ignored her advice, and got a job at a local department store where he began designing. He applied to Central Saint Martins in London, but without his parents' support, there was no one to pay his way. Eventually, he saved enough money to head to London on his own, and ended up on Saville Row, the mecca of bespoke tailoring. This was just the beginning of Kuwata's education (which eventually included CSM, after he and his brother convinced his parents to fund the endeavor). "The London experience opened the door for me to become who I am," he says. "Until then, I was very Japanese, but I had such a culture shock in London and learned that being unique is one of the most important things in life. That's a very Western concept." He then moved to France where, according to Kuwata, he "learned what chic is. I kept gaining a more Western attitude and way of thinking. In New York, too, I learned to be proactive. You have to be clever, you have to be independent."
Kuwata landed in Milan, "the world's factory," as he calls it, where he remains to this day. Italy's emphasis on leisure helped Kuwata when he was on the brink of burning out. "I was really struggling, but watching the way Italian people live taught me that "taking a refreshing moment is so important." Kuwata eventually saved enough money to quit his job and move back to Japan to start Setchu. He soon learned, however, that his home country was no longer the right fit. "Japan is not the place where you can develop and customize," he explains. "There is no flexibility." Kuwata headed back to Milan in 2020; the pandemic forced him inside his apartment. "But I couldn't stay home," he says. "I had to do something. I'm a workaholic. So I kept draping and I reconstructed the collection." He called up his pattern maker and risked arrest by leaving his apartment to bring over the ideas. Thus, Setchu's first suit was born. "It's still our bestseller," he says with a smile. "So, I was right."
The designer's travels have led him to gather his own set of guidelines for his career. If he finds inspiration, he won't snap a picture ("If I take a photo, I get lazy"). He's adamant about genderless dressing ("A man in a dress, a woman in a suit. Who cares?"). He prefers to call himself a tailor ("These days, designers are taking private jets, going to parties. I'm really not into that.") It's a way of mapping out his path to success. The accolades he's received along the way certainly help, though—and while Kuwata is pleased with the recognition, he's more focused on what it means for those around him, who have compromised in their own ways to get Setchu where it is today: those who worked during the pandemic, or maybe accepted a lower fee when he was just getting started. "I'm really happy for the people who support me," he says when asked about the LVMH recognition. "That's the most important thing."