Tory Burch's Tribute to Undone Prep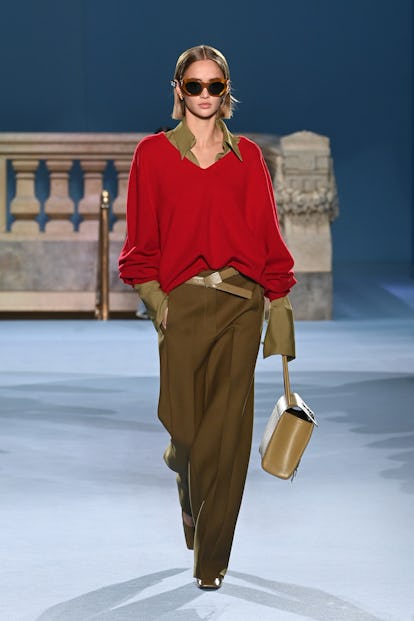 Photo by Slaven Vlasic/Getty Images for Tory Burch
Lately, it feels like we're in the midst of a prep revival—and not in the private school, buttoned-up, traditional sense. There's a whole new kind of prep pervading the fashion consciousness, one that takes from the old and mixes in cues from subcultures or edgy references. (Think: Jenna Ortega as Wednesday Addams—or, the fact that it's become common to see neckties integrated into the wardrobes of your favorite cool girls.) Tory Burch's fall 2023 collection, in turn, took understated, minimalist prep and tossed in all things undone.
The show opened with an all-beige look—nothing new—but twisted it with a giant safety pin near the waistband of the skirt. Elsewhere, oversized suiting with padding, dresses with lapels peeled back, and super slouchy sweaters layered over pristine button-downs and matching oversized trousers stole the show. According to Burch, the designer was exploring the idea of perfection, and it showed, even the smallest details: belts crisscrossed over baggy blue velvet pants, a lush coat dress slightly falling off the shoulder, an asymmetric fluffy collar on a white jacket. There was a definite sense of looseness, but nevertheless, it was all very true to the Tory Burch aesthetic.
"We wanted to challenge perceptions of beauty and femininity," the show notes stated. "We broke down the traditional wardrobe and rebuilt it with an undone attitude. Familiar silhouettes are reinterpreted through sculpting, tailoring, and twisting, while preserving a simplicity of form. Luxurious materials are raw-cut and weathered, logos hang off bags and heels are broken, emphasizing the beauty of imperfection. Details that are typically hidden are brought to the surface: lingerie, interior construction, and safety pins."
Historically, Burch hasn't been much of a bold color devotee—but the fall 2023 collection showed she has a definite eye for eye for brights. Sure, the majority of the collection was done up in a slew of neutrals, but the majestic silky greens, screaming scarlet reds, and lush velvet cobalt blues were literal eye candy against a background of classic, everyday hues.
It was all in the details when it came down to some of the collection's lushest pieces. Take, for instance, a flash of green fringe on the bottom of a black sleeveless maxi dress, or subtle fishnets peeking out of twisted denim. Chunky gold bracelets lined the wrists of models carrying an assortment of the brand's monogrammed bags. Then there were the oversized sunglasses and gilded ear cuffs. The logo monograms that had been flipped and misplaced on the bags, combined with the massive safety pin earrings, made guests take a second glance.
Claire Foy, Suki Waterhouse, Ashley Graham, Maddie Ziegler, and Lori Harvey were all in attendance, wearing a mix of classic Tory Burch looks in the front row. But perhaps what stood out most from the collection, however, was the structure: Burch has often alluded to the work of designer Claire McCardell who had a way with structured sportswear that was incredible, and inherently wearable. Here, Burch played with the opposing forces of slouch and structure. For example, a simple column dress brought the underwear-as-outerwear trend to full fruition, with a bustier and hip padding that resembled an undone corset. Lace cutout inserts on an otherwise simple top added a dash of Art Deco flair. Burch first and foremost designs for women, with a woman's eye—and that concept shined bright in this collection. "This collection is about the confidence that comes from being unapologetically yourself," she said. "Women aren't interested in rules, and every piece is designed to be endlessly mixed, layered, and individualized."