The W Team Share the Gifts They're Hoping to Give and Get This Year
The office holiday party is going to look a little different, but we can still get into the spirit of the season by sharing our best gift ideas.
---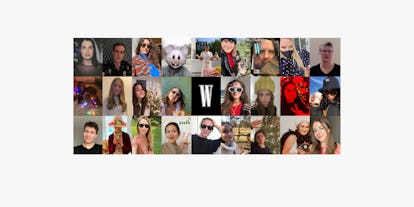 From left: Alexandra Ben-Gurion, Kyle Munzenrieder, Andrea Whittle, Armand Limnander, Brooke Marine, Katie Connor, Cian Browne, Laura Jackson, Roseann Marulli, Jenna Wojciechowski, Jenny Oliver, Julia McClatchy, Oona Wally, Allia Alliata di Montereale, Erin Meagher, Maxine Wally, Maridelis Morales Rosado, Michael Beckert, Stephanie Eckardt, Nora Milch, Hannah Westbrook, Sara Moonves, Tilden Bissell, Christina Holevas, Trang Chuong, and Sophia Martin. Courtesy of the W Staff.
A year ago, team W celebrated the holidays with dumplings, drinks, and a raucous game of Heads Up! at Editor in Chief Sara Moonves's apartment. It goes without saying that this year will be a little different. All of us—including a few new colleagues whom we've only met via Zoom—will be toasting each other in front of our laptops at home. And while we've embraced the 2020 version of a holiday party, we can't help but get a bit nostalgic for how things used to be when we all shared an office.
During a typical December at W, it seems like every surface at the magazine's HQ gets covered in cookies, cakes, and tubs of caramel popcorn that become magnets for the kind of casual conversation that's impossible to replicate on a video call. The mail cart is reliably piled high with flowers; bottles of prosecco show up and end up becoming permanent fixtures of desk decor; and impromptu post-work cocktail plans are always getting made at the elevator bank. In the days before everyone heads off for the holiday break, rolling suitcases stashed next to desks elicit bursts of vacation chatter and bittersweet goodbye hugs. That festive, communal feeling was a yearly reminder that work doesn't just mean tapping away at your keyboard—it's also, perhaps most importantly, about connecting and collaborating with talented, creative, interesting people.
We know we'll have to wait a while until we're able to re-create that same energy, even though we're pretty optimistic about 2021. In the meantime, and in the spirit of our tradition of the "Friends and Family" gift guide, we put our heads together to share some of the gifts our work family is hoping to give and get this year, from a W subscription to a colorful cashmere cardigan.
Wishing you a warm, happy, and safe holiday season, from our family to yours.
Laura Jackson, Associate Fashion Market Editor
To get: Prada Bag, $1,990, prada.com
I've had my eye on this beautiful leather bag from Prada for a while now. Crossing my fingers that I find it under the tree this year!
To give: Crown Affair Holiday Kit, $98, crownaffair.com
I want to give the gift of great hair to all my special someones this year. I love this superchic kit from Crown Affair.
Andrea Whittle, Features Editor
To get: Lululemon Fast and Free Tight 25", $128, lululemon.com
Tennis has become my pandemic obsession. Now that it's colder and wearing a skirt or bike shorts on the court isn't really an option, I've been on the hunt for leggings with side pockets that make it easy to stash a ball or two while I'm playing. These fit the bill perfectly—I'd love an extra pair in earthy green or terra-cotta brown.
To give: Leorosa Romy Cardigan No. 006, $536, leorosa-world.com
Knitwear brand Leorosa's second collection is even more bright and charming than their first. I love this new Ikea-esque colorway—I can see my sister wearing it tucked into light-wash jeans, with a pair of beat-up sneakers. The perfect balance of cheeky and elegant.
Brooke Marine, Associate Digital Editor
To get: Great Jones "Fully Baked" Baking Set, $245, greatjones.com
I'm so tired of making my own food and miss restaurants just as much as the next person, but now that the weather is getting colder and eating outside isn't really an option, I want to fully stock my kitchen with every accoutrement I could possibly need, and I want everything to match.
To give: Casamigos Reposado, $50, casamigos.com
In a year when you can't entertain your friends during the holidays, you might as well entertain yourself, which is why I'd like to give everyone the gift of a nice bottle of tequila that will (hopefully) last them a little bit longer than a bottle of wine. Tequila might seem more like a summer liquor, but I've found some delicious cider-based cocktail recipes that make it taste a bit more seasonal and wintry.
Jenny Oliver, Social Media Manager
To get: Jacquie Aiche Ring, $1,650, jacquieaiche.com
I've been on the lookout for a new ring for months––something classic with a bit of a twist to make it special. Jacquie Aiche makes the ultimate piece: a gold dome ring with a teardrop diamond at the center.
To give: Made byK.West Mask Chain, $129, madebykwest.com
Since we'll still be wearing masks for a while, a mask chain is a thoughtful and useful gift this holiday. Plus, once we're (eventually) back to "normal," whoever you give this one to can wear it as a necklace, wrap bracelet, or sunglasses chain. Best of all, a portion of each sale goes to Tree People, an environmental nonprofit organization based in California.
Jenna Wojciechowski, Senior Fashion Market Editor
To get: Vertly Bath Salts, $55, thesleepcode.com
These pink Himalayan bath salts are infused with CBD, calendula, and colloidal oatmeal—they smell heavenly and leave your skin feeling nourished and smooth. The perfect way to unwind.
To give: A Subscription to W, $8 per year, wmagazine.com
I'm giving everyone in my life an annual subscription to the magazine—a gift that keeps on giving!
Oona Wally, Senior Visuals Editor
To get: Gustaf Westman Mirror, price upon request, gustafwestman.com
All I want these days is home decor to snazz up my space. My cousin's 17-year-old daughter put me on to the designer Gustaf Westman, whom I love—maybe I have really youthful taste?
To give: Reframing the Future T-shirt, $50, reframingthefuture.org
Reframing the Future is a New York City–based collective raising funds for grassroots organizations all over the world. Jewelyn Butron is a designer, artist, and storyteller working in New York City whose bright and cheerful T-shirt design makes for a versatile gift to give anyone on your list—plus, all proceeds go to charity!
Tilden Bissell, Digital Designer
To get: Sandy Liang Luna Puffer, $695, sandyliang.com
As someone who thinks about the sartorial impact of Sailor Moon a lot, I've had my eye on this cute patterned puffer from Sandy Liang for a while, and definitely wouldn't complain if it somehow found its way under the tree this year, to break up my usual all-black ensembles.
To give: Oat Cinnamon Limited Edition Luna Dry Bouquet, $65, oatcinnamon.com
With all the time people are spending inside, plants are a nice way to instantly brighten up a space. However, for my friends whose succulents' survival is constantly at odds with their lack of a green thumb, these dried, Instagram-worthy flowers by NYC-based florist Ryan Norville provide a stylish solution that will last through the long winter.
Allia Alliata di Montereale, Special Projects Editor
To get: A seat on a SpaceX commercial flight to space
Sure, it's a long shot. But a girl can dream.
To give: Roi du Lac Ceramic Candle, $303, roidulac.com
Designed in Italy, this handmade candle comes with an elegant lid and smells of jasmine—perfect for anyone who loves one-of-a-kind home decor.
Christina Holevas, Senior Accessories and Jewelry Editor
To get: Bottega Veneta Pendant, $1,350, bottegaveneta.com
I've had Bottega Veneta jewelry on my mind for a while now. This divine necklace is on my dream wish list.
To give: L'Officine Universelle Buly 1803 Baume des Muses, $25, buly1803.comI think this personalized lip balm from Buly is such an elegant gift. I love the packaging. All of their products make lovely and chic gifts!
Armand Limnander, Executive Editor
To get: Anselm Reyle, Bar, €2,353, editionkoenig.com
König gallery in Berlin has an impressive array of artist editions for sale on their website. I would love to receive Anselm Reyle's Bar to keep all my favorite tipples.
To give: Jeremy Shaw, Degenerative Imaging (4 Years Alcohol), €2,300, editionkoenig.com
And I would love to gift Jeremy Shaw's Degenerative Imaging (4 Years Alcohol), which shows what can happen if you overindulge in such tipples.
Hannah Westbrook, Assistant Visuals Editor
To get: Miista Boots, $450, miista.com
I am asking for these classic black heeled boots this year. I'm desperate for a reason to dress up, and the holidays are the perfect excuse! I will be waving goodbye to 2020 from my living room in a fab outfit and hopefully a new pair of Miista boots.
To give: Spacey Studios "Self Care" Artwork, $325, spaceystudios.com
Spacey Studios curates art by emerging artists and makes art buying a more enjoyable and affordable experience. You can also customize the sizes and frames for any of the pieces, making it easy to find the right gift for anyone!
Sophia Martin, Fashion Assistant
To get: Anita Ko Zodiac Pendant, $8,200, anitako.com
An Anita Ko zodiac necklace is my absolute dream. It could just be because I'm a Leo.
To give: Violet Grey Beauty Set, $205, violetgrey.com
This Violet Grey set is the perfect gift to give your busiest friends or loved ones who deserve a much-needed night of beauty sleep.
Julia McClatchy, Assistant to the Editor in Chief
To get: Fernando Jorge Orbit Ring in Jade, $5,650, fernandojorge.com
I have been nonstop obsessing over this gorgeous ring by Fernando Jorge!
To give: Sleeper "Party Pajama" Set, $290, sleeper.com
This chic gift is the perfect upgrade to your WFH sweats. Plus, who doesn't love a new pair of pajamas to cozy up in during the holidays?
Sara Moonves, Editor in Chief
To get: The Row Above-the-Knee Cashmere Socks, $210, therow.com, and the Row Anibale Dress in Cashmere, $1,290, therow.com
Cashmere from the Row! As with most of us, all my holiday parties will be via Zoom, so I am hoping to get this sweater dress and pair of cashmere socks to stay cozy this season.
To give: Proenza Schouler Cashmere Double-Face Blanket, $1,200, proenzaschouler.com
My favorite holiday gift last year was from Jack McCollough and Lazaro Hernandez, who gifted me this incredible cashmere blanket. Although I was slightly disappointed to find out that my "special blanket" is now available to anyone, I am so excited to give this perfect winter accessory to loved ones.
Roseann Marulli, Managing Editor
To get: Red Lovers Club with Cheese, $140–$200 per shipment, veganwines.com
Vegan wine and cheese? Yes, please! Someone sign me up for the Red Lovers Club—and don't forget the Vtopian Caramelized Onion Camembert.
To give: Metal, Cloth & Wood Pillbox, $35, mcwjewelry.com
For the entomophile in your life, there's Metal, Cloth & Wood. How adorable is their brass stamped fly pillbox?
Trang Chuong, Research Manager
To get: Luna Skye Ring, $3,100, lunaskye.com
To get me through the toughness of quarantine, I was very generous to myself and bought several rings from my new favorite fine-jewelry line, Luna Skye by Samantha Conn. Every piece is gorgeous, and I want them all! Hint, hint: Anything moonstone is my jam.
To give: Tumi Mophie, $150, zagg.com
Who doesn't need a good portable charger? This collaboration between Mophie and Tumi will charge your iPhone to 50 percent in just 30 minutes, and the leather finish gives it a sleek and elevated look.
Nora Milch, Fashion Director
To get: Celine Jeans, $870, celine.com
I discovered a love for Celine jeans last December on a trip to the store, right before the holidays. I'd like to add these perfectly worn-in "boyfriend" jeans to my growing collection.
To give: Dyson Toy Vacuum, $27, amazon.com
I'm giving this to my nieces so they can at least pretend to help clean up after opening presents on Christmas morning!
Maxine Wally, Senior Digital Editor
To get: Donations to Operation Dignity and People's Breakfast Oakland
Instead of stuff, I'll be asking friends and family to make donations to some organizations I support, including People's Breakfast Oakland—a food, clothing, and hygiene packs distribution program based in the Bay Area—and Operation Dignity, a nonprofit that helps homeless veterans in Alameda County, California, find housing.
To give: A Charitable Seed From One Tree Planted
Kate Moss, Bella Hadid, and Gisele Bündchen have inspired me to fund the planting of more trees. The models recently made headlines for their charitable efforts when it comes to tree-planting, and I'm an avid tree lover myself.
Katie Connor, Executive Digital Director
To get: Cartier Ballon Bleu de Cartier Watch, $5,300, cartier.com
A Cartier watch is perennially at the top of my wish list. It will remain there until someday, maybe, just maybe, it appears on my arm.
To give: Slow Factory x Brightland Olive Oils, $80, brightland.co
Since parties are canceled this year and drinking over Zoom just isn't the same, I'm swapping out the usual bottle of Veuve for some status EVOO. Not only is this limited-edition duo from Brightland cool enough to display on the counter, but 100 percent of its proceeds go to the Slow Factory Foundation, a nonprofit that provides education around sustainability, environmental racism, and social justice.
Maridelis Morales Rosado, Assistant Visuals Editor
To get: Hernán Herdez Ring, $286, hernanherdez.com, and Necklace, $577, hernanherdez.com
I've been following the jewelry brand Hernán Herdez on Instagram for years and would love to own every single piece the designer has made. The brand's photos they share on their IG are the cool-girl mood board I want to be when I grow up.
To give: Alicia Kennedy Newsletter, alicia-kennedy.com
Cooking has been a central part of my entire life, and spending so much time at home this past year has only emphasized that. Lately I've been loving food journalist Alicia Kennedy's newsletter, about the socioeconomic impact of the food industry as a whole. I firmly believe that any great gift is something that I would love to have myself, so this holiday season I plan on giving subscriptions to the newsletter to a bunch of my friends and family who share my love of cooking.
Stephanie Eckardt, Staff Writer
To get: LAFCO New York Sea & Dune Liquid Soap, $24, onekingslane.com
What feels like a lifetime ago, I grabbed a bottle of soap off the "giveaway table" at work to keep as a backup. A few weeks ago, I finally opened it. And in a testament to my hand-washing dedication, it's already gone. Turns out LAFCO New York Sea & Dune liquid soap costs $24—too much for what's likely a Dial equivalent, but relatively cheap for an incredible-smelling Christmas gift.
To give: A Donation to the Ali Forney Center
Up to 40 percent of homeless youth in New York City identify as LGBTQ, and are therefore at higher risk for domestic violence and sexual assault. It's a crisis the Ali Forney Center has been addressing since 2002, assisting thousands of youths who've been kicked out of their homes.
Erin Meagher, Senior Designer
To get: Hatch Restore Alarm Clock, $130, hatch.co
To start off 2021, I'd really like to keep my phone—and all blue light—out of my bedroom and off of my nightstand at night. Not just an alarm clock, the Restore features a sunrise light alarm with calming sounds that gradually wake you, as well as a white noise machine and bedside reading light. For all my fellow insomniacs out there, I don't think there could be anything better than falling asleep to the sound of waves or waking to a sunrise every morning.
To give: Adopt a Letter From USPS Operation Santa, uspsoperationsanta.com
Every year, the U.S. Postal Service receives hundreds of thousands of letters written by children and families to Santa. Some ask for toys, and some ask for basic necessities. USPS started a website (which is updated daily during the month of December) so that anyone can now get involved by adopting a letter and sending meaningful gifts. What better gift is there to give this holiday season?
Kyle Munzenrieder, Senior News Editor
To get: Acqua Di Parma Candles, $72, bloomingdales.com
I'm going to be the easiest gift recipient ever this year, because I am genuinely down to accept any and all scented candles. I've spent way too much of this year in the same room, and one of the easiest things to change about it is the scent. Acqua Di Parma's entire range will transport your nostrils to Italy.
To give: Amanda Lepore Classic Red Lipstick, $38, amandalepore.com
The pandemic has been especially painful for the world of nightlife and those who keep it going, leading many clubland mainstays to get creative. Take Amanda Lepore, the all-but-official poster girl of NYC parties, who has launched her own line of very, very red lipsticks and lip glosses, with ingredients imported from Italy. Help her give Kylie Jenner a run for her money by snagging some as stocking stuffers.
Michael Beckert, Visuals Editor
To get: Avène Cicalfate+ Restorative Protective Cream, $28, aveneusa.com
I'm always on the lookout for moisturizers that protect and calm the skin, especially in the winter. This cream has been a lifesaver.
To give: Public Goods Body Wash, $4.50, publicgoods.com
Support a brand that's keen on protecting our environment, your skin, and your wallet! Public Goods Body Wash is exhilarating and refreshing, thanks to all the essential oils packed inside of it. It's made without toxic chemicals and parabens—just like all your friendships, right?
Cian Browne, Design Director
To get: Green River Project Pine Board Deck Chairs, price upon request, object-thing.com
We have been spending many evenings outside, next to a fire, and are in need of some new places to put our butts!
To give: The Best of Nest, $100, phaidon.com
Nest was an interiors magazine, published from 1997 to 2004, that focused on more unique and unexpected spaces, highlighting the obscure and weird as opposed to the more obvious—and consumption-based—spaces found in other shelter publications. The magazine's format itself was usually as interesting as the content, and the overall design was chaotic and maximalist, becoming a reference point for many graphic designers.