Meet Yaku Stapleton, the Designer Making Garments for an Alternate Reality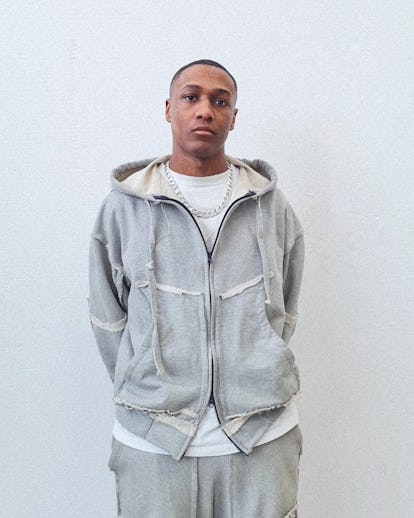 Courtesy of Yaku Stapleton
Minutes before he was announced as the winner of L'Oréal's Professionnel Creative Award at Central Saint Martins's MA fashion show in late February, the designer Yaku Stapleton could be found pacing inside the venue, trying to calm himself down while "swearing at the wall."
He'd just experienced, for the first time, the chaos that is backstage at a runway presentation: shoving models into their looks, running back and forth trying to locate said models, pinching and pulling on the clothing to make sure everything looked just right. One of his models was supposed to go out with no hair showing; just as they stepped onto the runway, he realized their locks were in full view.
"For goodness sake!" Stapleton, speaking to me from his family home a month later in St. Albans, England, recalls thinking at the time. "I don't usually get stressed, but I was like, 'Wow, this is intense.'" When a CSM tutor found the 25-year-old taking a breather post-show, Stapleton thought he might be "told off for swearing at the wall. I was like, 'Am I in trouble? Just tell me, and I'll prepare my apology.'"
Instead, Stapleton was ushered onstage, and given something far more gratifying: a trophy for his collection, titled "The Impossible Family Reunion in RPG Space," which featured looks based on a number of his family members' personalities, reimagined for them if they were characters in a video game. The result was a standout collection that caught the eye of Ib Kamara, editor in chief of Dazed magazine and Off-White's art and image director, who judged the competition. Models—including Stapleton's real-life sister, Steph—donned supersize puff coats in Pepto Bismol pink with loads of extra arms; giant cargo pants saddled by pockets; soft, slipper-like shoes, knitted hoods that connected to chunky sweaters and zip-ups. One model hit the catwalk wielding a cloth hammer that resembled Bowser's weapon of choice.
To receive the award, Yaku and Steph Stapleton walked out from backstage, hand-in-hand.
"That was nuts," he adds. "It was a very surreal moment."
Family is a central reference point for Stapleton—not just when it came to this collection specifically, which was also inspired by "Afro-futurism, [the online game] RuneScape OS, and forms found in nature," he says. "I used family and the Afro-futurism movement as a vehicle to explore my own identity, and also to create an alternative reality." What would happen if all of his family members existed in this alternate reality, he asked himself? For one, they'd all be in the same place at the same time—a rare occurrence for Stapleton's outsize clan. ("To get us together, there needs to be something huge, like a wedding—or a funeral," he adds.) "I tried to think about their most prominent characteristics, and then transferred them into these characters and their garments."
Stapleton—who also received the British Fashion Council Foundation MA Scholarship and the LVMH MA Fashion Scholarship—says he doesn't come from the typical formal fashion background, aside from his masters studies at CSM and a bachelors in fashion and apparel design from Leeds Beckett University. Instead, he got his start making graphic tees and fliers for parties at around 18 years old. "I made them for my friends; they'd just be one-offs of whatever I'd made on Photoshop," he recalls. "I'd go to this print guy in town and he'd do this iron-on heat transfer, which was super sticky." By the time uni rolled around, a fashion marketing tutor at Leeds Beckett offered Stapleton the opportunity to learn fashion design—if he got his act together. Stapleton kept up his promise of coming in every day from 9 to 5, five days a week, and in return he learned crucial skills like drawing up drafts and how to sew "in a straight line."
When Covid hit in 2020, the designer holed himself up in his apartment, "making things" before enrolling in Central Saint Martins for his MA in 2021. "In the MA, most people arrived with an identity built already," he says. "There wasn't the kind of self-consciousness and doubt that comes with being younger. You're able to make these organic group systems and networks by collaborating with people all the time." Stapleton says he's maintained these relationships beyond graduation; he's currently setting up a group studio with two fellow designers, Ellen Poppy Hill and Maxime Black, who also showed at the CSM MA show. "I can just turn around and say, 'Ellen, how wide should a short fit?'" he says. "I don't have this deep knowledge of everything, but I think showing that you have a passion and a real investment of time into what you're interested in is enough to make something that's meaningful and valuable to yourself. And then hopefully other people see that as well."
A look at the otherworldly footwear used in Yaku Stapleton's fashion show. Courtesy of the designer.
As for what's next, Stapleton is in the midst of designing a summer 2023 capsule collection (which, he adds, might include a return to his screen-printed t-shirt roots.) He's being extra mindful about the accessibility and price point of his clothing. "I want to use this capsule as an opportunity to show that I can do easy-to-wear stuff that still carries the energy of my design style," he says. "As soon as the price gets super high, you might not be as rooted in the ground level. You don't really get to build a community."
Stapleton, who is of half Jamaican, half Vincentian descent, says at this juncture that openness is key to making his brand. "There are many things that are important to me, and I'm not so sure what the central message of the label is," he says. "That might come with a bit more maturity. But I know that freedom, where your expression can come from, is quite important."