Zendaya Shines In Her First Louis Vuitton Campaign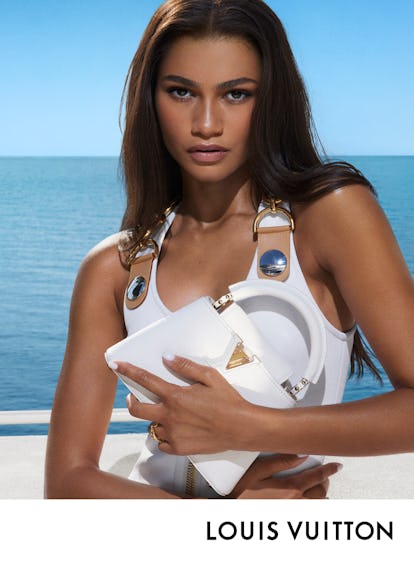 Courtesy of Louis Vuitton
After months of anticipation and rumors, it seems that the fashion community's intuition was right, as Zendaya has officially been announced as Louis Vuitton's new house ambassador. The actress fronted her first campaign for the brand as the face of LV's classic Capucines bag in serene images shot by photographer duo, Mert Alas and Marcus Piggott.
In the photos, Zendaya clutches various Capucines in sleek black and white looks that leave the attention on the actress and the accessory. The campaign was shot at E-1027 in Roquebrune-Cap-Martin, France, a house designed by Modernist architect and designer, Eileen Gray.
The choice to make Zendaya the face of the Capucines seems definitely on trend. While Louis Vuitton built an empire on their monogram, bags with less conspicuous marking are currently in (especially amongst Gen Zers who get many of their fashion cues from TikTok dictates). Giving Zendaya such a sleek piece proves is right in line with the coded or quiet luxury trend.
At that's not to say Zendaya doesn't appreciate a good LV logo. "Everyone had the LV-print on their Myspace page," the actress told Vogue before clarifying, "At least I had that! Let me not try to put that on nobody else. That was definitely me."
Zendaya spoke more to Vogue about what the LV campaign means to her, recalling the Vuitton images she grew up around. "There was this one that I loved from the early 2000s of Naomi Campbell, and she's like sprawled out over a trunk," she said of a spring/summer 2004 campaign starring the supermodel. "I can still see it. I can see the image in my head and I remember seeing it in magazines as a kid."
The announcement and photos come amid a bit of overly heated online speculation revolving around Zendaya and her now-former stylist (but still friend), Law Roach. Roach was paramount in ushering Zendaya into the world of high fashion, but some Twitter conspiracy theoriests questioned the timing of his retirement announcement earlier this year. Roach later clarified the situation. "There's no beef with LVMH," he told The Cut after announcing his retirement last month. "Delphine and the Arnault family have been so kind to me." Now, Roach's styling credit on the Vuitton shoot proves even more so that any speculation was wrong, and he has as much of a hand in Zendaya's image as ever.