Law Roach Announced His Retirement and the Fashion World Is Thoroughly Confused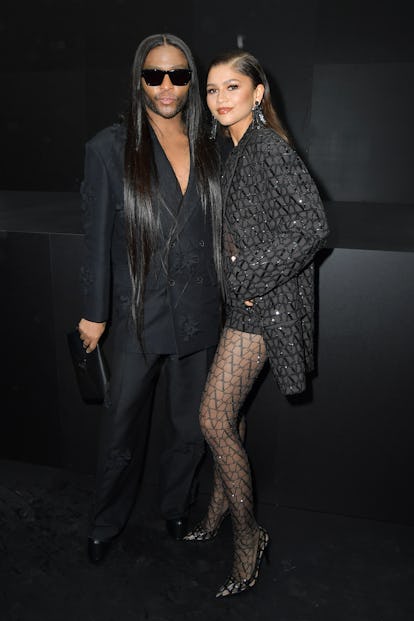 Dominique Charriau/WireImage/Getty Images
Update 3/15/23. 6:30 p.m: A day after announcing his retirement, Law Roach took to Twitter to clarify one important point—he will continue to work with Zendaya.
"So y'all really think I'm breaking up with Z…we are forever!" the stylist posted on Twitter. In a second tweet, Roach continued, saying, "She's my little sister and it's real love not the fake industry love." He finished off his message with a third tweet featuring a gif from The Color Purple. "Literally me and Zendaya..." he captioned the image, which featured Celie and Nettie reciting, "Me and you must never part."
Roach's message is quite the relief to those who assumed he would no longer be working with his longtime client, Zendaya, but now the terms of his "retirement" are even more unclear. Will he continue with Kerry Washington, Megan Thee Stallion, Hunter Schafer, and his other clients as well and just not take on new stars? Or, is he simply sticking around for Z? Maybe the constant speculation will force Roach to comment further on the situation, and we will get more information from him soon.
Original post: Even if you know nothing about fashion (side note: how did you get here, if that's the case?), chances are, you've heard of Law Roach (or, at the very least, you're aware of the absolute red carpet tear Zendaya has been on over the past few years). Well, Roach is the genius behind those looks. The stylist, who has been working with Zendaya since her days as a Disney starlet, has become one of the most renowned voices in the industry. So imagine everyone's surprise when, on Tuesday, Roach announced his retirement.
"My Cup is empty…thank you to everyone who've supported me and my career over the years," Roach wrote on Instagram alongside an image with a "retired" sign. "Every person that trusted me with their image, I'm so grateful for you all. If this business was just about the clothes I would do it for the rest of my life but unfortunately it's not! The politics, the lies and false narratives finally got me! You win...I'm out."
The announcement came fairly suddenly. Just over the weekend, Roach dressed numerous stars for the Vanity Fair Oscars party, including Hunter Schafer, who went viral for her fresh off-the-runway Ann Demeulemeester look. Of course, many designers, editors, and fellow stylists took to the comments of Roach's post to share their reactions to the shocking news.
"Absolutely not," Christian Siriano wrote. "No." celeb stylist Karla Welch simply added. "You will always have a home @britishvogue," said the magazine's editor in chief, Edward Enninful.
Roach's work with Zendaya is really what put him on the map—and many will remember his appearance with her at the 2019 Met Gala, which turned Zendaya into a glowing Cinderella with Roach as her Fairy Godmother. Throughout the years, the stylist has dressed some of the industry's biggest names, including Anya Taylor-Joy, Kerry Washington, Megan Thee Stallion, and Lindsay Lohan, while becoming a star himself. Roach was a judge on cycle 23 of America's Next Top Model, as well as the HBO competition show Legendary, and last year, he received the inaugural stylist award at the 2022 CFDA Awards. He dressed Bella Hadid for her vintage triumph at Cannes, and Celine Dion for Couture Week in 2017. In 2022, he tried his hand at design, creating a collaboration in partnership with Hervé Leger.
Could this be an early April Fools joke? Hopefully—or perhaps it is real. Of course, speculation is running rampant as fashion Twitter tries to figure out what exactly is going on. There have been rumors that Roach will step into the role of creative director for a brand, or that he's about to launch something of his own. Perhaps he is just tired of mistreatment at the hands of fashion labels. The biggest question on everyone's mind, though, is: Does this really mean the end of fashion's favorite stylist-star duo—and what will happen to Zendaya?
This article was originally published on