Take a Trip Back to 1960s New York With Andy Warhol, Nico, and More of the So-Called Chelsea Girls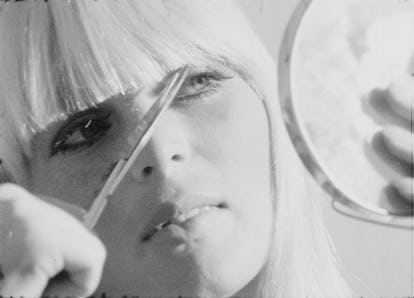 © 2018 The Andy Warhol Museum, Pittsburgh, PA, a museum of Carnegie Institute. All rights reserved. Film still courtesy of the Andy Warhol Museum.
From the moment Andy Warhol started messing around with a movie camera in 1963, he used it to show a much more human side of his glamorous subjects, and there's no better example than Sleep, his five-plus-hour film of the artist John Giorno yes, simply lying asleep. But in 1966, against all odds, his equally anti-Hollywood film The Chelsea Girls—featuring his "Superstars" including Nico and Brigid Berlin doing everyday activities such as simply hanging around in bed, as well as less everyday ones like, you know, shooting amphetamines—found commercial success, becoming the first underground movie to screen in theaters nationwide and internationally. Showcasing no less than eight hours of footage at its premiere, the film gave a first, in-depth glimpse into 1960s New York's underground, thereby captivating the alternately horrified and awed press, who then referred to his subjects as "homos" and "transvestites." (It wasn't long before the management of the Hotel Chelsea, where much of Warhol's filming took place, were sending him complaints.) Decades later, the film is just as fascinating, and now more insightful into the Factory-era scene than ever with next month's publication of Andy Warhol's The Chelsea Girls, whose release coincides with the Warhol Museum's project to digitize the artist's films. From new photos and transcripts found in unheard and unseen reels to a re-creation of the film's split-screen layout, which Warhol first visualized on a napkin, the book offers as good of a glimpse you can get at The Chelsea Girls—particularly since it's still not even available for personal purchase. Take a look inside, here.