A Visual Celebration of Ariana Grande's Signature Ponytail Going from Side to Side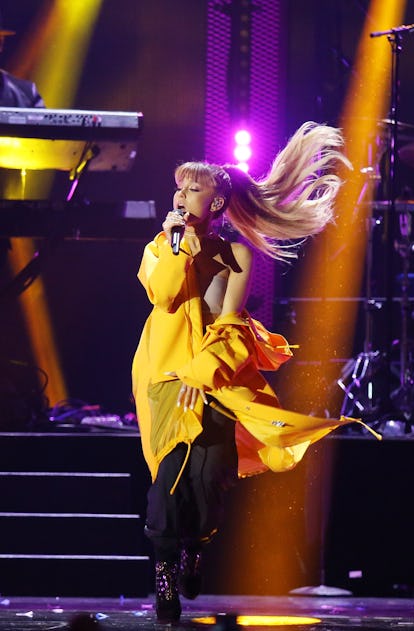 Photo courtesy of Getty Images.
Ariana Grande has become one of the most well-liked figures in popular culture. Her signature hairstyle, however, remains divisive. It is widely accepted that Grande has the range—she's got pipes like an angel, and the ability to do spot-on impressions of just about anyone from Celine Dion to Jennifer Coolidge—but some would rather do the constant backdrop of her high pony swinging, to quote her Nicki Minaj collab, "Side to Side." At this point, most super-fans are already very familiar with the origin story of the high pony—she dyed it too often while starring on Nickelodeon shows Victorious and Sam & Cat, to the point of damaging it severely—but even years after her teenybopper TV days, Grande's updo is here to stay. Sure, she recently let her hair down in a moment of vulnerability for the July cover of British Vogue, yet rarely do we see Grande without her signature high pony; the mere sight of her without it still freaks the internet out. But can you blame her for understanding the value of putting a positive spin on a look and committing to it so hard it becomes emblematic of her pop diva persona? On her 26th birthday, we'd like to celebrate that iconic hairstyle of hers, with 18 photos of the high pony in all of its glory.