All of Ariana Grande's Eerily Accurate Impressions, Ranked
She risked the wrath of Mariah for our entertainment.
---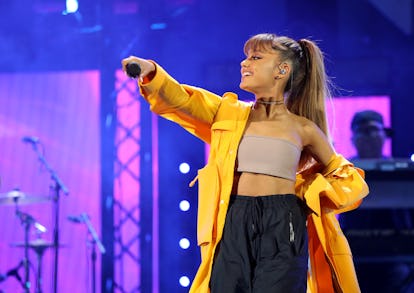 Christopher Polk
Back before Ariana Grande was making actual music videos all the time, when she was just a burgeoning Nickelodeon starlet still making webcam clips in her Florida bedroom, she started developing a unique talent: near-perfect vocal imitations of some of the biggest divas of all time. Perched on a couch or bed, sometimes alone, sometimes next to friends or her brother, Frankie, she'd record herself cooing a little bit of Britney in the Louisiana siren's signature style one minute and then belting out some spot-on Judy Garland the next. The videos delighted fans, who knew her from the teen show Victorious (even if some of those fans didn't quite know who Judy Garland was), and gained a bit of a YouTube cult status.
When she launched her bid in 2013 to place her own voice among those of iconic divas, with a serious stab at solo stardom beginning with her debut album, Yours Truly, she swore off her hidden talent. When an Australian interviewer confessed that she still watched compilations of Grande's impressions all the time and asked her to do just a little bit of Britney, Grande demurred. "I can't! You want to know why? I was doing them all the time, and it's actually really bad for your voice," she said.
"Using my voice in a way that's not natural, and sort of, like, mimicking sounds that aren't, like, natural to how my voice usually comes out…your voice can sometimes get a little swollen or irritated," she explained.
When you're trying to establish your own voice, why risk its health to imitate others?
Of course, that doesn't mean Grande has completely sworn off being a one woman Snatch Game. She'll still dust off her secret talent for a special occasion. Like, say, Saturday Night Live or The Tonight Show. Sometimes she doesn't even need to sing to get the point across. Last night, while guest-hosting with Jimmy Fallon, she added to her already impressive impression stable by debuting a pretty uncanny vocal approximation of the Evanescence singer Amy Lee (while singing Kendrick Lamar's "Humble," of course). Here, a short history and ranking of each and every one of Grande's impressions.
1. Britney Spears
(SNL's "Tidal" Sketch, 2015 The Tonight Show Appearance, and Numerous Youthful YouTube Videos)
No one has ever credited Britney with having "the range," but diva-level vocal ability is why she's an icon. Her raspy pitch, much like the iMessage alert or the "chung chung" of Law & Order, is one of the defining sonic tones of our time. Lots of people have tried to ape it, but few have nailed it quite like Grande. Whether she was singing "Mary Had a Little Lamb" on Tonight, or Britney's own songs elsewhere, if you had your eyes closed you might assume it was Britney herself at first.
2. Jennifer Lawrence
(SNL's "Celebrity Family Feud")
In her relatively brief eight years in the spotlight, Jennifer Lawrence certainly has formed an indelible public persona. You would think that would lend itself to plenty of impressions in pop culture, but actually, Google "Jennifer Lawrence impression" and pretty much the only thing to come up is Grande's rendition. Lawrence herself once even told Vogue that it was "spot-f–king-on."
3. Celine Dion
(SNL's "Tidal" Sketch and 2015 The Tonight Show Appearance)
Not only is Dion's voice one of the most powerful of the '90s, it's also very particular and very French-Canadian. On the Tonight Show, while singing the Weeknd's "Can't Feel My Face" à la Dion, Grande mastered not only her singing voice, but the Celine-ian ad libs she offers on stage as well.
4. Jennifer Coolidge in Legally Blonde
(2018 The Tonight Show Appearance)
Out of all the impressions Grande debuted on last night's romp with Fallon, it was the one that didn't involve singing that impressed us the most. Who knew Grande was such a Coolidge fan? This was sort of surreal coming out of her mouth.
5. Shakira
(SNL's "Tidal" Sketch)
A perfectly serviceable and zany impression of everyone's favorite throaty Colombian singer.
6. Whitney Houston
(SNL's "Tidal" Sketch)
Here's the thing: If you want a funny Whitney Houston impression, go to either SNL's Maya Rudolph or MadTV's Deborah Wilson. They both had their own laugh-out-loud impressions of Houston's particular vocal tics and nuances. Grande didn't go for any of that when she sang "I Will Always Love You" on SNL (perhaps wisely, as she is, you know, a white girl). Her voice sounded mostly like her own, but she did give a pretty faithful imitation of Houston's phrasing and delivery during the climax of her most famous song, which may not be funny, but was pretty damn impressive. How many people during The Voice auditions or karaoke night at your favorite bar attempt just that and fail horribly?
7. Amy Lee
(2018 The Tonight Show Appearance)
What does one want out of a vocal impression of the lead singer of Evanesance? We hadn't given it much thought before last night, but what Grande delivered seemed to work just fine.
8. Christina Aguilera
(SNL's "Tidal" Sketch, and 2015 The Tonight Show Appearance)
A Christina Aguilera impression pretty much means imitating Aguilera's well-documented fondness for vocal runs and other sonic gymnastics. That's the tactic Grande chose on Tonight. Most people attempt it without actually having the skill to pull it off, though, so at least Grande had that. Now, if she could also do an impression of Aguilera's own SNL impression of Kim Cattrall, we might have bumped this up a little bit.
9. Rihanna
(SNL's "Tidal" Sketch)
Unfortunately this one just riffs on Barbadian patois slabs to the chorus of "Work," a joke pretty much everyone was making back in 2016.
Unquantifiable: Mariah Carey
(2018 The Tonight Show Appearance)
Similarities between Grande and a young Mariah Carey have been a matter of much public discussion (and public meme-ing) since Grande's debut. Given Carey's reputation for her devastating delivery of shade, Grande has been pretty careful not to inflame the situation. Of course, that hasn't stopped Carey from delivering some possible shade anyway. During an acceptance speech at the 2014 World Music Awards, Carey said, "I know I've been credited for inspiring, maybe accused, of, uh, influencing some upcoming singers. I don't know." When asked point-blank a few years later about Grande by Andy Cohen on Watch What Happens Live, Carey bluntly said, "I'm not familiar."
In turn, Grande hasn't attempted a deliberate Carey impression. At least by name. Though on Fallon last night she did sing Drake's "God's Plan" in the style of "'90s diva." Which '90s diva? Well, the backing track played by the Roots had unmistakable similarities to that of Carey's "Fantasy." However, the actual vocal performance didn't sound that much different from how Grande usually sounds. Which, well, is how the comparison began in the first place. She didn't go for any Carey-level whistle notes, nor did she mimic Carey's habit of putting some staccato enunciation on $10 vocabulary words. So we're not really sure what to make of this. Maybe it was some other '90s diva. Unless, of course, Grande's decision not to emote was some deep-level Carey shade.
In any event, who knows when we'll get more. She only seems to do this about once every other year or so, but hopefully, before it's all over, we'll get Grande's take on Cher and Madonna too.
Related: Gal Gadot Did a Flawless Kendall Jenner and Gigi Hadid Impression on Saturday Night Live
Ariana Grande Is the Reigning Queen of the High Ponytail
A young Ariana Grande attended the Variety's 4th Annual Power of Youth event in 2010, wearing her red locks in a high pony, of course.

Photo by Getty.
Ariana Grande attended the Los Angeles premiere of Justin Bieber: Never Say Never in 2011 with dark red hair.

Photo by Getty.
Pairing her pony with polished curls and a berry pink lip, Grande attends the Variety's Power of Youth event in 2012.

Photo by Getty.
Grande attended the 2013 MTV EMA's in Amsterdam, wearing her highlighted curls in a half-up-half-down pony.

Photo by Getty.
Ariana Grande attended the FOX's 2014 Teen Choice Awards wearing her highlighted caramel brown locks in voluminous curls.

Photo by Getty.
Grande looked sleek wearing a matte red lip paired with her slicked-back high pony at the 2014 MTV Video Music Awards.

Photo by Getty.
Ariana Grande is always consistent. Here, the signer hits the red carpet at the 57th Grammy Awards in 2015.

Photo by Getty.
Ariana Grande wore a cat eye, matte lipstick, and a high pony at the 2016 Billboard Music Awards.

Photo by Getty.
At the 2016 American Music Awards, Grande wore her long brunette locks with a braided twist that paired perfectly with her burgundy lip.

Photo by Getty.
Adding a full bangs and crimped waves to her signature high pony, Grande experimented–but stayed within her comfort zone–at the 2016 MTV Video Music Awards.

Photo by Getty.
Grande wore a nude lip with a dramatic smoky eye at the 58th Grammy Awards in Los Angeles in 2016.

Photo by Getty.
Grande wore her signature high pony with a sleek cat at the One Love Manchester Benefit Concert in 2017.

Photo by Getty.