Gal Gadot Did A Flawless Kendall Jenner And Gigi Hadid Impression On Saturday Night Live
Meanwhile, Kate McKinnon took on Bella Hadid.
---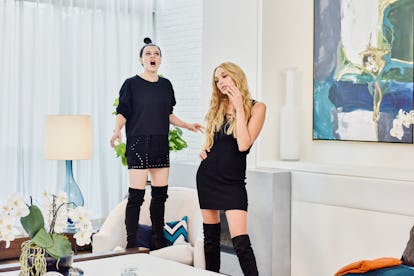 Chris Siracusa/NBC/NBCU Photo Bank via Getty Images
Hosting Saturday Night Live for the first time, Wonder Woman star Gal Gadot played not one but two supermodels du jour in "E!'s New Lineup," a sketch about the true opiate of the masses: reality television.
Hot off this year's 10th anniversary of Keeping Up With the Kardashians, the comedy show proposed a brand new spinoff for the family starring none other than Kendall Jenner, along with model besties Bella Hadid and Gigi Hadid. Dubbed Kendall's Model House, the sketch sees the trio hanging out in, yes, Kendall's house, with Gadot taking on the roles of both Jenner and Gigi. Cast member Kate McKinnon, meanwhile, plays the part of Bella, complete with a slick topknot and micro sunglasses. Together, the friends do things like wear chokers and complain around a huge bowl of fruit. You know, model stuff.
Gadot is pitch-perfect in her double role, complete with the Calabasas vocal fry. "I'm under a lot of pressure," she laments in the clip—mid-selfie, of course. She also ponders the big questions in life; specifically, is she a Jenner or Hadid? Luckily, Amazon's Alexa is there to confirm, "You are Kendall Jenner."
And since E! loves nothing more than a good Kardashian-based show, there's a spinoff to that spinoff: Kendall's World. The tagline? "Kendall Jenner literally gets lost in her own house."
Here, watch as Godot as Kendall bravely explores the far reaches of her Calabasas home. Spoiler alert: only one Hadid makes it out alive.
Other new E! shows to take your mind off the world news? Twenty minutes of Gwen Stefani and Blake Shelton singing while eating dinner, Nene Leakes commenting on fashion in I Hate That, and a show solely about the background characters of Riverdale. But perhaps the most promising of all the pitches? Where's Kanye, a compilation of all the B-roll of Kanye West attempting to escape the Keeping Up With The Kardashians cameras.
Related: Gal Gadot Filmed Her Wonder Woman Reshoots While Five Months Pregnant
"Wonder Woman" Star Gal Gadot Was a Very Reluctant Pageant Queen