Beyoncé and Jay-Z Attend Star-Studded All-Night Saturday Night Live Afterparty
Ryan Gosling, Emma Stone, and Alicia Keys were also there.
---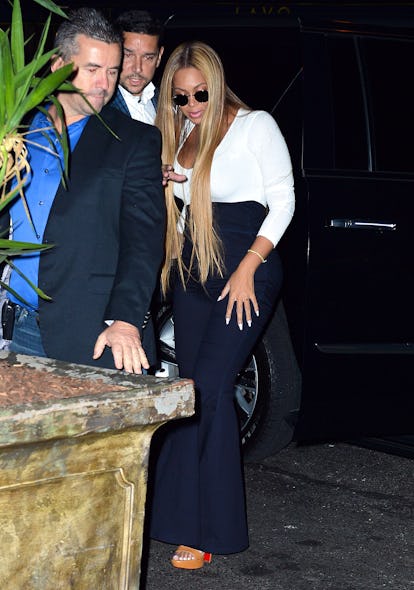 Splash News
The wild, celebrity-heavy afterparties are as big a Saturday Night Live tradition as, well, shouting "Live From New York, It's Saturday Night" at the top of the show. So the after-party for the show's Season 43 premiere (not to mention the first after the show's Emmys haul) was bound to be a big one. With everyone from Beyoncé to Eva Mendes to CNN's Don Lemon making appearances it did not disappoint.
Beyoncé arrived at New York City's TAO Uptown around 3 a.m., Page Six reports, joining husband Jay-Z, who had served as the season opener's musical guest earlier in the night and was already at the clubby restaurant with the SNL cast and their many celebrity guests. (Beyoncé reportedly did not attend the live SNL taping.)
Also in attendance at the late-night fête were Ryan Gosling, who hosted Saturday's episode, and partner Eva Mendes, Emma Stone, Sean "Diddy" Combs, Alicia Keys and husband Swizz Beatz, Aziz Ansari, Andy Cohen, Dakota Johnson, and CNN anchor Don Lemon, who reportedly walked in hand-in-hand with boyfriend Tim Malone. According to People, SNL producer Lindsay Shookus attended the party without boyfriend Ben Affleck, while Scarlett Johansson arrived at the venue with her rumored boyfriend, "Weekend Update" host Colin Jost, but stayed in the car and didn't actually go into the party with him, for unknown reasons.
SNL cast members, apparently, were not unfazed by the party's star-studded guest list. Before Bey and Jay left—around 4 a.m., per Page Six—they posed for selfies with SNL and Ghostbusters star Leslie Jones. "I take the worst pics ever!! Thank God Beyoncé is just fcking beautiful!! Thanks for pic Queen B!! I was so nervous!!" she captioned a photo of her and Bey in which she does indeed seem anxious, but Beyoncé looks cool and collected, despite the fact that, as an "insider" told Page Six*, "Beyoncé was just as excited to take a selfie with Leslie as Leslie was to take one with her." Jones also snapped a photo with Jay-Z, which she posted on Twitter with the caption, "Jay Z is a lyrical beast!!! Thanks for the pic!! Again soooo nervous!!"
Related: The New Rules of Excess: Inside L.A.'s Giga-Mansion Boom with the Architect of Beyoncé and Jay Z's $120 Million Bel Air Home
Pharrell Williams Gets Interviewed By a 7-Year-Old: