Saturday Night Live Roasted Donald Trump in Its Season 43 Premiere, and It Was Predictably Great
Saturday Night Live returned on Saturday for its Season 43 with Ryan Gosling, Jay Z and, of course, Alec Baldwin as Donald Trump, who was mercilessly mocked in the premiere.
---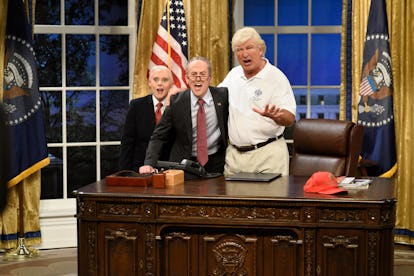 NBC
After a summer replete with the-country-is-going-up-in-flames moments, Saturday Night Live returned Saturday night in top form, opening with Alec Baldwin as President Trump addressing the crisis in Puerto Rico.
In the sketch "The Chaos President," trump (Baldwin) returns to the Oval Office, talks to Sarah Huckabee Sanders (Aidy Bryant) and calls Mayor Cruz of San Juan (Melissa Villaseñor) nasty. Sanders sums herself up as "no-nonsense, but all nonsense," which, yep. Then Trump reveals his devious plan: To cause so much chaos that it actually bends the laws of time and space. While it may seem like the North Korea crisis was months ago because there's been so many crises since then…it was actually last week.
Kate McKinnon reprised her role as an elfin Jeff Sessions, an impish rascal who perches on Trump's lap until they are interrupted by Chuck Schumer (Alex Moffat), who like any good New Yorker, just wants to grab a slice.
During the Weekend Update segment, hosts Colin Jost and Michael Che turned to the topic of the president's tweets, calling out his hypocrisy (Puerto Ricans are lazy while Trump is golfing?) and noting that even though Puerto Rico is, as Trump mentioned, an island surrounded by water, even people like Pitbull can send a plane to pick people up. At one point Che called trump a bitch and it was pretty great.
Last season, Saturday Night Live went hard on the election mishegoss to great effect, bringing in special guests—Melissa McCarthy as Sean Spicer, etc.—to fill in as out the ever-expanding cast of political characters dominating the news cycle. But the anchors were Kate McKinnon as Hillary versus Baldwin as Trump. McKinnon's won two Emmys for her work on the show and there's no end in sight to the characters she can embody…nor does it look like we'll get a respite from Trump-related drama in the near future. So, will Season 43 be more of the same? We can only hope.
Emmys 2017: See What All Of the Stars Wore On the Red Carpet
Millie Bobby Brown in Calvin Klein By Appointment attends the 69th Annual Primetime Emmy Awards at Microsoft Theater on September 17, 2017 in Los Angeles, California.

Photo by J. Merritt/Getty Images
Issa Rae in Vera Wang attends the 69th Annual Primetime Emmy Awards at Microsoft Theater on September 17, 2017 in Los Angeles, California. (Photo by Frazer Harrison/Getty Images)

Frazer Harrison
Anna Chlumsky attends the 69th Annual Primetime Emmy Awards at Microsoft Theater on September 17, 2017 in Los Angeles, California. (Photo by J. Merritt/Getty Images)

J. Merritt
Julianne Hough in Marchesa attends the 69th Annual Primetime Emmy Awards at Microsoft Theater on September 17, 2017 in Los Angeles, California. (Photo by Frazer Harrison/Getty Images)

Frazer Harrison
Finn Wolfhard, Noah Schnapp, Gaten Matarazzo, in Ted Baker, and Caleb McLaughlin attend the 69th Annual Primetime Emmy Awards at Microsoft Theater on September 17, 2017 in Los Angeles, California. (Photo by J. Merritt/Getty Images)

J. Merritt
Sterling K. Brown and Ryan Michelle Bathe attend the 69th Annual Primetime Emmy Awards at Microsoft Theater on September 17, 2017 in Los Angeles, California. (Photo by Frazer Harrison/Getty Images)

Frazer Harrison
Felicity Huffman, in Tony Ward, attends the 69th Annual Primetime Emmy Awards at Microsoft Theater on September 17, 2017 in Los Angeles, California. (Photo by J. Merritt/Getty Images)

J. Merritt
Tessa Thompson in Rosie Assoulin attends the 69th Annual Primetime Emmy Awards at Microsoft Theater on September 17, 2017 in Los Angeles, California. (Photo by J. Merritt/Getty Images)

J. Merritt
Rachel Bloom attends the 69th Annual Primetime Emmy Awards at Microsoft Theater on September 17, 2017 in Los Angeles, California. (Photo by J. Merritt/Getty Images)

J. Merritt
Kiernan Shipka in Miu Miu attends the 69th Annual Primetime Emmy Awards at Microsoft Theater on September 17, 2017 in Los Angeles, California. (Photo by J. Merritt/Getty Images)

J. Merritt
Shannon Purser attends the 69th Annual Primetime Emmy Awards at Microsoft Theater on September 17, 2017 in Los Angeles, California. (Photo by J. Merritt/Getty Images)

J. Merritt
Sarah Hyland in Zac Posen attends the 69th Annual Primetime Emmy Awards at Microsoft Theater on September 17, 2017 in Los Angeles, California. (Photo by J. Merritt/Getty Images)

J. Merritt
Yvonne Strahovski in Julien Macdonald attends the 69th Annual Primetime Emmy Awards at Microsoft Theater on September 17, 2017 in Los Angeles, California. (Photo by Jeff Kravitz/FilmMagic)

Jeff Kravitz
Angela Sarafyan attends the 69th Annual Primetime Emmy Awards at Microsoft Theater on September 17, 2017 in Los Angeles, California. (Photo by John Shearer/WireImage)

John Shearer
Laverne Cox attends the 69th Annual Primetime Emmy Awards at Microsoft Theater on September 17, 2017 in Los Angeles, California. (Photo by J. Merritt/Getty Images)

J. Merritt
LOS ANGELES, CA – SEPTEMBER 17: Actor Amanda Crew attends the 69th Annual Primetime Emmy Awards at Microsoft Theater on September 17, 2017 in Los Angeles, California. (Photo by Kevin Mazur/WireImage)

Kevin Mazur
Edie Falco attends the 69th Annual Primetime Emmy Awards at Microsoft Theater on September 17, 2017 in Los Angeles, California. (Photo by Frazer Harrison/Getty Images)

Frazer Harrison
Sofia Vergara attends the 69th Annual Primetime Emmy Awards at Microsoft Theater on September 17, 2017 in Los Angeles, California. (Photo by Frazer Harrison/Getty Images)

Frazer Harrison
James Corden and producer Julia Carey attend the 69th Annual Primetime Emmy Awards at Microsoft Theater on September 17, 2017 in Los Angeles, California. (Photo by Frazer Harrison/Getty Images)

Frazer Harrison
Madeline Brewer attends the 69th Annual Primetime Emmy Awards at Microsoft Theater on September 17, 2017 in Los Angeles, California. (Photo by J. Merritt/Getty Images)

J. Merritt
Yara Shahidi attends the 69th Annual Primetime Emmy Awards at Microsoft Theater on September 17, 2017 in Los Angeles, California. (Photo by J. Merritt/Getty Images)

J. Merritt
Judith Light attends the 69th Annual Primetime Emmy Awards at Microsoft Theater on September 17, 2017 in Los Angeles, California. (Photo by Frazer Harrison/Getty Images)

Frazer Harrison
Ellie Kemper in Jenny Packham attends the 69th Annual Primetime Emmy Awards at Microsoft Theater on September 17, 2017 in Los Angeles, California. (Photo by J. Merritt/Getty Images)

J. Merritt
Regina King attends the 69th Annual Primetime Emmy Awards at Microsoft Theater on September 17, 2017 in Los Angeles, California. (Photo by J. Merritt/Getty Images)

J. Merritt
Heidi Klum attends the 69th Annual Primetime Emmy Awards at Microsoft Theater on September 17, 2017 in Los Angeles, California. (Photo by J. Merritt/Getty Images)

J. Merritt
Jessica Biel attends the 69th Annual Primetime Emmy Awards at Microsoft Theater on September 17, 2017 in Los Angeles, California. (Photo by Frazer Harrison/Getty Images)

Frazer Harrison
Michelle Pfeiffer attends the 69th Annual Primetime Emmy Awards at Microsoft Theater on September 17, 2017 in Los Angeles, California. (Photo by J. Merritt/Getty Images)

J. Merritt
Uzo Aduba attends the 69th Annual Primetime Emmy Awards at Microsoft Theater on September 17, 2017 in Los Angeles, California. (Photo by Frazer Harrison/Getty Images)

Frazer Harrison
Kate McKinnon in Narciso Rodriguez attends the 69th Annual Primetime Emmy Awards at Microsoft Theater on September 17, 2017 in Los Angeles, California. (Photo by J. Merritt/Getty Images)

J. Merritt
Vanessa Bayer attends the 69th Annual Primetime Emmy Awards at Microsoft Theater on September 17, 2017 in Los Angeles, California. (Photo by J. Merritt/Getty Images)

J. Merritt
Watch: How Ray Romano Explained His On-Screen Threesome To His Wife
How Ray Romano Explained His On-Screen Threesome To His Wife