SXSW 2017: From Marc Jacobs to Melissa McCarthy, Here's Every Celeb Instagram
Other off-the-grid appearances were made by Ryan Gosling, Jon Hamm, and Michael Fassbender.
---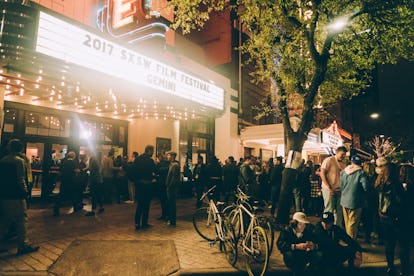 Photo by Matt Lief Anderson
Each year, South by Southwest (SXSW), the annual multi-media festival held in Austin, Texas, gets bigger and more celebrity-filled. This month, it was kicked off with perhaps the most star-studded red carpet yet, with Ryan Gosling gracing the small city with his presence (along with wife Eva Mendes) for the premiere of his new drama Song to Song with co-stars Michael Fassbender and Rooney Mara. The film premiere that caught everyone's ears though was Baby Driver starring Jon Hamm and Ansel Elgort, whose girlfriend Violetta Komyshan also came along for the ride.
Other celebrity appearances included Seth Rogen, James and Dave Franco for The Disaster Artist; Lola Kirke and Zoë Kravitz for Gemini; Rowan Blanchard, Yara Shahidi, and Grace Dunahm for a talk on intersecting art and activism; Game of Thrones Stark sisters Sophie Turner and Maisie Deely; Charlize Theron and James McAvoy for Atomic Blonde; Octavia Spencer, Gabourey Sidibe, and Jenny Slate, for various other panel discussions, as well as Melissa McCarthy and her husband, actor Ben Falcone. However, when it came to Instagramming their every move, Gosling and Hamm stayed far off the grid.
Over the weekend, designer Marc Jacobs flew down for a panel discussion during which, ironically, he spoke about embracing Instagram. Before even taking off, he posted photos of himself boarding a private plane in a bright pink coat and a hat that read: "Make America Marc Again," so he's a man of his word.
While we have yet to see any celebrities enjoying what Austin has to offer, namely BBQ and sunshine, see all the best celebrity Instagrams from SXSW, below.
Marc Jacobs, @themarcjacobs
Lola Kirke, @lokakirke
Rowan Blanchard, @rowanblanchard
Grace Dunham, @simondunham
Eiza González, @elizagonzalez
Ansel Elgort, @anselelgort
Violetta Komyshan, @violettakomyshan
Jill Soloway, @jillsoloway
Gabourey Sidibe, @gabby3shabby
Melissa McCarthy, @melisaamccarthy
Inside the Street Style of South by Southwest 2017
Music lovers, film buffs and industry insiders at 2017 South by Southwest music, film and interactive festival, displayed colorful styles in the streets of Austin, Texas.

Photo by Matt Lief Anderson
Music lovers, film buffs and industry insiders at 2017 South by Southwest music, film and interactive festival, displayed colorful styles in the streets of Austin, Texas.

Photo by Matt Lief Anderson
Music lovers, film buffs and industry insiders at 2017 South by Southwest music, film and interactive festival, displayed colorful styles in the streets of Austin, Texas.

Photo by Matt Lief Anderson
Music lovers, film buffs and industry insiders at 2017 South by Southwest music, film and interactive festival, displayed colorful styles in the streets of Austin, Texas.

Photo by Matt Lief Anderson
Music lovers, film buffs and industry insiders at 2017 South by Southwest music, film and interactive festival, displayed colorful styles in the streets of Austin, Texas.

Photo by Matt Lief Anderson
Music lovers, film buffs and industry insiders at 2017 South by Southwest music, film and interactive festival, displayed colorful styles in the streets of Austin, Texas.

Photo by Matt Lief Anderson
Music lovers, film buffs and industry insiders at 2017 South by Southwest music, film and interactive festival, displayed colorful styles in the streets of Austin, Texas.

Photo by Matt Lief Anderson
Music lovers, film buffs and industry insiders at 2017 South by Southwest music, film and interactive festival, displayed colorful styles in the streets of Austin, Texas.

Photo by Matt Lief Anderson
Music lovers, film buffs and industry insiders at 2017 South by Southwest music, film and interactive festival, displayed colorful styles in the streets of Austin, Texas.

Photo by Matt Lief Anderson
Music lovers, film buffs and industry insiders at 2017 South by Southwest music, film and interactive festival, displayed colorful styles in the streets of Austin, Texas.

Photo by Matt Lief Anderson
Music lovers, film buffs and industry insiders at 2017 South by Southwest music, film and interactive festival, displayed colorful styles in the streets of Austin, Texas.

Photo by Matt Lief Anderson
Music lovers, film buffs and industry insiders at 2017 South by Southwest music, film and interactive festival, displayed colorful styles in the streets of Austin, Texas.

Photo by Matt Lief Anderson
Music lovers, film buffs and industry insiders at 2017 South by Southwest music, film and interactive festival, displayed colorful styles in the streets of Austin, Texas.

Photo by Matt Lief Anderson
Music lovers, film buffs and industry insiders at 2017 South by Southwest music, film and interactive festival, displayed colorful styles in the streets of Austin, Texas.

Photo by Matt Lief Anderson
Music lovers, film buffs and industry insiders at 2017 South by Southwest music, film and interactive festival, displayed colorful styles in the streets of Austin, Texas.

Photo by Matt Lief Anderson
Music lovers, film buffs and industry insiders at 2017 South by Southwest music, film and interactive festival, displayed colorful styles in the streets of Austin, Texas.

Photo by Matt Lief Anderson
Music lovers, film buffs and industry insiders at 2017 South by Southwest music, film and interactive festival, displayed colorful styles in the streets of Austin, Texas.

Photo by Matt Lief Anderson
Music lovers, film buffs and industry insiders at 2017 South by Southwest music, film and interactive festival, displayed colorful styles in the streets of Austin, Texas.

Photo by Matt Lief Anderson
Music lovers, film buffs and industry insiders at 2017 South by Southwest music, film and interactive festival, displayed colorful styles in the streets of Austin, Texas.

Photo by Matt Lief Anderson
Music lovers, film buffs and industry insiders at 2017 South by Southwest music, film and interactive festival, displayed colorful styles in the streets of Austin, Texas.

Photo by Matt Lief Anderson
Music lovers, film buffs and industry insiders at 2017 South by Southwest music, film and interactive festival, displayed colorful styles in the streets of Austin, Texas.

Photo by Matt Lief Anderson
Music lovers, film buffs and industry insiders at 2017 South by Southwest music, film and interactive festival, displayed colorful styles in the streets of Austin, Texas.

Photo by Matt Lief Anderson
Music lovers, film buffs and industry insiders at 2017 South by Southwest music, film and interactive festival, displayed colorful styles in the streets of Austin, Texas.

Photo by Matt Lief Anderson
Music lovers, film buffs and industry insiders at 2017 South by Southwest music, film and interactive festival, displayed colorful styles in the streets of Austin, Texas.

Photo by Matt Lief Anderson
Music lovers, film buffs and industry insiders at 2017 South by Southwest music, film and interactive festival, displayed colorful styles in the streets of Austin, Texas.

Photo by Matt Lief Anderson
Music lovers, film buffs and industry insiders at 2017 South by Southwest music, film and interactive festival, displayed colorful styles in the streets of Austin, Texas.

Photo by Matt Lief Anderson
Music lovers, film buffs and industry insiders at 2017 South by Southwest music, film and interactive festival, displayed colorful styles in the streets of Austin, Texas.

Photo by Matt Lief Anderson
Music lovers, film buffs and industry insiders at 2017 South by Southwest music, film and interactive festival, displayed colorful styles in the streets of Austin, Texas.

Photo by Matt Lief Anderson
Music lovers, film buffs and industry insiders at 2017 South by Southwest music, film and interactive festival, displayed colorful styles in the streets of Austin, Texas.

Photo by Matt Lief Anderson
Music lovers, film buffs and industry insiders at 2017 South by Southwest music, film and interactive festival, displayed colorful styles in the streets of Austin, Texas.

Photo by Matt Lief Anderson
Natalie Portman Might Still Think About Kissing Patrick Swayze