Rihanna Is Educating Donald Trump on the Severity of Hurricane Maria in Puerto Rico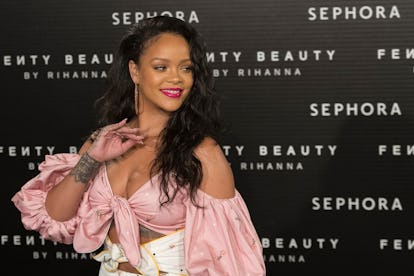 Oscar Gonzalez/NurPhoto via Getty Images
In addition to being a pop icon, an actress, and an inclusive beauty mogul, Rihanna is a humanitarian. She's brought education, healthcare, and cancer prevention and treatment to communities worldwide with her Clara Lionel Foundation — which she fundraised for earlier this month at the 2017 Diamond Ball — and she's recently focused her attention on bringing awareness to the devastation caused by Hurrcane Irma and, now, Hurricane Maria. Over the past 24 hours Rihanna has been shedding light on the latter, and has taken it upon herself to bring about change. Specifically, Rihanna has been educating the President of the United States, Donald Trump, on the severity of Hurricane Maria and the wreckage it's caused in Puerto Rico, where at least 16 people have died as a result according to The Associated Press and millions are without power and access to fresh water, CNN reports.
"@realDonaldTrump ????????," Rihanna tweeted, linking to a video posted by The Shade Room on Instagram where a woman describes the current situation in Puerto Rico as "there's no water, there's no cash, the hospital is completely full, with no generators, so they have open windows. They cannot do surgeries, and I don't see this in the media. The person that called me has three kids, no water, and no one has given anything to them. They're holding shipments from here in the US. So I want you if you see this video to please forward it to a news outlet… this is something that is still happening. This is the sixth day. People have no communication, no water, they have no food, because they cannot buy any food." The video also contains video footage from CNN showing the destruction in Puerto Rico.
Rihanna later directed Trump's attention to a tweet from CBS News containing a video of the San Juan mayor struggling through tears to say, "I know that leaders aren't supposed to cry…But we are having a humanitarian crisis here."
Rihanna didn't elaborate on why she tagged Donald Trump in both tweets but it's likely she felt she needed to reinforce how dire the situation is to Trump because of the president's much-criticized statements on Puerto Rico and his widely perceived lack of empathy. Trump took six days to address Puerto Rico's devastation and when he finally did he tweeted, "Texas & Florida are doing great but Puerto Rico, which was already suffering from broken infrastructure & massive debt, is in deep trouble.." Trump later tweeted about Puerto Rico solely in terms of economics, writing, "Much of the island was destroyed, with billions of dollars owed to Wall Street and the banks which, sadly, must be dealt with." Meanwhile, Trump has yet to visit Puerto Rico.
Rihanna isn't the only celebrity who has been raising awareness for Puerto Rico over the past week. Jennifer Lopez recently issued a statement and announced she would be donating $1 million towards hurricane relief. To donate yourself, visit www.unitedforpuertorico.com.