How Rihanna's Fenty Beauty Is Ushering in a New Era of Inclusivity in the Beauty Industry
Fenty Beauty may be a tipping for the beauty industry: If they continue to ignore minority women, it will be at their financial peril.
---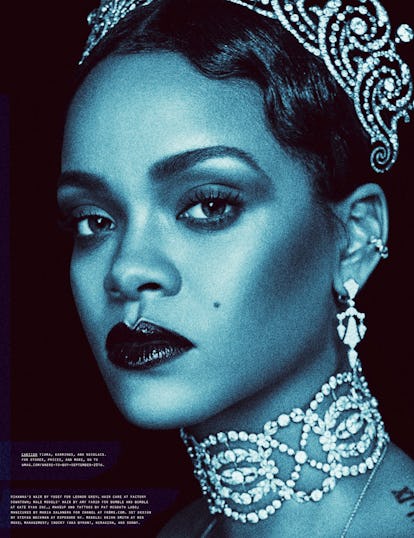 Photographs by Steven Klein, Styled by Edward Enninful
It's been over a week since Rihanna unleashed her debut Fenty Beauty collection on the world, and the hype hasn't died down. But that isn't just because of the pop star's celebrity. It seems Rihanna, by offering 40 different shades, has tapped into a palpable void in the market for more inclusivity in commercially sold beauty products.
"I wanted things that I love," she told Refinery 29. "Then I also wanted things that girls of all skin tones could fall in love with. In every product I was like, 'There needs to be something for a dark-skinned girl; there needs to be something for a really pale girl; there needs to be something in-between.' There's red undertones, green undertones, blue undertones, pink undertones, yellow undertones—you never know, so you want people to appreciate the product and not feel like: 'Oh that's cute, but it only looks good on her.'"
The reaction has been, to judge by early indicators, positive. There was such appetite for Fenty Beauty that a handful of the darkest shades almost immediately sold out, The Cut reported. Celebrities, too, have been effusive in their praise. Comedian and actress Mindy Kaling showed her support for the launch the day of, tweeting a screenshot of the array of shades along with her own thank-you note to Rihanna. Meanwhile, Academy-Award nominee and Empire actress Gabourey Sidibe gave her seal of approval, tweeting, "In case you're wondering about #FentyBeauty on dark skin, issa YES for me dawg." Even one of the models for the line, Nneoma Anosike, expressed her thanks to Rihanna and eloquently summed up why Fenty Beauty is so important, writing on Instagram, "The beauty world for people of color has welcomed yet another brand that goes into understanding that we melanins have different undertones and shades- not just 3 but multiple! We have amazing brands representing us, yes, but not enough."
One widely-liked photo on Instagram showed a Sephora counter with 13 of Fenty Beauty's darkest foundation shades sold out, and a caption that read, "This is for all the makeup brands who think the dark shades won't sell well." The message may have been hyperbole, but the subtext was clear: Beauty brands are ignoring dark-skinned women at their financial peril.
"Rihanna's shade range is incredible, especially for darker skinned women and very pale women, who are usually not represented in brand launches," said Florence Adepoju, 26, the designer behind a thoughtful lipstick line for people of all skin tones called MDMflow. "Representation has been a huge problem in the beauty industry from a long time so it's really refreshing to see Rihanna tackle this issue in a bold way."
[#instagram https://www.instagram.com/p/BYyhG09Hvqr/?taken-by=ninioma]
Even before Fenty Beauty launched, it positioned itself as an inclusive beauty line for all skin tones. The promotional images, which feature models like Paloma Elsesser, Duckie Thot, Slick Woods, Halima Aden and Leomie Anderson, had more models of color than white models, adding to the unprecedented diversity in campaigns this fall.
While the beauty industry has historically failed to represent people of color in ads and with products, Rihanna along with other celebrities and beauty moguls like Pat McGrath have taken matters into their own hands. Just this past month, Beyoncé introduced a baseball cap just for women with natural hair and curly hair for an accessible $35 as part of her Ivy Park collaboration with Topshop. Unsurprisingly, it sold out, as yet another reminder that there is an egregious shortage of beauty products that appeal to broad demographics.
Some brands are beginning to wake up to the potential of this underserved market. Last week, on the heels of the launch of Fenty Beauty, Insecure mastermind and star Issa Rae was named the new face of CoverGirl. "I remember being an awkward black girl in high school, reading the pages of my favorite magazines, casually flipping through @COVERGIRL ads, singing their slogan in my head," she wrote on Instagram, announcing her new post. "Never EVER in my life did I imagine I'd be one."
"For many years the beauty and hair space has treated women of color and our specific beauty needs as an afterthought and a special case to be handled when it suits the needs for sales," said Patrice Grell Yursik, creator of Afrobella.com, a natural beauty activism blog. "But Rihanna, Issa Rae, Kerry Washington and Lupita Nyong'o have ushered in new awareness and possibilities. This is a really inspiring time for creators of color promoting inclusion and a diverse spectrum of beauty."
Yursik argues the influx of beauty brands targeting women of color underscores that there's always been more demand than supply, and when mainstream companies weren't servicing that customer, she went elsewhere for her needs.
"The indie beauty brands that have risen to prominence, and now this wave of celebrity collaborations and product lines proves that we aren't waiting for a special luxury brand to release limited edition shades for us. Our beauty isn't a trend. We are here to stay and we demand quality and equality in all of our shades and textures of beauty," Yursik added. "The gatekeepers need to wake up."
While companies begin to build their arsenals to appeal to a wider set of customers, Adepoju also argued that the industry and beauty creatives need more education to better address the needs of minority women. When she studied cosmetic science at the London College of Fashion, Adepoju said students didn't have enough resources to learn how to create products for all skin tones.
"If you read the textbooks, it seems like an impossible thing, because historically formulators and chemists didn't factor in diverse skin tones," she added. "As a chemist and brand owner, I have to be very intuitive around how I formulate. I rely on my community to test and sample what I'm working on. I also get a lot of feedback on what my customers are using so that I can see what already works for them and what tweaks they'd like to see being made. It's an intensive labour of love because I am not only formulating for diverse tones, but also diverse skin types."
Fenty Beauty, though, seems to be a tipping point. The pop star didn't just slap her name on a product to make a few millions, but worked to address an industry problem that affected many women like herself. More celebrities of her magnitude could follow, and their sales could finally lead to a seismic wake up call.
In other words, as Yursik put it, "After Fenty Beauty, there are no valid excuses anymore—they've been taken away."
Rihanna's Most Daring Hairstyles of All Time, From an Angular Bob to Long Blue Waves
September 2006: Shortly after the pop star first burst onto the scene at 17 years old with her 'Pon De Replay' album, her natural brown fringe, lilac eye makeup and glowing fresh face gives her the sweet "girl next door" look.

Getty Images/WireImage for Tommy Hilfiger
November 2006: Rihanna decided to glam up her look at bit while attending the 2006 MTV Europe Music Awards with voluminous wavy curls paired with flirty eyelash extensions and a natural nude gloss lip.

Getty Images
June 2007: The singer ditched her hair extensions for an edgier shorter look. Her razor-sharp bangs and cropped bob hairstyle were attributed not to just her change in fashion sense, but also in musical direction as her hit album "Good Girl Gone Bad" had recently been released.

Getty Images/WireImage
October 2007: Rihanna switched up her style again with this jet black side-swept fringe and bob hairstyle. Her bold smoky eye, rosy cheeks and natural lip were the perfect touches to her simple slip dress look while attending the 2007 Cipriani Wall Street Concert Series in New York.

Getty Images/WireImage
November 2008: Rocking a curly pompadour, soft brown smoky eye makeup and spiky lashes for definition, Rihanna looked like a glammed-up rocker babe for the 2008 American Music Awards at the Nokia Theatre in Los Angeles.

Getty Images/FilmMagic
January 2010: The singer embodied full-on ice princess at the NRJ Music Awards at the Palais des Festivals, wearing a newly-blonde curly pompadour with shaved sides completed with frosty white eye makeup, spiked eyelashes for definition and a pink pouty lip.

Getty Images/WireImage
November 2010: Rihanna debuted new cherry-red curly hair at the 2010 American Music Awards. Her natural makeup pared with a rosy cheek put all of the focus on her new bold hairstyle.

Getty Images/WireImage
May 2011: Keeping with her scarlet color, Rihanna pulled off this mermaid-esque wavy hairstyle for the 'Nivea And Rihanna Celebrating 100 Years of Skincare' event at the Grand Hotel Intercontinental in Paris.

Getty Images
February 2012: At the 54th Annual Grammy Awards, the singer looked stunning with dark roots and blonde beach waves. She had a natural glow as she kept her makeup rather simple with bronze eyelids and a pink matte lip.

Getty Images/FilmMagic
September 2012:__ Rihanna looked cute and sassy with her her new super-short pixie cut, long lashes and bold red lip at the MTV Video Movie Awards.

Getty Images/WireImage
March 2013: At her Rihanna for River Island collection launch in London, Rihanna showed off ombre side-swept curls and a shaved undercut. Balancing out her new edgy hairstyle, she went for a natural makeup look by pairing copper eye lids with a moody maroon lip.

Getty Images
May 2014: 1. Rihanna pushed the envelope yet again by wearing bantu knots (commonly used as an overnight routine to preserve lasting and defined curls) in public, combined with bold eyeliner and a vampy green metallic lip to the 2014 iHeartRadio music awards.

NBCU Photo Bank via Getty Images
August 2015: This honey-blonde curly ponytail gave Rihanna a glam yet sweet factor at her RiRi by Rihanna fragrance unveiling at Macy's in Downtown Brooklyn.

Getty Images
The gorgeous superstar looked sleek and chic at the 2nd Annual Diamond Ball in December 2015. Her slicked back hairstyle accentuated her enviable bone structure while her orange/gold eye shadow made her green eyes pop.

Getty Images
Rihanna wore a sleek center-part chin length bob to the 2016 BRIT Awards at the O2 Area in London in February 2016. With lilac eyelids, cat-eye liner and soft pick lips, she looked the fairytale part.

Getty Images/WireImage
Rihanna attended Black Girls Rock! 2016 at New Jersey Performing Arts Center on April 1, 2016 in Newark, New Jersey with a bold cat eye and embellished hair accessories.

Getty Images/Gary Gershoff
Rihanna debuted a short, curly bob and bangs at the 2016 Billboard Music Awards in Las Vegas, Nevada.

Getty Images/Axelle/Bauer-Griffin
Rihanna wore dreadlocks to walk around Soho on October 6, 2016 in New York City.

Getty Images/Raymond Hall
Rihanna was positively glowing at the 59th GRAMMY Awards on February 12, 2017 in Los Angeles, California, with her long hair in red waves.

Getty Images/Steve Granitz
Stunning at the 2017 Costume Institute Gala, Rihanna wore her hair in a sleek top knot with bangs and an exaggerated frosted magenta smokey eye.

Getty.
Wearing an elegant up do with a twist, Rihanna paired chic white sunglasses with minimalist makeup and slicked back hair at the Cannes Film Festival.

Getty.
Sporting her newest do at the Crop Over Festival in Barbados, Rihanna rocked turquoise blue beachy mermaid waves with matching nails.

@badgalriri
Watch: Listen In: This Is What Making W's September Issue Sounded Like
Listen In: This Is What Making W's September Issue Sounded Like