Rihanna Finally Drops a Preview of Fenty Beauty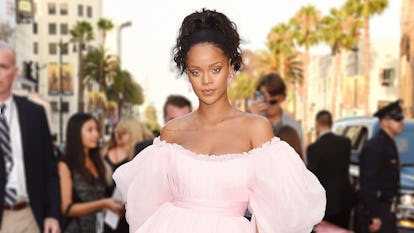 Jeffrey Mayer/Getty Images
Rihanna's Fenty Beauty is one of the most anticipated makeup launches of the year. It's also been one of the most mysterious. Rihanna first announced that the line would debut on September 8th in early August, and aside from suggesting that she's already been wearing products from the line, she hasn't given anyone much info about what to expect.
Well, just before we all head out for our Labor Day holidays, Rihanna has finally released a preview that reveals everything from packaging to shade names.
The commercial preview posted on Instagram is set to ballroom beats so hard we half expected someone to do a death drop. A diverse group of models (suggesting that the line is for all complections) including Halima Aden, Slick Woods and Duckie Thot rock notably glossed lips and, yes, Rihanna herself makes an appearance.
The only product actually shown in package firm is a lip gloss (Kylie, watch your crown), and the commercial is decidedly all about lips.
In another video, model Camila Costa runs through the shade names, though the music is mixed up a little too high to figure out exactly what's she's saying. It's definitely nine different shades she's naming. If we're guessing correctly those names include "Freestyle," Something or Somebody "…Have More Fun," and "Kilowatt."
Sephora, meanwhile, featured another Instagram of Slick Woods listing off other shade names, and we can hear them a bit better. These include "Chili Mango," "Chic Freak" (or is it "Cheek Freak?"), "Hustler, Baby" "Trophy Wife," "Tripping," "Yacht Life," "Fire Crystal" and "Confetti."
Another video from Harvey Nichols adds what sounds like "Mental Moon," "Cinnamon" and "Starstruck."
[#Instagram: https://www.instagram.com/p/BYgjQoRnSwJ/?taken-by=harveynichols]
All in all, half of these sounds sort of standard, while others are the sort of shade names that only Rihanna could come up with.
As mentioned above, the line goes on sale at Sephora, Harvey Nichols and FentyBeauty.com. Though, costumers can head into Sephora now to catch an even longer preview of the campaign and collection.
Related: Rihanna Put Her Most Iconic Looks on Socks, So Now You Too Can (Maybe) Pull Off Her Toughest Ensembles
Rihanna's Most Daring Hairstyles of All Time, From an Angular Bob to Long Blue Waves
September 2006: Shortly after the pop star first burst onto the scene at 17 years old with her 'Pon De Replay' album, her natural brown fringe, lilac eye makeup and glowing fresh face gives her the sweet "girl next door" look.

Getty Images/WireImage for Tommy Hilfiger
November 2006: Rihanna decided to glam up her look at bit while attending the 2006 MTV Europe Music Awards with voluminous wavy curls paired with flirty eyelash extensions and a natural nude gloss lip.

Getty Images
June 2007: The singer ditched her hair extensions for an edgier shorter look. Her razor-sharp bangs and cropped bob hairstyle were attributed not to just her change in fashion sense, but also in musical direction as her hit album "Good Girl Gone Bad" had recently been released.

Getty Images/WireImage
October 2007: Rihanna switched up her style again with this jet black side-swept fringe and bob hairstyle. Her bold smoky eye, rosy cheeks and natural lip were the perfect touches to her simple slip dress look while attending the 2007 Cipriani Wall Street Concert Series in New York.

Getty Images/WireImage
November 2008: Rocking a curly pompadour, soft brown smoky eye makeup and spiky lashes for definition, Rihanna looked like a glammed-up rocker babe for the 2008 American Music Awards at the Nokia Theatre in Los Angeles.

Getty Images/FilmMagic
January 2010: The singer embodied full-on ice princess at the NRJ Music Awards at the Palais des Festivals, wearing a newly-blonde curly pompadour with shaved sides completed with frosty white eye makeup, spiked eyelashes for definition and a pink pouty lip.

Getty Images/WireImage
November 2010: Rihanna debuted new cherry-red curly hair at the 2010 American Music Awards. Her natural makeup pared with a rosy cheek put all of the focus on her new bold hairstyle.

Getty Images/WireImage
May 2011: Keeping with her scarlet color, Rihanna pulled off this mermaid-esque wavy hairstyle for the 'Nivea And Rihanna Celebrating 100 Years of Skincare' event at the Grand Hotel Intercontinental in Paris.

Getty Images
February 2012: At the 54th Annual Grammy Awards, the singer looked stunning with dark roots and blonde beach waves. She had a natural glow as she kept her makeup rather simple with bronze eyelids and a pink matte lip.

Getty Images/FilmMagic
September 2012:__ Rihanna looked cute and sassy with her her new super-short pixie cut, long lashes and bold red lip at the MTV Video Movie Awards.

Getty Images/WireImage
March 2013: At her Rihanna for River Island collection launch in London, Rihanna showed off ombre side-swept curls and a shaved undercut. Balancing out her new edgy hairstyle, she went for a natural makeup look by pairing copper eye lids with a moody maroon lip.

Getty Images
May 2014: 1. Rihanna pushed the envelope yet again by wearing bantu knots (commonly used as an overnight routine to preserve lasting and defined curls) in public, combined with bold eyeliner and a vampy green metallic lip to the 2014 iHeartRadio music awards.

NBCU Photo Bank via Getty Images
August 2015: This honey-blonde curly ponytail gave Rihanna a glam yet sweet factor at her RiRi by Rihanna fragrance unveiling at Macy's in Downtown Brooklyn.

Getty Images
The gorgeous superstar looked sleek and chic at the 2nd Annual Diamond Ball in December 2015. Her slicked back hairstyle accentuated her enviable bone structure while her orange/gold eye shadow made her green eyes pop.

Getty Images
Rihanna wore a sleek center-part chin length bob to the 2016 BRIT Awards at the O2 Area in London in February 2016. With lilac eyelids, cat-eye liner and soft pick lips, she looked the fairytale part.

Getty Images/WireImage
Rihanna attended Black Girls Rock! 2016 at New Jersey Performing Arts Center on April 1, 2016 in Newark, New Jersey with a bold cat eye and embellished hair accessories.

Getty Images/Gary Gershoff
Rihanna debuted a short, curly bob and bangs at the 2016 Billboard Music Awards in Las Vegas, Nevada.

Getty Images/Axelle/Bauer-Griffin
Rihanna wore dreadlocks to walk around Soho on October 6, 2016 in New York City.

Getty Images/Raymond Hall
Rihanna was positively glowing at the 59th GRAMMY Awards on February 12, 2017 in Los Angeles, California, with her long hair in red waves.

Getty Images/Steve Granitz
Stunning at the 2017 Costume Institute Gala, Rihanna wore her hair in a sleek top knot with bangs and an exaggerated frosted magenta smokey eye.

Getty.
Wearing an elegant up do with a twist, Rihanna paired chic white sunglasses with minimalist makeup and slicked back hair at the Cannes Film Festival.

Getty.
Sporting her newest do at the Crop Over Festival in Barbados, Rihanna rocked turquoise blue beachy mermaid waves with matching nails.

@badgalriri
Who Doesn't Have a Crush on Rihanna?: