Rihanna Put Her Most Iconic Looks on Socks, So Now You Too Can (Maybe) Pull Off Her Toughest Ensembles
Let Bad Gal RiRi be your sartorial spirit guide—for your feet.
---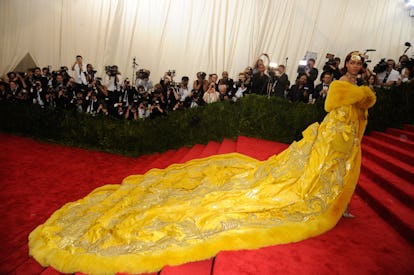 Rihanna first inked a deal with sock brand Stance to become its contributing creative director just more than two years ago, and since then, she has released a holiday-themed line, a collection inspired by Japanese street style, a collegiate line that tied into her Fenty Puma collection, and a "baby sport/baby doll/tomboy sport" collection, among others. They're all quintessential Rihanna, demonstrating the many facets of Bad Gal RiRi, but her latest collection might be the most Rihanna of them all—simply because Queen Rih herself is printed across the feet.
The newest Fenty Stance collection, which debuted Tuesday, comprises two box sets of two pairs of socks: The first, the "Rihanna Music Video Box," includes socks stamped with images of Rihanna in "Work" and "Pour It Up," while the second, the "Rihanna Award Show Box," features illustrations of Rihanna clad in her Adam Selman-designed look from the 2014 CFDA Awards and her Guo Pei-designed gold cape from the 2015 Metropolitan Museum of Art Costume Institute gala. It's not the first time she has appeared on her own Stance designs; her holiday collection included a sock depicting Rihanna at the 2015 iHeartRadio Music Awards, where she wore a green Versace fur (though on the sock, she's also swaddled in Christmas lights—the socks, after all, are called "Pimp Claus").
These are challenging looks, it must be said—expert-level ensembles we couldn't ethically recommend you try at home. But while not all among us might be able to pull off a beaded mesh gown or a fur-trimmed marigold-colored cape, it's far more feasible to pull those looks off when they're swaddling your feet and not your whole body. So Rihanna has done us all a service here, offering a user-friendly foray into her wide fashion world. Rihanna's sock designs pair best with your finest Fenty Puma slides or creepers for the full experience.
While she's digging through her style archives to illustrate her sock collection, we have a few ideas for Rihanna's next Stance drop. For starters, we might suggest a few of her most recent killer looks—her winning Coachella ensemble, a head-to-toe Gucci look (literally head-to-toe, down to its crystal-embellished hood), or the black Ralph & Russo gown with a mesh cape she wore to celebrate the launch of her Chopard collection. Actually, on that note, maybe a sock collection inspired by the Chopard collaboration complete with luxe crystal embellishments—the perfect synthesis of her apparent taste for meta-designs (printing herself on her own socks), all-sparkle-everything, and over-the-top details.
In any case, it's Rihannas all the way down.
Related: Rihanna Mercilessly Shades Diplo During a Session with Future and The Weeknd, Speaks for All of Us
Petra Collins dreams of sleeping in a room that is one giant bed, with Rihanna if possible:
Rihanna at Crop Over Festival: See Her Most Feathered, Glittery, and Skin-Baring Ensembles Over the Years
Rihanna attends the Kadooment Parade at the Crop Over Festival in Barbados in August 2013.

Instagram
Rihanna attends the Kadooment Parade at the Crop Over Festival in Barbados in August 2013.

Instagram
Rihanna attends the Kadooment Parade at the Crop Over Festival in Barbados in August 2013.

Instagram
Rihanna attends the Kadooment Parade at the Crop Over Festival in Barbados in August 2013.

Instagram
Rihanna attends the Kadooment Parade at the Crop Over Festival in Barbados in August 2013.

Instagram
Rihanna attends the Kadooment Parade at the Crop Over Festival in Barbados in August 2013.

Instagram
Rihanna attends the Kadooment Parade at the Crop Over Festival in Barbados in August 2013.

Instagram
Rihanna attends the Kadooment Parade at the Crop Over Festival in Barbados in August 2013.

Instagram
Rihanna attends the Kadooment Parade at the Crop Over Festival in Barbados in August 2013.

Instagram
Rihanna attends the Kadooment Parade at the Crop Over Festival in Barbados in August 2013.

Instagram
Rihanna attends the Kadooment Parade at the Crop Over Festival in Barbados in August 2015.

Instagram
Rihanna attends the Kadooment Parade at the Crop Over Festival in Barbados in August 2015.

Instagram
Rihanna attends the Kadooment Parade at the Crop Over Festival in Barbados in August 2015.

Instagram
Rihanna attends the Kadooment Parade at the Crop Over Festival in Barbados in August 2015.

Instagram
Rihanna attends the Kadooment Parade at the Crop Over Festival in Barbados in August 2015.

Instagram
Rihanna attends the Kadooment Parade at the Crop Over Festival in Barbados in August 2015.

Instagram
Rihanna attends the Kadooment Parade at the Crop Over Festival in Barbados in August 2015.

Instagram
Rihanna attends the Kadooment Parade at the Crop Over Festival in Barbados in August 2015.

Instagram
Rihanna attends the Kadooment Parade at the Crop Over Festival in Barbados in August 2015.

Instagram
Rihanna attends the Kadooment Parade at the Crop Over Festival in Barbados in August 2015.

Instagram
Rihanna attends the Kadooment Parade at the Crop Over Festival in Barbados in August 2015.

Instagram
Rihanna attends the Kadooment Parade at the Crop Over Festival in Barbados in August 2015.

Instagram
Rihanna attends the Kadooment Parade at the Crop Over Festival in Barbados in August 2017.

Getty
Rihanna attends the Kadooment Parade at the Crop Over Festival in Barbados in August 2017.

Getty